Tech

Tech

The gadgets, platforms, and software that make your digital life possible. If it bleeps, clicks or blinks, you'll find it here.

Internet Culture

Internet Culture

There's a community for everyone online.

Streaming

Streaming

News, reviews, and guides for the world of online entertainment.
Man takes hostage, updates Facebook page during police negotiations
A 22-year-old Pittsburgh man continued to update his Facebook page—and receive comments from friends and family—while holding another individual hostage in an office building. 
An armed suspect holding another man hostage in a Pittsburgh office building has been updating the status on his Facebook page as he negotiates with local law enforcement.
22-year-old Klein Michael Thaxton, an auto worker with a reported military background, is currently holding one individual hostage on the 16th floor of a business administration firm's office in downtown Pittsburgh. Reports state that Thaxton entered the building shortly after 8am ET and asked to see the man he eventually took hostage.
Thaxton also left six comments on his Facebook page, which was publicly accessible, but has since been removed from the site—although it's not yet clear whether it was deleted by Facebook or by Thaxton himself. Each of his status updates detailed a portion of his emotional state as he held the individual hostage.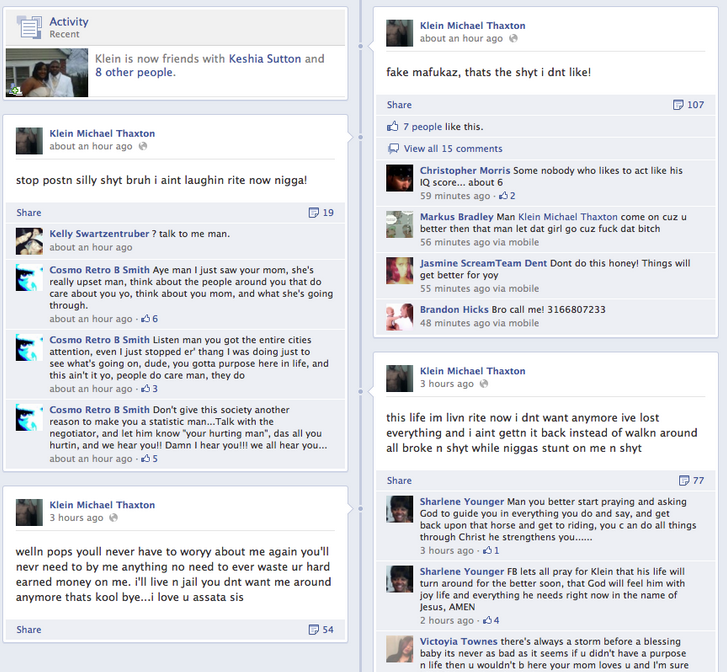 Thaxton's first two messages were somewhat unclear—"how this ends is up to y'all bro real shyt" and "[Thaxton's cell phone number] if u need me call me!"—but he quickly grew more revelatory.
"welln pops youll never have to woryy about me again," he wrote some time after 9am. "you'll nevr need to by me anything no need to ever waste ur hard earned money on me. i'll live n jail you dnt want me around anymore thats kool bye…i love u assata sis"
He updated his status again shortly thereafter, noting "this life I'm livn rite now i dnt want anymore ive lost everything and i aint gettn it back instead of walkn around all broke n shut while niggas stunt on me n shyt."
Friends and family members have shared and commented on his updates since the cryptic message above, offering their prayers to Thaxton and reminding him that "there's always a storm before a blessing."
Thaxton has posted two more updates since taking the individual hostage—"stop postn silly shyt brush i aint laughin rite now nigga!" and "fake makufaz, thats the shyt i dnt like!"—both of which have generated a number of comments, much to the chagrin of law enforcement handling the situation. According to Reuters editor Matthew Keys, Pittsburgh police chief Nate Harper has pleaded with friends to stop commenting on the posts, as they've been a "distraction" to the crew during negotiations.
Police have described Thaxton's demeanor as "calm" and said that "he's not being irrational," though they've also taken care to evacuate the building.
So far there have been no reported casualties or shots fired.
UPDATE: The hostage situation ended peacefully when Thaxton surrendered himself to police after friends and family were brought to the scene to help talk him outside. "I just want to get him the help he needs," said Thaxton's mother, Rhonda.
Photo via Mini_MinuteXD/Twitter
Chase Hoffberger reported on YouTube, web culture, and crime for the Daily Dot until 2013, when he joined the Austin Chronicle. Until late 2018, he served as that paper's news editor and reported on criminal justice and politics.
© The Daily Dot, all rights reserved.
Represented by Complex Media, Inc. for advertising sales.