A Facebook engineer took to Reddit last night to apologize for accidentally banning links to Reddit's favorite image-sharing service, Imgur, from Facebook.
The problem first came to light when Redditors reported that they were unable to post links from imgur.com to Facebook. Instead, they were met with a message saying their links had been blocked as "spammy or unsafe."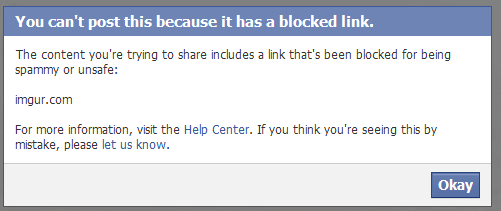 Redditor AmericanDerp posted a screencap of the message to r/technology, which attracted more than 800 comments and gained the top spot on the Reddit homepage, according to CNET.
They quickly discovered that the Imgur block wasn't an intentional attack on Reddit, though. A few hours after the thread started, redditor fisherrider, who works at Facebook, posted to the thread and took responsibility for banning Imgur.
"This is actually my fault," he wrote. "Literally, I'm the guy who accidentally blocked imgur for a brief period of time today. I'm really sorry."
Some background: I'm an engineer who works on the system we use for catching malicious URLs. In the process of dealing with a bad URL that our automated defenses didn't catch, I ran into a rare bug that caused us to incorrectly block some legitimate URLs for a brief time. Right after I figured that out and removed the bad data, I reworked the UI so no one will get bit by the same issue in the future.
To make up for his mistake, fisherrider also posted a photo of his dog. Some people took him to task for improper reddiquette, but many were grateful that he took blame for his mistake.
"This is PR done right," n1c0_ds wrote.
"Thank you for your humility and your honesty. You're the kind of person EVERY company needs," Justicles13 wrote.
CNET and TechCrunch have identified fisherrider as Matt Jones, who describes himself as a "data and security geek at facebook" on his personal Twitter account.
Redditors are known for asking for proof (or pics), so naturally they asked the same of Jones. He posted a note he wrote on a system Facebook uses to protect users from malicious links and linked to the TechCrunch article. Jones also linked to the Reddit thread on Twitter.
"Well, I guess that turned out OK after all," Jones tweeted.
The Daily Dot has reached out to Jones for comment, but he has not responded as of press time.
Photo via John Drake/Flickr