Facebook has shut down a group of pages that were giving away free guns via online sweepstakes, a move that will surely spark panic among some gun lovers already paranoid that the world's biggest social network is out to get them.  
Gun sweepstakes had become a bit of an emerging trend on the world's largest social network. News startup Vocativ tracked the giveaways over a period of six months, reporting that they'd jumped from a little more than five in July, 2012 to more than 35 in April of this year.
Many of the ads promoted weapons like the AR-15 assault rifle, the weapon used by Adam Lanza in the Sandy Hook school massacre in December, 2012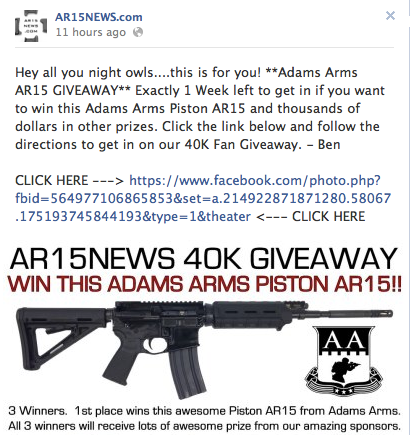 Image via Vocativ
Shortly after Vocativ reported on the sales, Facebook shut down the pages, claiming that they violated its advertising policies. The company forbids ads that promote the sale weapons, ammo, or explosives. The key word there is "sale," however. None of the promotions were actually selling anything (it would be a terrible sweepstakes indeed if winners were invited to buy the prizes).
The shutdowns have pretty serious consequences for the businesses, who really in their social presence for big chunk of their sales. Erik Lowry—who runs Pittsburgh Tactical firearms, one of the banned pages—estimates he makes close to 40 percent of his sales on Facebook, where he has 27,000 fans.
"We didn't get a warning, just… gone," he told Pittsburgh's ABC affiliate, adding that it amounts to thousands of dollars in lost sales every day.
"People were thinking if you won, I was just going to send a gun to your front door. It just doesn't work that way," he told WTAE. "If you win a firearm from us, you come to the store, and as long as you pass a background check, you walk out with your gun."
This isn't Lowry's first time in the news. He made headlines earlier this year after his company gave away an AR-15 assault rifle, hundreds of rounds of ammunition, and dozens of magazine clips just weeks after the Sandy Hook shooting. "Two days after the shooting, we sold 95 percent of our stock out," Lowry bragged to Pittsburgh's KDKA radio station at the time.
In January gun activists became convinced Facebook was purging the accounts of anyone posting a specific quote from Gandhi ("Among the many misdeeds of British rule in India, history will look upon the Act depriving a whole nation of arms as the blackest," it read.) At the time, Facebook wouldn't speak on specifics, but a company rep told the Daily Dot the deletions had nothing to do with the Gandhi quote.
Photo via U.S. Fish and Wildlife Service/Flickr