It may sound more like an episode of Girls than real life, but this novelist is advertising on Craigslist for a young female intern—specifically so he can have an affair with her.
In 2011, Chad Leslie Peters published The Affair: A Thirty-Day Experiment in Love, an unreviewed e-book whose Amazon profile optimistically describes it as "one of the most graphic depictions of a relationship ever presented." According to this recently-posted Craigslist ad, his next project is a nonfiction book in the same vein, and he's looking for an "intern" to help him out. As he explains in the ad:  
I plan on writing a non-fiction version of "The Affair." The book will detail every aspect of a mutually-agreed-to romantic affair between myself and a young FEMALE lover (perhaps you), experienced over 30 days, as in the novel.
Titled, "Author needs female participant for affair (for a book project)," the ad is careful to specify that Peters is "a serious writer" and is looking for an equally serious participant, preferably an English major. The young FEMALE lover (perhaps you!) will keep a diary of her "thoughts, impressions and memories" of the affair, which Peters will then combine with his own writing to create an erotic story written from both perspectives.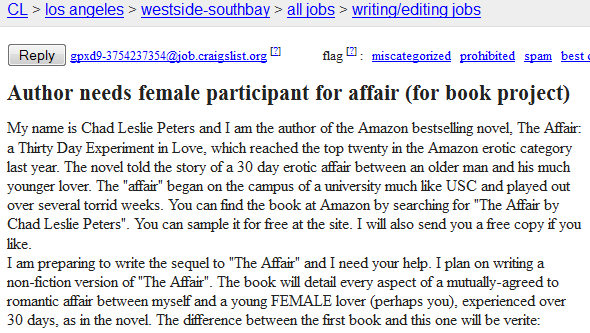 Image via Craigslist
According to Amazon, Peters's original novel is about a tenured professor who meets "a beautiful, young graduate student who is at a sexual crossroads." Perhaps he's looking for something along the same lines, with himself in the role of the middle-aged sexual mentor. Aside from that, his only requirements are that the "intern" be at least 20 years old, and practice safe sex.
The concept is a little creepy at best. But the fact that the ad is clearly listed as an intern position is what tips it into truly skeezy territory. Unpaid internships fetching laundry and doing office gopher work are already heavily weighted towards female graduates, but at least you can put them on your résumé afterwards.
Even if Peters is as serious about this book as he claims, he could at least have done the honest thing and labeled this as what it really is: a Craigslist hookup ad.
Image via Amazon.com