A teenager in Mexico likely faces murder charges after allegedly exacting revenge for her best friend's posting of her nude photos onto Facebook by stabbing that friend 65 different times.
Erandy Elizabeth Gutierrez, 16, was arrested last week at her estranged friend Anel Baez's funeral in Guamúchil, Mexico, a town on the Central American country's western coast. 
Mexican news site Notus reports that the two had a falling out earlier this year after Baez had posted revealing pictures of Gutierrez on Facebook without her permission. Baez asked Gutierrez come to her house to settle the difference two weeks ago, March 19, but Gutierrez had other intentions. She allegedly feigned a trip to the bathroom, returned with a kitchen knife, and began to stab Baez. 
Gutierrez fled the scene, resurfacing a few days later for Baez's funeral. It's there that police made the arrest. She's expected to be officially charged with the murder this week.
On Facebook, a picture of the two girls has evolved into a public memorial for Baez, with many of her Guamúchil neighbors demanding Gutierrez face murder, which carries a federal maximum of seven years for a juvenile.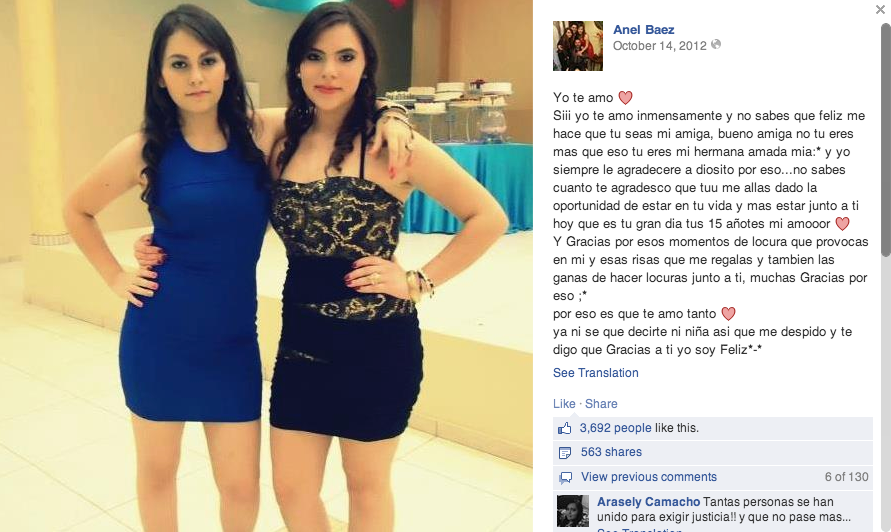 "Todos somas Anel!" a sign posted to the active feed reads alongside a picture of Baez and the flags of six nations. "The people require justice," its poster, Arasely Camacho, wrote. 
There's also a Twitter page purporting to belong to Gutierrez, though it's likely fabricated. All of the feed's 75 tweets were sent after March 26. Funerals in Mexico generally happen after only a couple of days. 
Photos via Anel Baez/Facebook