For more than an hour and a half, a male suspect who allegedly assaulted a police officer who pulled him over in Ontario, Calif., has led cops in a high-speed chase through residential areas and along freeways. He's driving a fully loaded big rig whose storage container he's attempted to jettison at several points.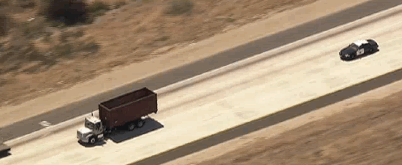 Naturally, bored media Twitter is going insane.
TWO CHOPPERS!!!!! #dumptruckchase #calinews pic.twitter.com/IkrIHGqxT2

— Robert Bennett (@WAVY10Bob) May 27, 2014
Although repeatedly boxed in on various narrow roads and in a gas station, the driver has been able to evade law enforcement time and again—and is currently headed toward the Mexican border. It's thought that techniques typically used to stop fleeing motorists (such as a PIT maneuver) would be mostly useless against the large vehicle, which is barreling along at speeds of up to 90 miles per hour; so far, it's avoided one spike strip. Follow the drama live below:
The driver is also said to have nearly run over the officer he's accused of assaulting, so police are being especially cautious and treating him as violent. If he manages to reach the border without running out of gas or into traffic, they hope to catch him at the customs checkpoint.
Photo by John Snape/Flickr (CC BY-SA 2.0)