Jason F. McCarthy, a 16-year-old honors student and bass-guitar player from Brooklyn Center, Minn., clung to life for a few days after a possibly impaired driver struck his car on a state highway last week. In the end, however, his injuries proved too much to survive.
Michael J. VanWagner, 24, was arrested on Wednesday in Coon Rapids in connection with that accident, as well an earlier collision that same night, the scene of which he'd apparently fled. Before being taken into custody, he seemed to have no idea why his car was totaled, and posted a photo of it to his public Facebook wall—complete with an "lol" and smiley face emoticon.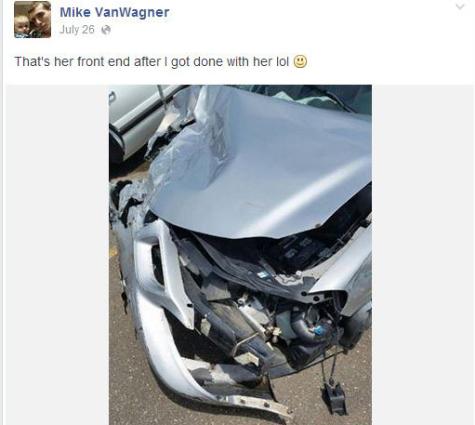 Jason McCarthy, above. Photo via the Star Tribune
Of his brush with death, the Star Tribune reported, VanWagner had this to say: "I'm all good slept a day in the hospital then came home and did yard work lol." These posts have been deleted since his release—charges are still forthcoming, partially contingent on a blood alcohol test—but he has continued to comment on the tragedy in oblique and inappropriate ways.
Interviewed by the Star Tribune, VanWagner said, "I know I'm looking at spending time in prison, so I'm trying to spend as much time as I can with my 18-month-old." The Daily Dot reached out to VanWagner to ask if he had any regrets about his behavior; we'll update if he responds.
Police said VanWagner was driving on a revoked license and that a responding state trooper noticed the "odor of alcoholic beverage" in his vehicle. He has been on probation, and expressly forbidden to drink alcohol, since an April felony conviction for "terroristic threats." 
H/T Star Tribune | Photo by Doug Kerr/Flickr (CC BY-SA 2.0)