Drew's Pizzeria in Champaign, Ill., is well known around Big 10 country for its ability to make a crappy pizza seem charming and almost delectable, but recently, the shop, located just down the road from the University of Illinois, has taken on another likeness or calling card: being the pizza shop around Big 10 country that's using Twitter to promote rabid displays of chauvinism and sexual exploitation.
As has become evident through a Craigslist post and a series of tweets sent from the now-defunct @DrewsPizzaCU account, the shop has spent the past two weeks promoting a deal in which women will be given a free pizza pie if they lift up their shirts and show the guys behind the counter their breasts. 
That's right, ladies, according to what's most likely a team of pimple-faced stoners working the late night shift at an area pizza joint in the middle of America, your breasts are now worth $10.99 of baked dough and melted cheese. 
And they would have gotten away with it, too, if it hadn't been for the fact that they're idiots who decided to use the shop's very public Twitter account to promote the fact that they were offering such a crude deal.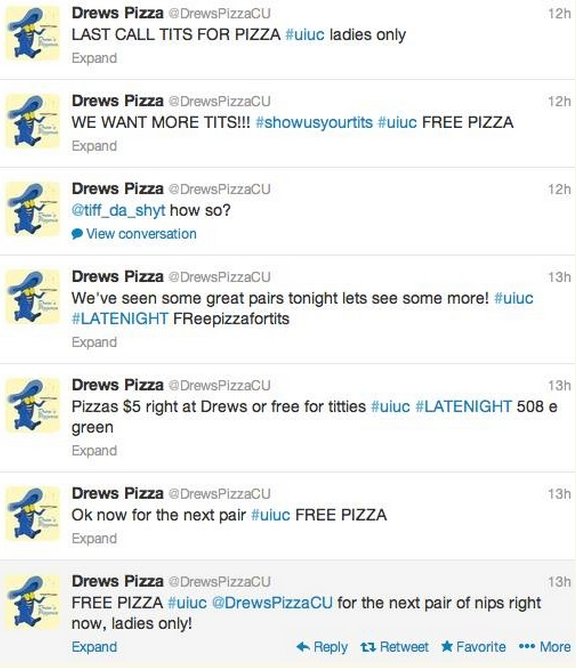 Drew's account quickly got deleted after righteous thinking bros realized that the offer was the epitome of distasteful. Apparently the Green Street shop's come under a great deal of fire for the promotion, though no mentions have been made yet on Yelp. 
It's worth noting, too, that not everybody's completely outraged by the offer.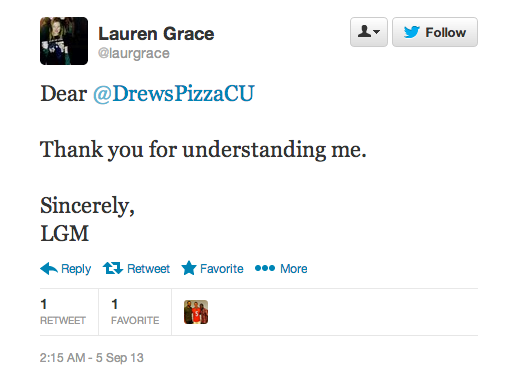 H/T Deadspin | Photo via Fernando Alfonso III