There are few video games that, when released, change the landscape for the entire industry. In 1993, though, two games arrived on the market that would have an impact on gaming for the next 20 years. Cyan's Myst and id Software's Doom both landed as forces that forever changed game design.
According to Director of the NYU Game Center Frank Lantz, Doom and Myst are two of the most important games ever made. Lantz moderated an event Friday that brought John Romero, a creator of Doom, and Rand Miller, a creator of Myst, together to discuss the legacy of their games.
Despite their impact, both influential games were created by fairly small teams. Miller said Cyan's designers worked out their houses—the cheapest way for the production team of four to to work. According to Romero, id Software wasn't much bigger. Production on Doom began just as the team of six moved into their first office space.
While the games were influenced by a number of different titles, none has such an impact as Dungeons and Dragons. The team behind Doom had been playing the tabletop game for years, including a version that had a game overrun by demons coming through a portal. The idea eventually made its way into Doom. The Myst creators, on the other hand, had played Dungeons and Dragons games filled with puzzles, which, of course, will be familiar to Myst players.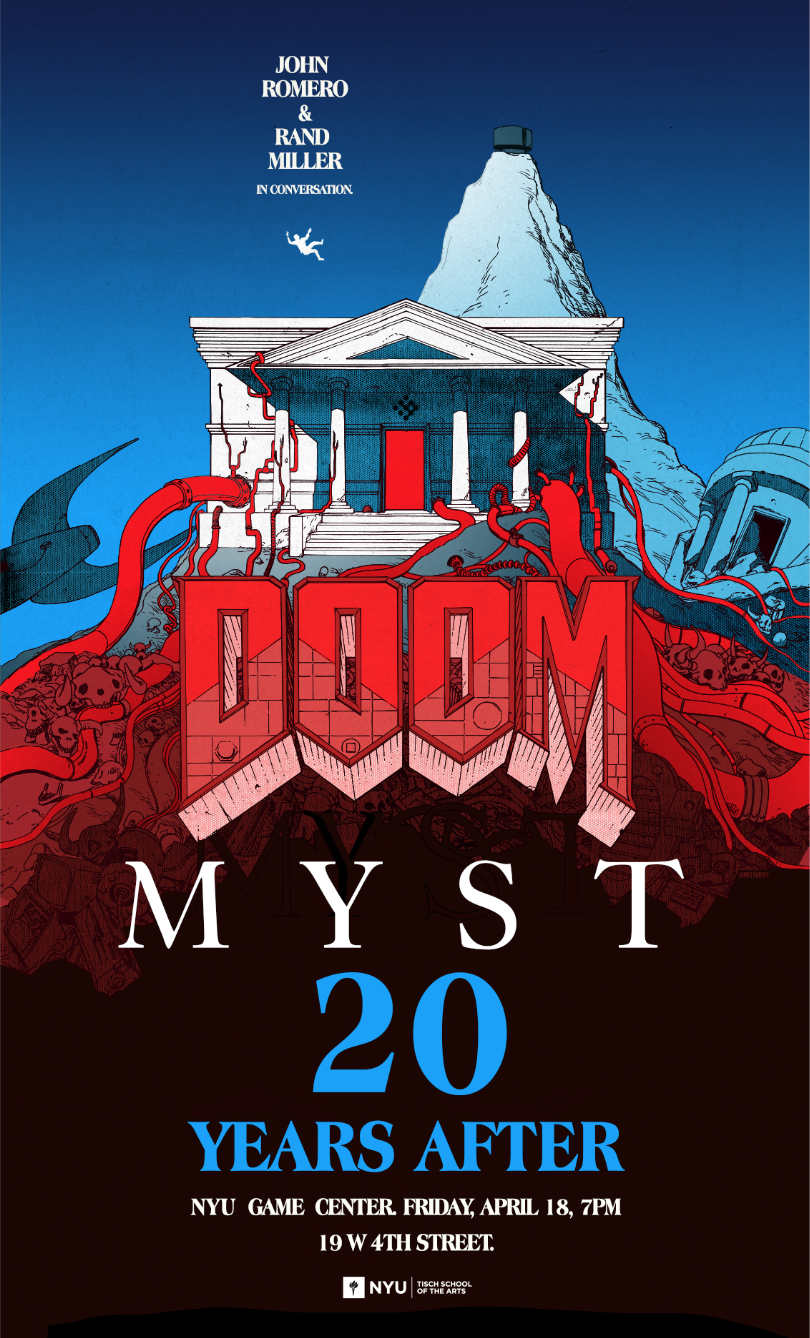 Image via the NYU Games Center
While the styles of the games are different, both used the 3D space in revolutionary ways. Doom changed how the industry thought about combat and the first-person shooter, while Myst took new steps to draw people into a different world, using puzzles as friction to slow players down. Both were critical in showing the gaming industry the advantages of a 3D environment in a way that hadn't been done before. Romero loves the shooters Doom has inspired over the years and has enjoyed playing these so called "Doom-clones."
"We wanted to play more games like that. We knew we were already ahead of everybody so, it's not like it is today, but back then we would tell anybody how we were doing what we were doing," Romero said.
The two were also very aware of each other's games at the time and would play them to escape playing their own games so much. Romero said he checked Usenet back then for the top 100 games every week and noticed after Myst came out how it jumped ahead and was knocking down one of his own games, Wolfenstein.
"Myst was the opposite of what we were doing and we're spending all of our time in our game and by the time we released Doom we were sick of playing it… but every week it was like what was going on with this game [Myst]," he said. "We checked it out and were like, 'It's an adventure game. What? It's the anti-Doom, we have to crush this game!'"
Miller also played Doom to get away from Myst.
"I was like, 'What is this? Demons on Mars? What? Why would you want to play this?' Then I couldn't stop, it was like 'One more time!'" he said.
Creating such impressive, yet different games at a time when the technology was not up to today's standards wasn't easy for either company. That brings up what is perhaps the most important question for anyone in gaming, according to Miller.
"It's not a question of how far you can push it, it's a question of designing with your limitations, within your limitations, knowing your limitations, and pushing just enough so you can get things done and finished and aiming at a moving target that's going to be ahead of you in a couple years," he said.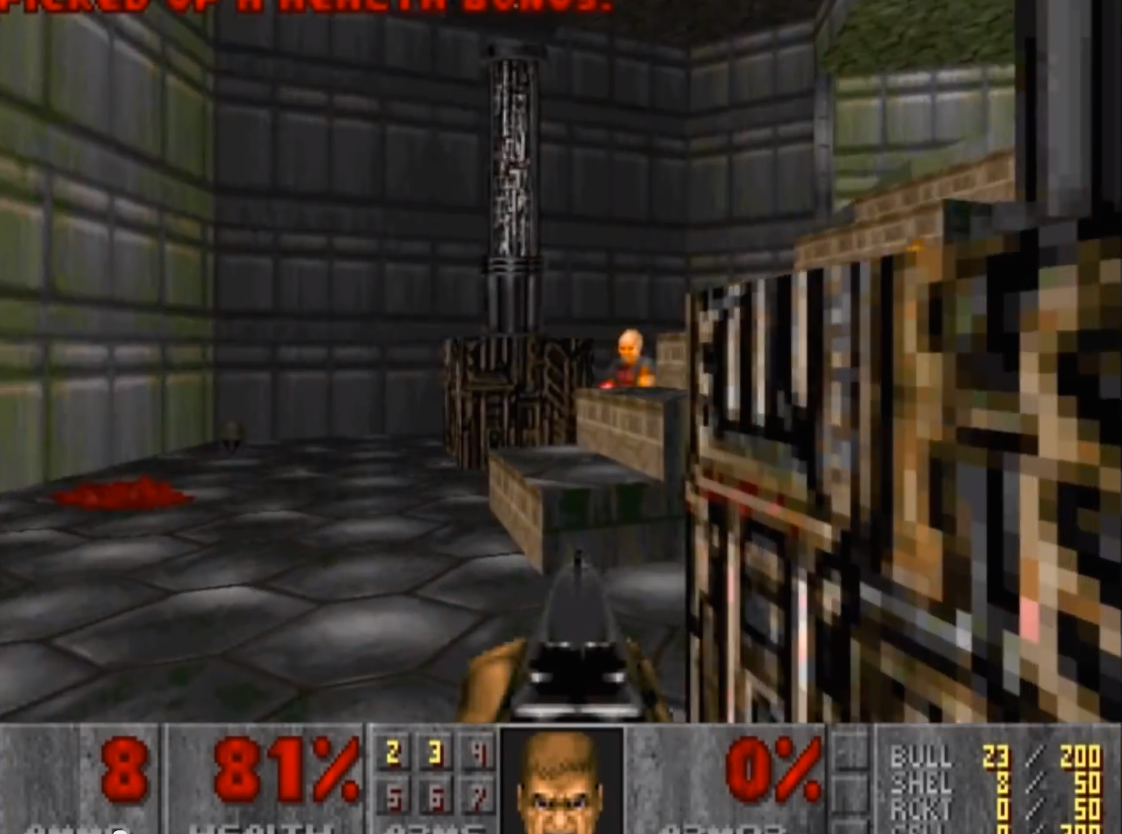 Screenshot via Mateoski Productions/YouTube
Designers need to realize their limitations, but also keep clear eye on the future, he explained. Looking at current gaming technology, Romero and Miller both don't see the use of virtual reality tech like the Oculus Rift being a must-own item for every household. Romero sees the best games for the Rift being those specifically developed for the technology, not games that are just adapted for virtual reality. Miller agreed and said virtual reality technology shouldn't be left behind, but it's questionable whether game studios can financially swing creating games for such a small market.
Miller sees interactive development in games as an area of growth potential and one the industry is still exploring. He called the interactive nature of games an incredibly powerful thing in a medium that other industries might look down on as just "a game."
"This is really powerful stuff, it's incredibly powerful and we're still learning how to use it and how to evoke emotions and how to build a little bit of truth into this and make it into something that we call art and just because we're learning doesn't mean we should trivialize it…" he explained. "In our case we thought we can put some stuff into the story to make people think about themselves and the world around them."
While the industry continues to push into the future, the lessons learned from Doom and Myst won't soon be forgotten.
"Between these two games, they really did sketch out the territory that video games have been exploring ever since in this particular direction and one of the things that's so exciting about the contemporary landscape is the kind of return, in a way, to these smaller teams that are a little bit more passion-driven and vision-driven and I can only hope that we see more games that are like this," Lantz said.
There's little doubt that the ambition behind Doom and Myst will continue to inspire developers to explore new areas in video games for another 20 years.
Screenshot via Gameragi Games/YouTube