Over the weekend, I started a very popular Reddit Ask Me Anything thread about my time working at Walt Disney World as a princess.
I had plenty of photos and stories to share from the four years I played Mulan, Pocahontas, and Silvermist the fairy. As a longtime redditor, I decided it was finally time to let millions of people appreciate how strange my life has been.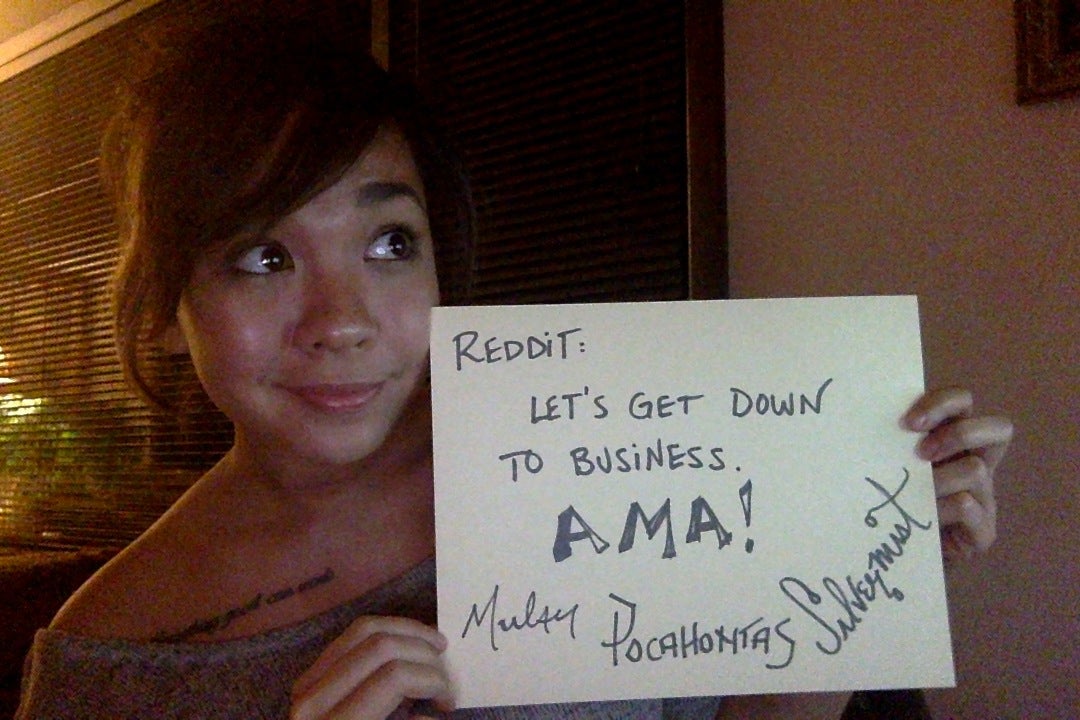 I got an overwhelmingly positive response from it (aside from the people who are upset that I betrayed Walt Disney's frozen carcass by revealing that my boob fell out of my Pocahontas dress once), but I was warned by many friends that creepy private messages would be flowing in. I didn't believe them. This was a Q&A about Disney! People go there to throw their babies onto fake elephants while gorging themselves on churros and doing that awkward bobbing-up-and-down thing while a parade float whizzes by. Nobody was going to say anything creepy to me in a forum about the Most Magical Place on Earth™.

OK, let's start over. I am very aware of how the Internet works. It's a series of tubes that contain everyone's thoughts, feelings, and desires. Those feelings are sometimes really awesome, like the stories people shared with me about their Disney experiences. That being said, those same tubes sometimes contain the feelings of people who want to watch me eat peanut butter, slowly, while hula-hooping. Those are the people who decided to message me privately on Reddit.
Usernames have been scratched out to protect the identities of my potential kidnappers.

What I got from this is that my time is not worth a $27 large popcorn. I'm just Orville Redenbacher's and Faygo on the couch. You cut me deep, man.

Where's the citation for your source? This is just irresponsible. 

Dear countless friends who keep sending me e-vites to incredibly fun things happening in Arkansas (nobody): I'm busy.

I have a high tolerance for creepy, and I know this one isn't so bad. It's just a bunch of hearts! Enjoy the compliment, Kristen! Ignore his username, which insinuates that he kills people in his spare time! Lighten up, would you?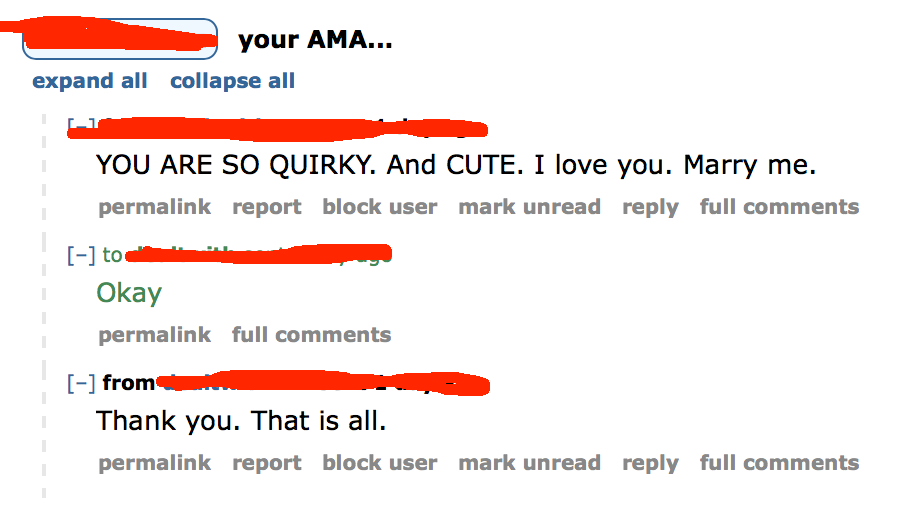 I admire this guy's style. It's direct, and it doesn't take much to make him happy. And hey, at least he didn't do something weird, like ask me for pictures of my feet!

I think this message was the moment I decided I wouldn't be taking any more questions.
Overall, I did receive some extremely nice messages. One person successfully identified me as the girl who drunkenly hit on him at a bar four years ago. (He's probably super-handsome, because drunk me has never made a drunk mistake ever in my life). At the end of the day, I am really happy that I did the AMA and that people were able to remember their moments at Disney.
What did I learn? That the Internet is a pretty cool place. It's like a campfire: Even though there are a few assholes playing "Wonderwall" on the acoustic guitar with absolutely nobody praising them, most people are there to have a good time and share stories. And not unlike real campfires, my socks and shoes will remain on at all times, for my own safety.
Photos via Kristen Sotakoun/Reddit