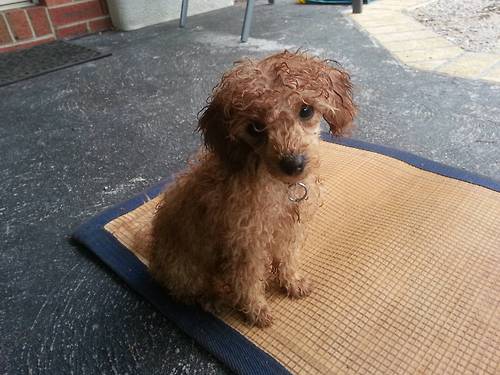 By Scott Friedstein, FluffPo Correspondent
Fritz the puppy had been preparing for weeks for his speaking engagement at the local Rotary Club. Even so, he still didn't feel quite ready.  
"There was something missing," says Hank Fellows, a source close to the situation. "He needed the perfect hairstyle."
With hours to spare, Fritz decided he only had one option: A home perm kit from 1987. Unfortunately, the results left much to be desired.
"It probably would have benefited him to read the instructions," says Fellows. "He didn't let the activator set before he washed it — big beginner's mistake. It looked awful. He wasn't happy at all."
Fortunately, Fritz was able to reschedule the speech.
"He said he got food poisoning," says Fellows. "Guess that worked for them."
Via gusgoolan.