Tech

Tech

The gadgets, platforms, and software that make your digital life possible. If it bleeps, clicks or blinks, you'll find it here.

Internet Culture

Internet Culture

There's a community for everyone online.

Streaming

Streaming

News, reviews, and guides for the world of online entertainment.
Covering all the peoples of the Internet
We painted a picture of our Internet. We liked what we saw. We hope you do too.  
The streets of the Internet are fraught with peril, intrigue, people and personalities.
When we set out to start The Daily Dot, we had one over-arching mission in mind: Find and tell the stories of the people who inhabit the world online and, do it with integrity.
The good, the bad, the ugly and the glorious—dissected and presented for the world.
This week I used one of the tools I've developed to help us visualize stories and I flipped it around and pointed it right at our own site. The result delighted our own editorial team.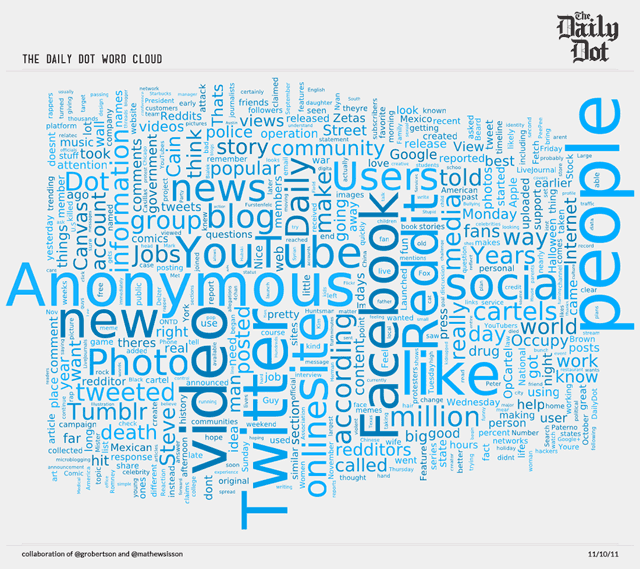 When I crunched the numbers from analysis of The Daily Dot's total publication—nearly 1200 articles to date—the first thing I noticed was how closely we're sticking to the goals with which we began.
People, users, community, news and story. Those words practically jump off the page.
Whether you're Anonymous, a brutal member of the Zetas, one of the 99% or somewhere in between, The Daily Dot is all about you and the stories you both make, and care about.
Special thanks to our designer, Mathew Sisson, for his help with stylizing this and other Daily Dot wordclouds.
Grant Robertson is a software engineer and product manager, but he started his career at the Daily Dot as a senior editor focused on data-driven journalism. He previously served as an editor for Download Squad and AOL's Digital Music Weblog.
© The Daily Dot, all rights reserved.
Represented by Complex Media, Inc. for advertising sales.