We are in a magical time, my friends. Nope, not the New Year. And I'm not talking about the holiday hangover that stretches into January. I'm referring to the Consumer Electronics Showcase, or CES, the week-long Vegas conference that spotlights all the tech you will want to buy, cannot have, or which will remain in prototype from here to eternity.
In all honesty, as a CES veteran (three years straight, kiddos) there are a great many awe-inspiring things to see and try—things that make me incredibly proud and amazed to be a fellow human to the creators behind them.
But don't be fooled by the wearable tech products, the ever-tinier full frame cameras, the advances in healthcare technology. There's also a sleazy, sticky underbelly to CES, which doesn't take very many steps to conceal itself. A few things make CES naturally disposed to a certain lusty atmosphere:
1) It's in Las Vegas. Need I say more?
2) It just so happens to coincide with the AVN Adult Entertainment Expo. The events overlap, and you can bet that the tech-obsessed throngs start getting bored of the quad-core CPU/GPU/Gorilla Glass talk and wander next door because, you know, naked people. [Update: CES no longer overlaps with AVN. They are now a week apart.]
3) Booth Babes. Scantily clad ladies that are used as props by tech companies at their floor booths. Sometimes these women (and to a lesser extent, men) are repackaged as brand reps, who are slicked out in slightly sexier business wear and given cue cards. It's fairly demeaning to everyone at the show, not just women, but that's an argument for another time.
(Sidenote: or is it? I was interviewed by the BBC about this at CES 2012, and most of the comments I received for it were about how I was a hypocrite for "being cute" and unappreciative of the conference's confusing messages about women in the industry. Fantastic.)
All of these makes me only slightly surprised at the surplus of CES-specific sexy requests lighting up Craigslist. The Las Vegas personals section reads like an adulterous, lascivious menu for post-show… uh, interaction. Because after a day of picking up more flash drives, business cards, and free iPhone cases than you'll ever be able to use, all you really want to do is hit the strip with some young thing, amirite?
Personally, I just worked until 10pm and then smoked cigars with my coworkers while we looked for bars that least resembled nightclubs, but a quick perusal of the Las Vegas Craigslist suggests I was in the minority. These handful deserve awards for sexifying CES. 
[Warning: Don't go clicking on these ads on your own unless you want to see copious amounts of penises.]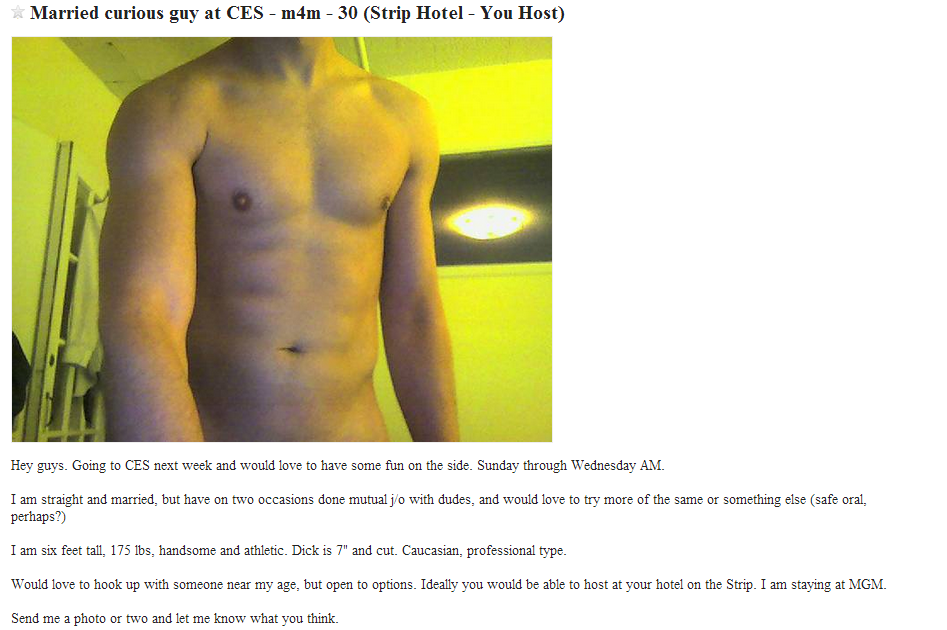 (Thank God he's not a computer nerd, though.)