Anyone who has buried a dog or flushed a goldfish down the toilet knows the heartbreak that comes with the ritual of pet funerals. Saying goodbye is never easy, but now there's a company that wants to make it perhaps more meaningful, and definitely more environmentally friendly.
They're called Rooted and they're the first major company to specialize in composting deceased pets. That's right: composting. The same thing you do with your old coffee grounds and banana peels. But don't be misled, Rooted isn't trying to be flippant or disrespectful. Quite the opposite in fact. The whole idea is to honor lost pets by using their remains to grow new life and help the environment.
Rooted uses your pet's remains to create compost that can be used on their farm or shared with one of their tree planting partners. Or, if you prefer, you can receive a bag of compost to grow your own plants, or even a houseplant growing in the soil created with your pet. All this could take some getting used to, but it also just might be the future of pet after-life care.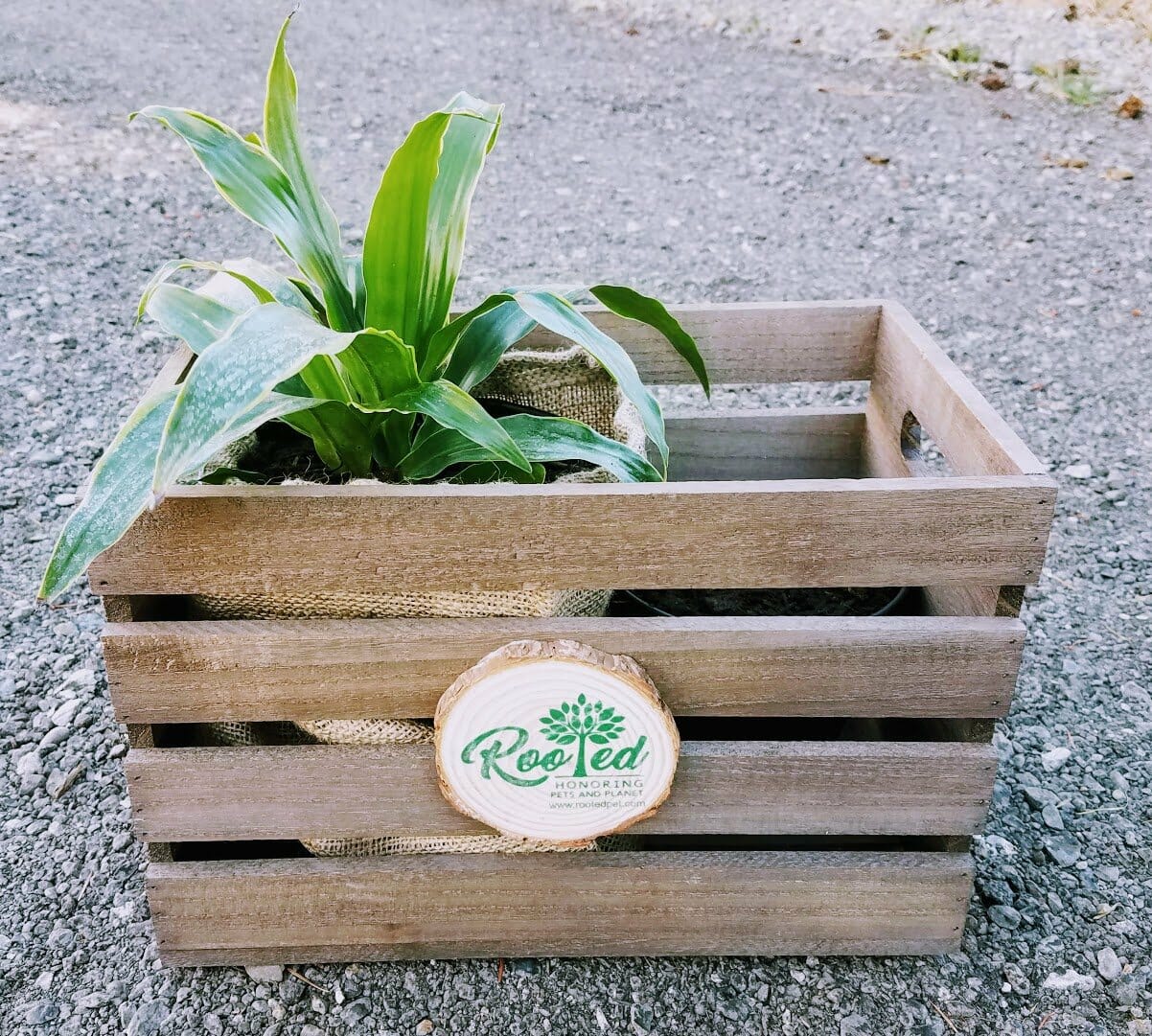 The Daily Dot spoke with Paul Tschetter, the general manager and co-creator of Rooted, about his company and why you should seriously consider composting when it comes time to say goodbye to your furry (or feathered) friend.
Why should people have their pet composted as opposed to buried or cremated?
Our intention isn't to replace pet burial or cremation, but rather to provide an alternative option that is environmentally sustainable and meaningful. Cremation, the most widely used method for pet aftercare, is low cost and sterile, however, the energy required to heat up a crematory oven is tremendous. A typical crematory oven burns at over 2,000 degrees Fahrenheit and runs many hours to incinerate just one pet. The energy our recomposition process requires—to power lights for our warehouse, to run a couple computers and some small fans—is minimal. The heat generated in our process occurs naturally and exceeds EPA guidelines to ensure stability and sterility. Additionally, composting is a great option for pet parents residing in urban areas (where backyard burial isn't an option). Burial is expensive and dependent on available land. Eventually, burial space will run out. Our footprint, on the other hand, is small. Perhaps most importantly, the end product of our recomposition process is nutrient rich and life-sustaining.
You've confessed that some people might be "weirded out" by this idea. Have you gotten that reaction as much as anticipated?
A comment I made in passing during a live interview was emphasized as the spin to a compelling story. It happens. Sure, people are weirded out because we're talking about death, and people don't like to think or talk about it. And some people have a perception of composting that looks like food waste in their backyard. Our recomposition process is quite different than backyard composting. We are facilitating a very natural process in a safe and controlled manner. But it's outside of the norm, which I guess can be perceived as "weird." Part of our challenge will be to help inform pet parents about what commercial composting really is. That said, I have actually been amazed at how many people are excited about our service and our company.
Are you a pet owner? If so what do you have?
I grew up with cats and dogs and years ago had a dog named Kai. I'm actually pretty allergic to dogs and cats, so I don't currently own any pets. My family and I adored an awesome goldfish named Orange my son won from the County Fair. He (the fish) lived nearly three years; amazing! My business partner and Rooted co-founder, Greg, has a dog named Stella.
Let's say I have a dog that has passed away, what's the process, start to finish, for me to have my pet composted with you?
Assuming your vet is one of our partners, we will work directly with his/her office to bring your pet to our facility in Olympia. If your vet is not one of our partners, we're still happy to work with you. You would simply place your recomposition order online, select a memorial give-back product (if desired), then work with us to arrange to bring your dog to the facility. The recomposition process takes 6-8 weeks, and we will notify you once it is complete. Per your request, the resulting compost will either be donated to one of our tree-planting initiatives or returned to you in one of our memorial products.
Isn't composting a dead animal something people could do themselves?
In theory, yes. However, a backyard compost pile can neither create nor sustain temperatures required to eliminate pathogens and to sanitize. At-home pet composting is susceptible to scavengers and the spread of disease. Our system is impervious to such threats, it sustains temperatures exceeding EPA guidelines, and it stabilizes the consequent compost.
One of the options you offer is five pounds of soil made from "communal recomposition of donated pet remains." Is there an option for people who want to receive soil made from exclusively from their pet?
Yes. Similar to cremation, we offer both communal (standard) and individual (premium) services. Our recomposition services can certainly be customized, but for some, our individual service is cost prohibitive. Our standard service (communal + donation) allows us to keep costs down and to make our service accessible to more pet parents.
You guys are based in Washington state and are currently unable to provide transportation services. Is that something you hope to add in the future? How would that work?
Yes, we understand the importance of transportation services and as we continue to grow, we are working on strategies and partnerships to address this need. Currently, we have systems in place to pick up pets from veterinary partners up and down the I-5 corridor in and around Seattle. We can work with pet parents individually to make alternative arrangements, if necessary.
Is composting an option for humans after they die? If so would you choose it?
Currently, human composting is not legal, (but if it was I'd choose it!) Our business and our focus is pet recomposition.