SXSW gets its share of activists, marketers, and trend forecasters attempting to sell you on their brand. This afternoon, a group of open-carry gun advocates marched through downtown Austin to promote theirs, and Second Amendment rights.
A group representing the Austin chapter of Come and Take It Texas walked from the Capitol building to Sixth Street, downtown Austin's main SXSW thoroughfare, during the first day of the music portion of the festival.
They were armed, and though loaded magazines were allowed, no one could march with a bullet in the chamber. As they walked past a sometimes confused lunchtime office crowd, they shouted their own personal mantras:
"This gun rally is Texas peace!"

"If we don't have the second amendment we can't have the first!"

"We have the right to protect our women and children!"
The march was an effort to raise awareness about gun rights, but also to protest Facebook's recent policy change, which would make it harder to buy and sell guns on that site, as well as Instagram.
On Saturday, the group was downtown to protest a SXSW panel on how to disrupt the gun lobby via digital engagement. Photos quickly circulated on social media, causing some out-of-town attendees to wonder if this happened every day. That rally also attracted some curious celebrities.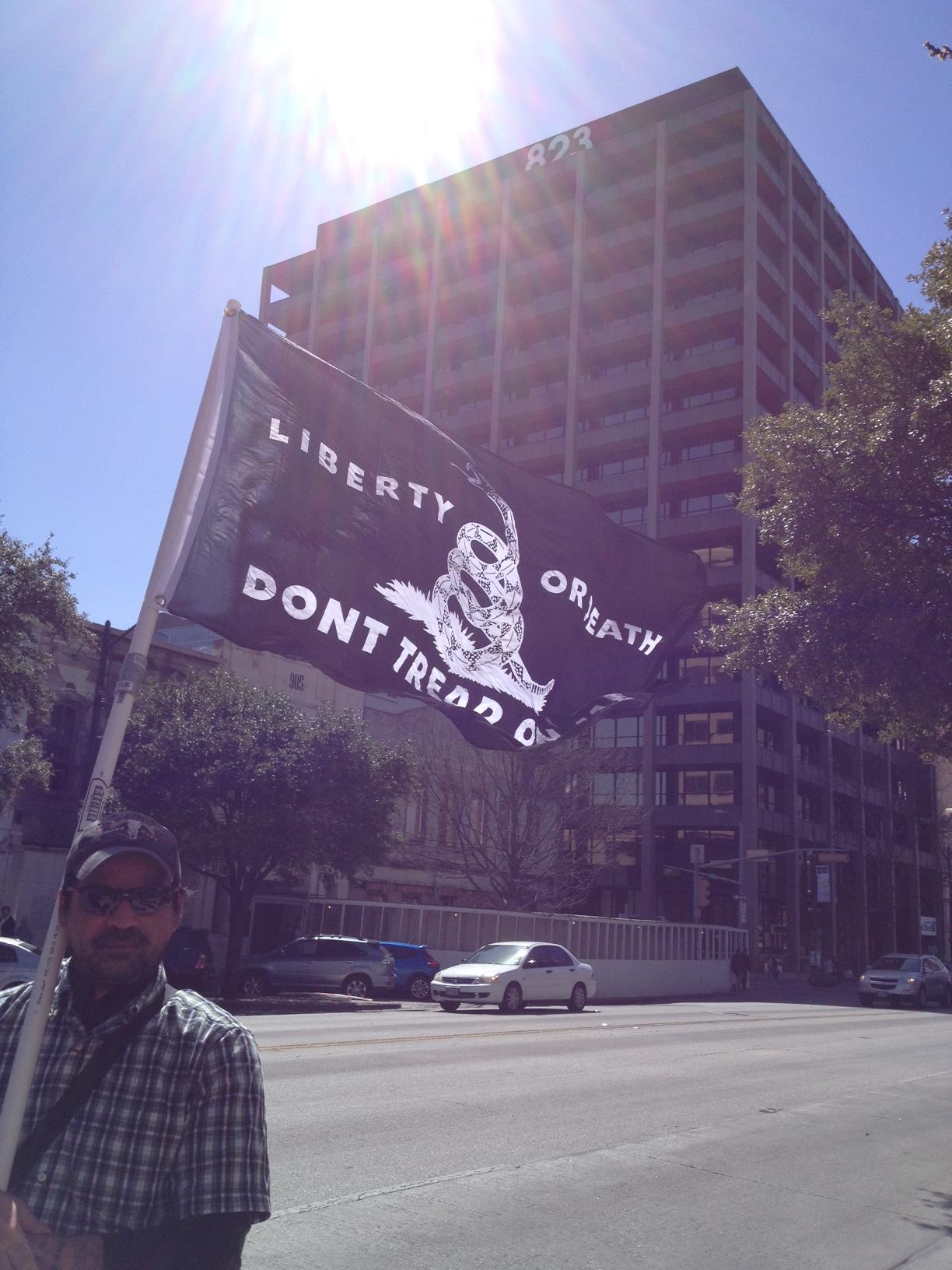 Jeremy Walker marched today as an "independent advocate for human rights." He says guns are necessary in a free society, and gun owners are "a population of the people, for the people, and by the people. And so it is the people who are the government. and with that, no entity who calls themselves the government can supercede who the people are through their enumerated rights. … If the largest free army in the world is disarmed, the whole world will be enslaved.
"I don't even want to be out here," he added, "but my spirit brought me out here today for reasons unknown to me."
Bethany Malone, who walked with two other women, says this is her first open-carry march: 
"I just wanted to see what it was all about, and I believe it is a right that we have. It's our Second Amendment right so I'm supporting that. There's nothing antagonistic about what we're doing here. … We're just trying to show a wider variety of people that guns aren't what's scary. What's scary is when the bad guys have them."
Within the march, there was one counterprotest: a woman advocating for "less guns, more boobs." She followed the group with her breasts bravely exposed to the afternoon sun. Unfazed, a dude in a suit walked beside her, texting.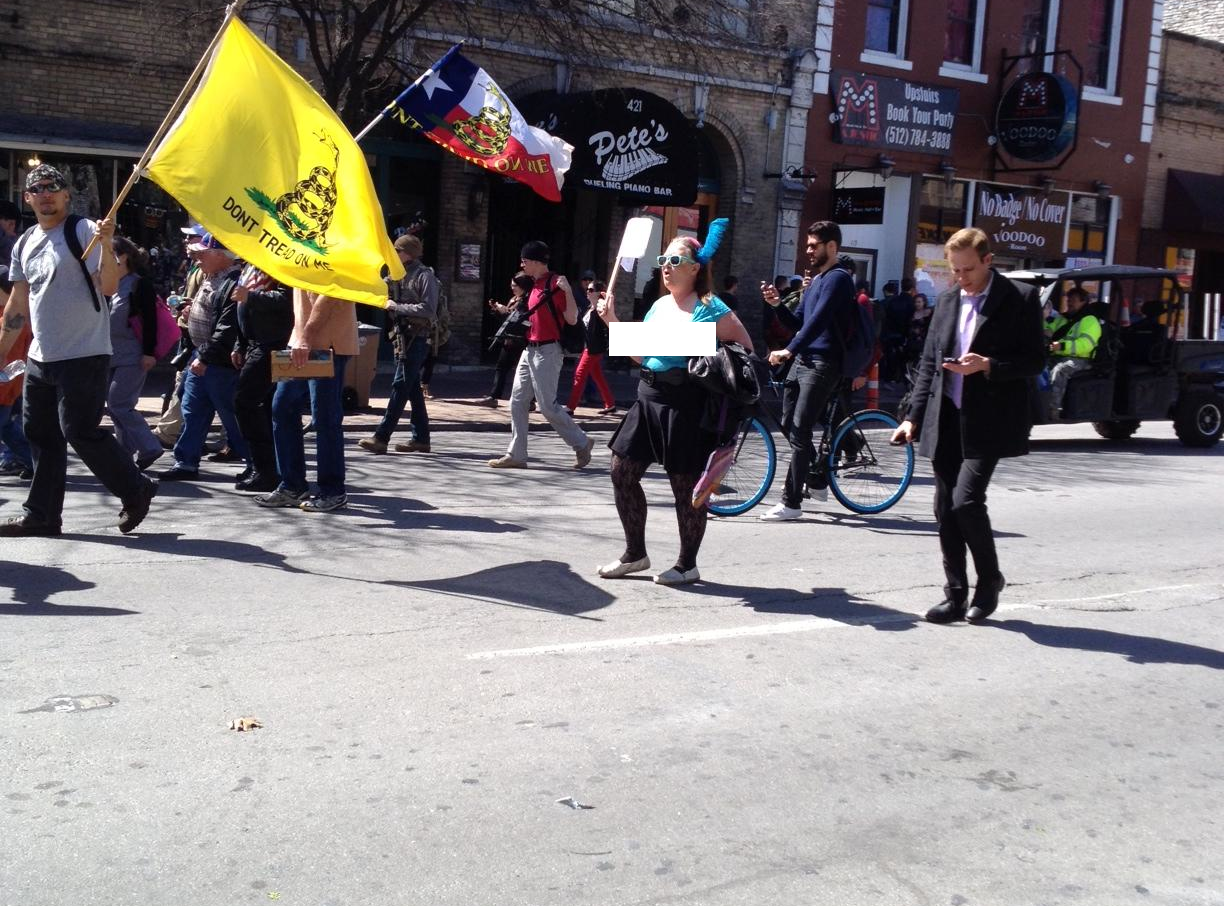 At one point on Sixth Street, passersby told a police officer monitoring the march that the topless woman was the real threat, and that she should be arrested. It was hard to tell if they were joking.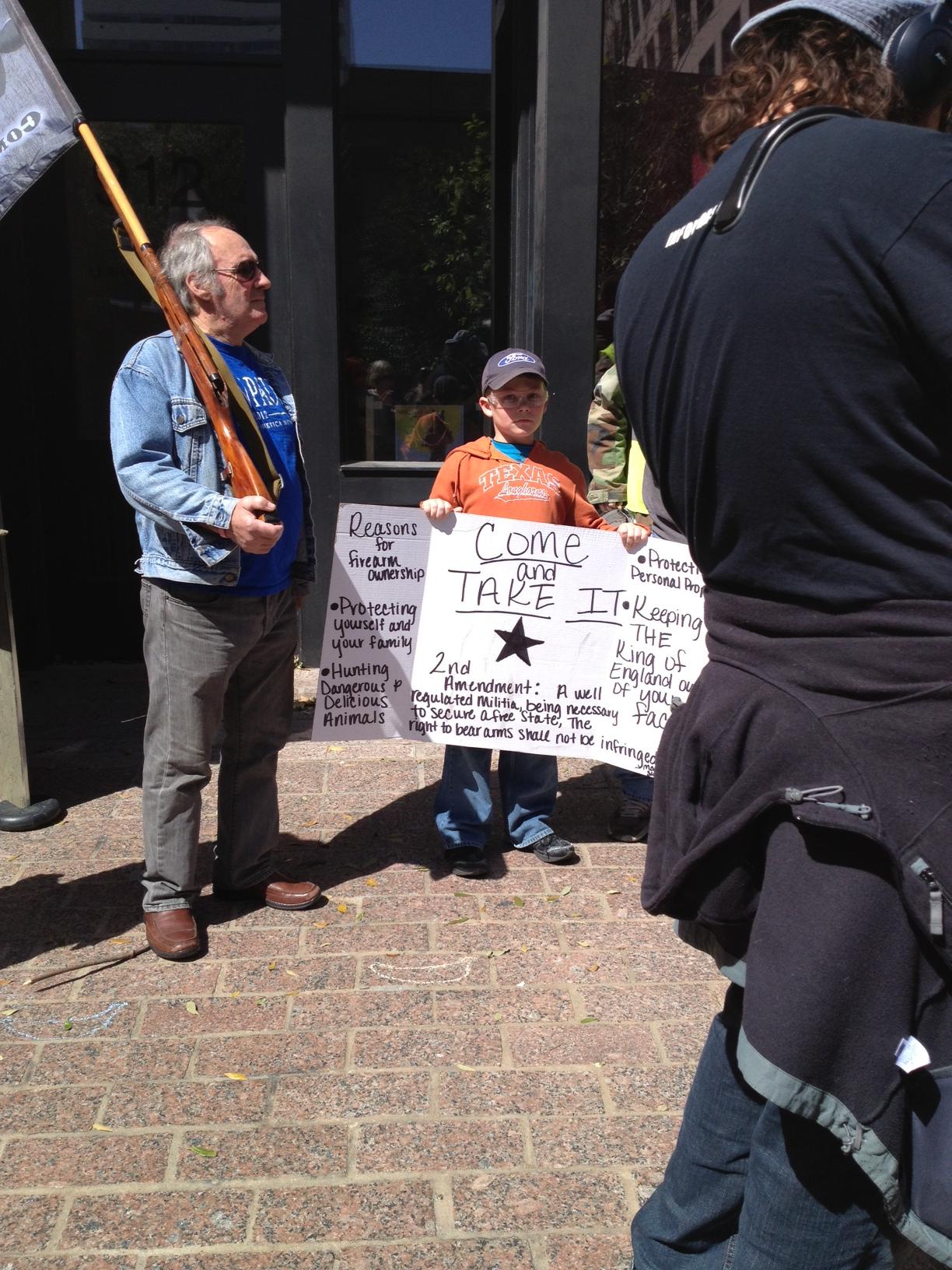 Seeing the group walk down Sixth Street in the midst of SXSW was a bit surreal, but none of the music fans and day partiers taking pictures of the group seemed that upset or freaked out. When asked what he thought of the march and the right to open carry, a young man outside a club appropriately called Buckshot said he's fine with it because "It's all about freedom and, like, boobs."
Indeed, this march didn't look that out of place among the carnival of SXSW: The "cool" realtors advocating for people to move to Austin and buy a house, or the Doritos social media managers trying to coax fans into doing lame stunts for Lady Gaga tickets. SXSW has become not a place for big ideas, necessarily, but a stage for new marketng strategies. People treated them like they were just another amusement in SXSW's pinball machine of marketing, one to be Instagrammed and tweeted about.
Photos by Audra Schroeder