Colorado potheads are very confused.
The state's Amendment 64 legalized recreational marijuana use, but most people are pretty vague about the specifics. Yes, you can use it at home and, yes, you can buy your favorite strain of Mary Jane from a state-certified dispensary, but you can't trade the stuff online like it's an old shag carpet or a mouldy used book.
In other words, don't sell your pot on Craigslist, kids. You'll get arrested.
Denver's CBS Local reports that police are cracking down on pot growers who use Craigslist as a means of distribution. The sellers seem to think they sidestep the law by giving away "free" pot in exchange for "donations."
That's what 22-year-old Andrew Walton tried to do. "Donate to Charity and Receive a Free MJ Gift," he titled an ad posted last week. In exchange for a donation of $30, Walton said he'd hand over (for "free") an eighth of an ounce, and double that for a $60 donation.
Undercover cops were watching Craigslist. They responded to the ad and busted Walton once money was exchanged. He faces a felony charge, which could carry some serious jail time. It's like shooting dazed potheads in a barrel for these narcos.
"It's important for people to understand what the law is and that you don't have the ability just to say the word 'donation' and to believe that you can turn around and sell something," an officer told CBS.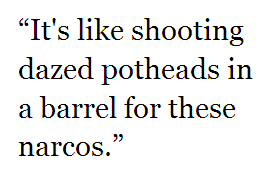 If cops were hoping to send a message with Walton's arrest, it hasn't worked. The Denver Craigslist alone has seen about one donation-for-pot Craigslist ad per day since the CBS article was published.
"This strain tastes fantastic, and it is very cherry O licious!" reads one ad for a strain called Cherry Bomb Haze, posted March 10. "I use it in all of my favorite forms that I use cannabis medicine including, Canna Budder, Edibles, Tinctures, and of course my all glass water bubbler."
You can get a free eighth of an ounce of Cherry Bomb Haze in exchange for a donation of just $25 (but try to get in before the cops).
Here are a few others:
This one cites Amendment 64, so it must be legal: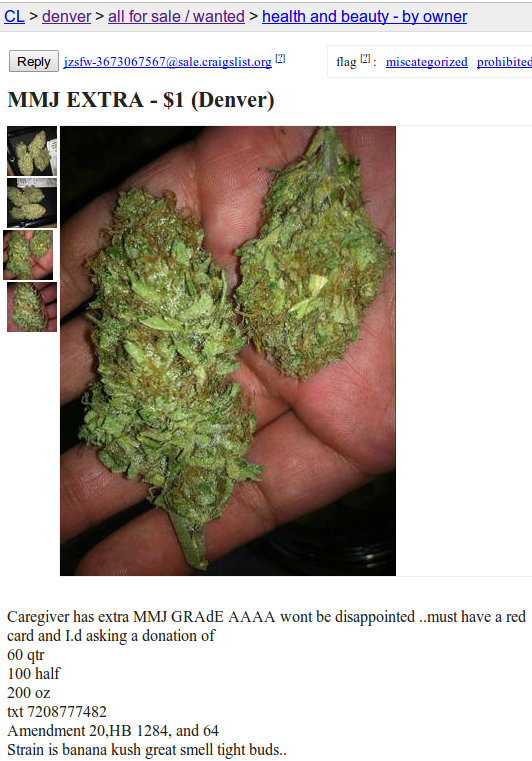 This guy gives his first name and zip code, in case the cops were curious about that.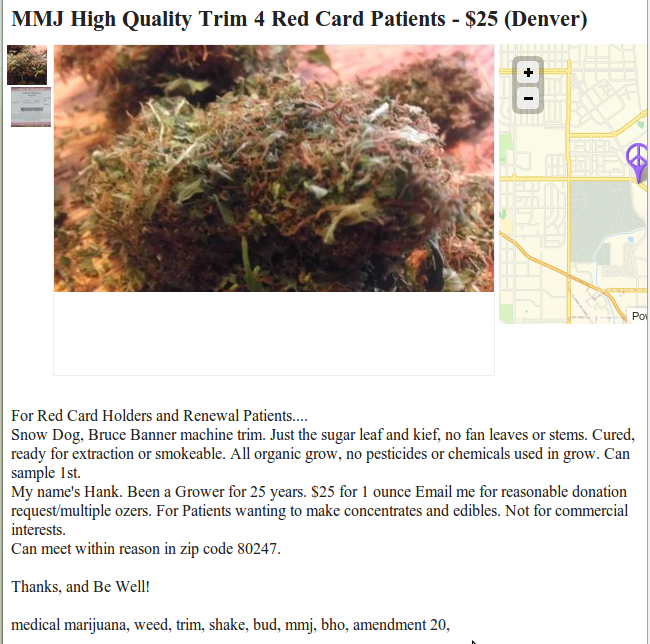 Mmm, Caramel.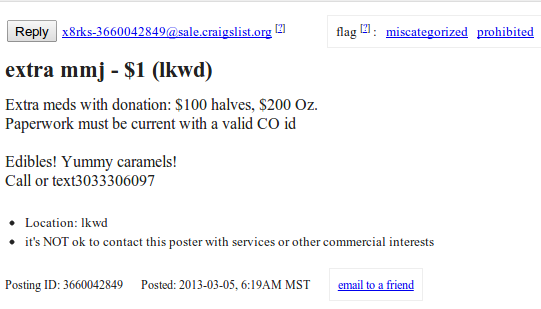 Photo via Craigslist