Here at the Daily Dot, we swap GIF images with each other every morning. Now we're looping you in. In the Morning GIF, we feature a popular—or just plain cool—GIF we found on Reddit, Canvas, or elsewhere on the Internet.
On the day before the 1996 presidential election, thousands of Americans waited anxiously to hear if Sen. Bob Dole had bumped President Bill Clinton from his seat.
Not only would the election dictate the future of the country, it would determine the answer to a New York Times crossword clue.
The ingenious puzzle was created by mathematics professor Jeremiah Farrell and allowed for "Clinton" or "BobDole" as potential answers to the clue "Lead story in tomorrow's newspaper(!), with 43 across." In order to make sure both words could have been selected as answers, Farrell selected seven other clues that had double meanings. 
"As soon as it appeared, my telephone started ringing," said Will Shortz, the Times' crossword puzzle editor, according to barelybad. "Most people said, 'How dare you presume that Clinton will win!' And the people who filled in BOB DOLE thought we'd made a whopper of a mistake!" 
In remembrance of the famous crossword puzzle, Reddit user chewpendous posted the following GIF featuring what could have been had Dole been elected.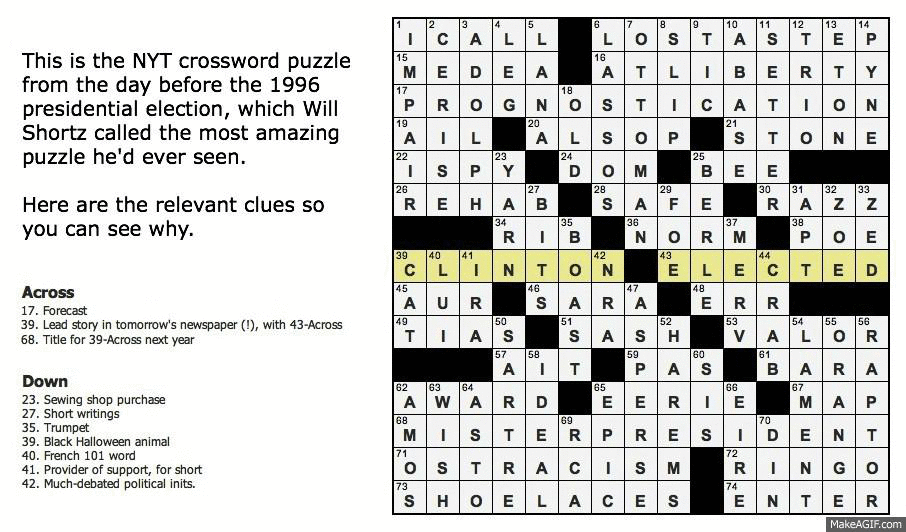 Images via chewpendous/Reddit