Chuck Grassley doesn't realize how much Twitter loves him. Why else would the U.S. senator—whose nonsense and typo-riddled tweets have made him something of an Internet phenomenon—tell BuzzFeed's John Stanton he's ditching his old tweet style for something new?
Grassley said he'll no longer chronicle his daily adventures as he gallavants across Iowa, wounding himself in the leg as he puts out brush fires, running over deer with his buddy Fred, and complaining about the History Channel's decidedly non-historical bent. Nope—now Grassley's personal life is off limits. Instead, he'll tweet about work.
"I try to be more policy-oriented now than I used to be, not every little personal thing," he told BuzzFeed.
Chuck, listen to me: Don't do this to us, Chuck.
Grassley's posts meander between bizarre, poorly spelled rants and straight-up pocket tweets ("#" is one famous example, as well as the typographical concoction "Ûü"). For bored Twitter users wading through streams of self-promotional fluff and overdone jokes, Grassley's tweets are injections of nonsensical comedic purity. He is a human @Horse_ebooks. The only thing more fun than reading his tweets is imagining what goes through his mind as he types them, what noisy and misfiring neural processes produce sentences like this: "AP 22DNH16 3rd q."
Or this: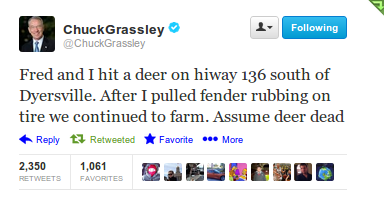 From the interview, it's not clear just how much Grassley will cut down on his overall tweeting. Cutting out his personal tweets alone will be disastrous. Those, like the "Assume deer dead" one above, provided much of the fodder for the really quality stuff in his feed. So we're not hopeful.
And if you ever tweeted anything back at Grassley, it's all your fault. You've ruined everyone's fun. The senator said too many people were filling his feed with mocking and nasty comments, and that they didn't understand his purpose.
We deserve some of the blame. "Iowa Senator absolutely terrible at Twitter" was how we titled our Storify about Grassley last year. We're sorry, Chuck. What we meant was "absolutely the best at Twitter, way better than President Obama or Oreo."
To help you relive some of Sen. Grassley's greatest moments, you can check out that Storify, which we've copied below.
Photo via Chuck Grassley/Twitter