"Big Bootie Freaks" is not the type of Facebook page one expects their local politician to like, but an official in New Jersey is in trouble for doing just that.
Jersey City Assemblyman Charles Mainor has been outed for liking several risque pages, raising ire from his constituents. Along with the large-bootied enthusiast page, Mainor liked "You Got Knocked the Fck Out Man," which includes a YouTube video of brutal beating of several Newark teens with a belt.
After The Jersey Journal approached Mainor about the racy pages, they were deleted from his list of Likes. He initially denied liking the pages, telling the newspaper "I don't do Facebook."
However, the reporter obtained a screenshot of the Likes from the Democrat's Facebook page. He admitted that he did indeed like the pages and would unlike them when his daughter could teach him how.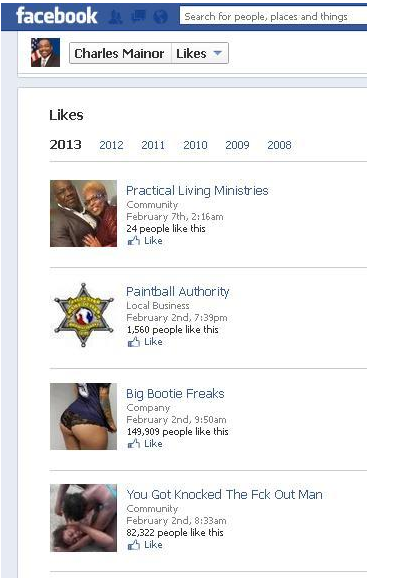 Mainor said this was a smear campaign by his opponents as a way to get back at him for his strict anti-gun laws he's proposing.
"They're trying to discredit me in some kind of way because I agreed with the gun deals that I pushed through," he said to the newspaper. "We're losing babies. And if the best they can do is come back and say, 'He shouldn't have Big Bootie Freaks,' then I said, 'Hey, you shouldn't have guns."
He explained that it was his love of women which prompted him to like the page. "As far as the Big Bootie Freaks – listen, I love women, but it shouldn't be on there but I don't know how to get it out," said Mainor, whom the newspaper notes is not married.
This controversy just comes a few weeks after Mainor got into trouble for labeling the Philadelphia Eagles as "gaybirds" and the Dallas Cowboys as "cowgirls" in a Facebook status update.  In January, he told the same newspaper he stopped using Facebook.
"Ever since the Cowboys and the Eagles, I really try my best not to do anything, and I ended up liking something that got me jammed up again," he said.
Photo via Charles Mainor/Facebook