Cards Against Humanity creator Max Temkin needs your help finding a porno.
At this year's Electronic Entertainment Expo (E3), gaming review site Giant Bomb rented a studio to shoot talks with major figures in the industry. Porn stars likely had sex all over that same set. 
Now Temkin, a Giant Bomb ally, is recruiting the site's readers in his hunt to find the porn, offering a $100 bounty to the first to spot it.
Hey Duders, Max here from Cards Against Humanity. We're putting a $100 bounty on porn shot on the Giant Bomb E3 set.

Some background: This year Giant Bomb rented a professional studio to shoot their live after-hours E3 coverage in, and it turned out to be one of the weirdest places we've ever seen.

The studio included a number of half-assed sets like a police station, a hospital room, a prison shower, a law office, a bar, and numerous bedrooms.

Of course we all made lots of jokes about how these sets were probably used for porn, but everything took a dramatic turn when Nathan Vella found an annotated porn script labeled: Ep 3 – Yellow Revisions – 03/18/2013

The implications here are staggering. We're pretty sure that such video game luminaries as Jonathan Blow, Cliff Bleszinski, Adam Boyes, and Vinny Caravella used fake desks and beds that hosted vigorous … sex just days or even hours earlier.

Here's the complete script as a PDF. 
Naturally, everyone started to get ideas about where those sets came from.
Users contemplated the implications of using the fake furniture on the set that may have been featured in a porn. After looking at the script left behind, Temkin determined that the porn shot on March 18 was the second episode in a series, so of course he had to see the previous episode. And he was willing to pay for it.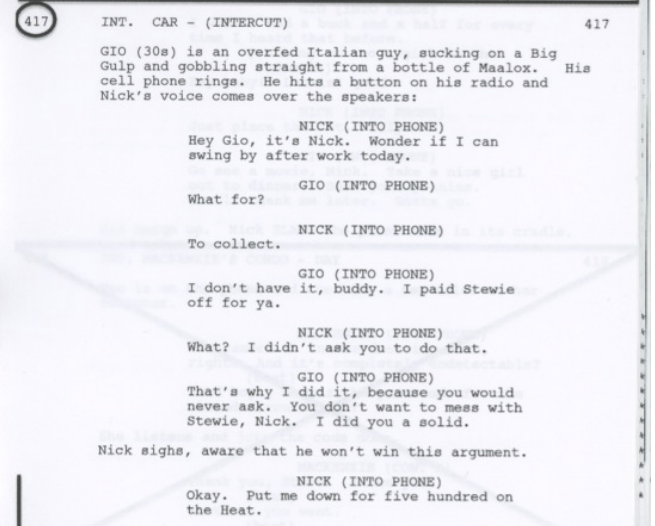 With $100 on the line, Giant Bomb's message board got busy. As of Monday evening, users have yet to find the specific porn with the same characters, but they've made headway on spotting the location in other media. Jeff Gerstmann found one of the sets in the studios in a recent Lonely Island video, while Giant Bomb user mosespippy found a different porn filmed at Willow Studios.
Guys, mosespippy emailed me this morning with [LINK REMOVED] (NSFW obviously) that Ryan and I can confirm was shot at Willow Studios—it uses the gang shower, the roof, and the law office (although mercifully that's not the same table GB used on night 3). To quote Ryan, "There's no part of the buffalo this porn production didn't use, is there?"

We're going to pay out a $100 bounty to mosespippy but we're also going to keep the contest and the $100 bounty going for porn shot on the Giant Bomb E3 sets (and specifically the porn described in the script we found).
Ronnie, a porn expert, wrote to Temkin and explained that while the script says "episode," the screenwriter may have meant "scene" instead.
Temkin is still holding out that someone will be able to find the specific porn he mentioned—as well as anything shot on the sets Giant Bomb used for E3.
Get hunting, Internet.
UPDATE: Mosespippy's video was eventually unearthed: It's a flick called Hard Time (IMDb) featuring Kayden Kross and Aurora Snow. (Synopsis: "Tiffy was a junior achiever, the homecoming queen, her senior class president, and the head of her sorority. Now she`s going to jail.") It was filmed six years, not days, earlier—in 2007. Still, the community's ecstatic. 

Another user dug up a second porno that appears to have been shot on the same set: 2008's Scenes From a Cell (IMDb).
And now the thread is locked, which means porn sleuths will have to take the hunt elsewhere.
Photo via Matt Stratton/Flickr