A University of Arkansas tweeter could face felony charges after secretly snapping photos of students working out.
University police last month became aware of photos posted by @HPERprobsUARK beginning in October, reports the student-run Arkansas Traveler. The images were apparently captured from the men's locker room in the Health, Physical Education, and Recreation (HPER) building.
The photos range from shots of women in compromising positions at the gym and sleeping medical students, to images with somewhat sexist captions:
The account also shared a photo of a couple, noting that they "definitely need to hop on an elliptical."
Under Arkansas law, taking photos of someone without their consent is classed as "video voyeurism."
"The video voyeurism is a serious felony, and that person will have to go to court for it, and they can even go to jail for it," said a spokesman for the University of Arkansas Police Department (UAPD).
Snapping photos or recording videos of someone without their consent in a private space is a Class D felony, and a Class B misdemeanor if captured in a public area.
"UAPD has already been spoken with about the account, and posting it taking of inappropriate pictures has not occurred since early Jan," @HPERprobsUARK claimed Tuesday. The person behind it also apologized for causing offence, noting that "the main point is to relate to people's #HPERprobs" (we're going to assume that means people who work out at the facility have problems, and it is that person's civic duty to share them).
Despite those claims, the person behind the account shared a photo of women from behind Tuesday.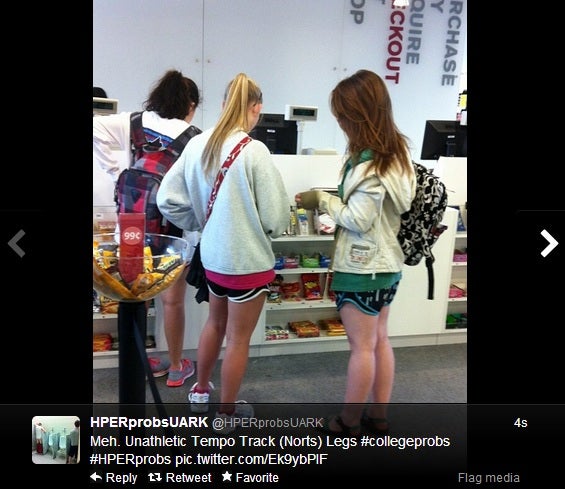 The Daily Dot confirmed with the UAPD that the case is still under investigation.
Meanwhile, the police spokesman said officials are taking steps to make others aware that taking photos of people without their permission is illegal. Another account, @UofAPassouts, which shares photos of people passed out around campus, might want to take heed.
Photo via Wikimedia Commons