Terry Richardson is his own instant scandal generator—just press a button and out pops a sexual harassment allegation. 
Recently, yet another model, Emma Appleton, came forward alleging that Richardson offered her sex in exchange for a Vogue photo shoot. Appleton allegedly received a text from Richardson that said, "If i can f**k you i will book you in ny for a.shoot for Vogue."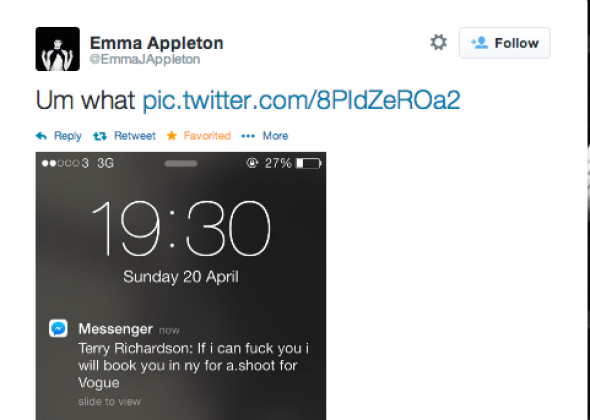 Screengrab via @EmmaJAppleton/Twitter
After the screengrab went public last week, Richardson's PR team quickly went into defense mode, claiming that it was a fabrication. "This is obviously a fake," his spokesperson said. "Terry did not send this text." Indeed, the model in question now claims that there's no real proof that Richardson sent the text message that she tweeted out.
Of course, we've heard this all before. Richardson wrote an op-ed for the Huffington Post in March in which he recast himself as the victim in the situation, someone who has been bullied through rumors and lies. He "[blamed] the Internet" instead, our own Aja Romano surmised at the time, calling it "an attempt to derail the conversation altogether."
Richardson's team seems to suggest that Appleton's allegations are the product of his past history on the issue of sexual harassment, profiting off of a culture that already views him as a monster, a name akin to Lord Voldemort. As Vogue continues to distance itself from him, Richardson wants us to believe that he's the victim here.
Even if the texts turn out to be fake, don't cry for Terry Richardson, Argentina. He's someone who has continually abused his power and privilege to allegedly put women into unprofessional and uncomfortable positions, behavior that (in the Internet age) has made him increasingly vulnerable to further claims. 
It's simple: If you don't want to be branded a rapist, distance yourself from rape culture. Just ask Bryan Singer.
The director of X-Men and The Usual Suspects has also been the target of recent claims that he drugged and raped Michael Egan, a then-17-year-old model who was struggling to make his name in the industry. 
According to the suit, "a group of adult males similarly positioned in the entertainment industry that maintained and exploited boys in a sordid sex ring," and Marc Collins-Rector, the founder of the Digital Entertainment Network who's named in the suit, pled guilty to similar charges in 2004. Rector's prosecution was just one of a number of allegations; his just happened to end in a conviction.
This isn't even the first time that Bryan Singer has been brought to trial over misconduct with young men. In 1997, a suit claimed that he'd forced an extra to strip naked to film him for a scene in his controversial movie, Apt Pupil. Singer beat the charges because of "insufficient evidence," a tactic his lawyers are using again. His legal team alleges that he was in Toronto at the time the crimes were committed.
The allegations might feel like an injustice for those who are inclined to believe he's innocent, but since the claims, rumors and reports have persisted about Singer's own role in the M&C Estate, the site of the Collins-Rector sex ring. Singer has done little to separate himself from the culture that resulted in the string of allegations in the early 2000s, and his own allegedly predatory relationships with young men in the years since have remained a poorly kept "open secret." 
You can only surround yourself in a rape culture so long before some of it sticks on you. Even if he is found innocent, he still likely to be seen as an abuse and a criminal for the rest of his career, making it difficult to effectively market and release a film. He's already dropped out of promotion for X-Men: Days of Future Past. 
Like in the case of Woody Allen's well-documented history with underage women (some of it reflected in his own work), the past speaks for itself—and so does the public. With the notorious difficulty in prosecuting sexual assault and misconduct, it's unlikely that either Singer or Richardson will ever see jail time—whether they are or aren't guilty. But that's not the only jury they need to be worried about.
Illustration by Jason Reed