After the TSA announced controversial new plans to confiscate 'dead' electrical devices from passengers intending to travel to the United States, British Airways has taken things one stage further, declaring that it will actively bar passengers from flying if they cannot power on their devices.
Our correspondent on the ground at London's Heathrow Airport reports an atmosphere of confusion and anxiety at the airport as a result.
Renewed fear of terrorist attack are responsible for the increased regulations: The rationale is that bombs could be smuggled inside the casing of electronic devices, so would-be-flyers must prove their devices' authenticity by powering them on succesfully. This includes mobile phones, tablets, laptops, consoles and musical players. If a passengers' device is genuine, but just out of battery—then that's just unfortunate.
"Customers with any electrical devices may be asked to demonstrate that they are powered up and can be used," read signs at British airports. "Any customer who is unable to demonstrate that their devices are functioning will not be allowed to fly to the U.S. on their scheduled flight." 
A British Airways spokesperson told MailOnline that passengers transferring to a U.S.-bound flight should use their gadgets "sparingly" if they want to get on board:
"If it does not power up then it cannot be placed in hold or hand luggage. We advise our customers to please do all they can to ensure that any electronic device they have is fully powered before you arrive at the airport. For people transferring, we advise that they use electronic devices sparingly if they are going to fly on a long journey before getting to Lonon and then transfering on to a U.S. destination."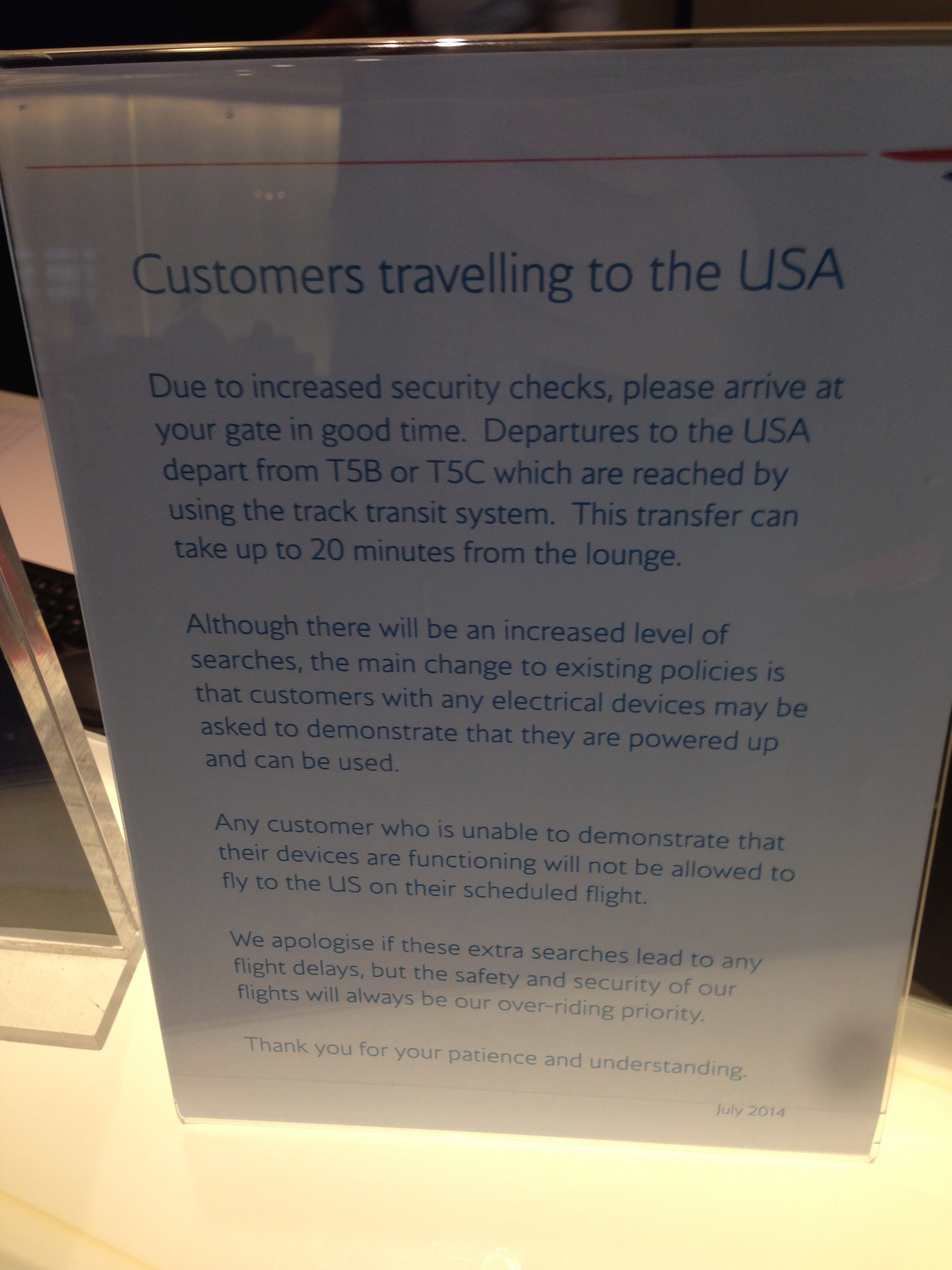 Official notice at Heathrow Airport Terminal 5, London. Photo via Ned Donovan.
These new rules come at a peak holdiay time for U.K. citizen. Our correspondent, Ned Donovan, reports that while British Airways staff are willing—depending on time constraints—to help passengers find charging points for their devices, as a result of the sudden new policy, "all of the charging points in Heathrow are rammed."
British Airways staff described the policy to Donovan as "a nightmare," and that it "keeps changing." Passengers are being subjected to random checks before boarding, and if their devices are failing to turn on, then they are refused entry to their flight. If 'dead' devices are discovered before going through security checks, they can be posted to the owner—if they are found after, they are confiscated. 
The Daily Dot has confirmed that these checks also apply to electrical goods bought inside the airport after going through security—which is sure to put a dampener on duty-free impulse purchases.
There's also suggestions that the regulations—currently only in effect on international flights coming to the U.S.—may yet be brought in on U.K. domestic flights, too: "We continue to evaluate things," said Secetary of Homeland Security Jeh Johnson. "In this instance we felt it was important to crank it up some at the last point of departure airports and we'll continually evaluate the situation."
Additional reporting by Ned Donovan.