Something old, something new, something swaddled, something blue.
Shona Carter-Brooks reinvented the age-old wedding adage by strapping her infant daughter to the train of her wedding dress and dragging her down the aisle during her nuptials last month.
The Ripley, Tenn., bride and her groom, Jonathan Brooks, wanted to include their 1-month-old daughter, Aubrey, as a special part of the ceremony last month. While the couple didn't have the resources of the Kimye wedding, Carter-Brooks did manage to modify her Vera Wang gown so that Aubrey could be strapped in for a roll down the aisle.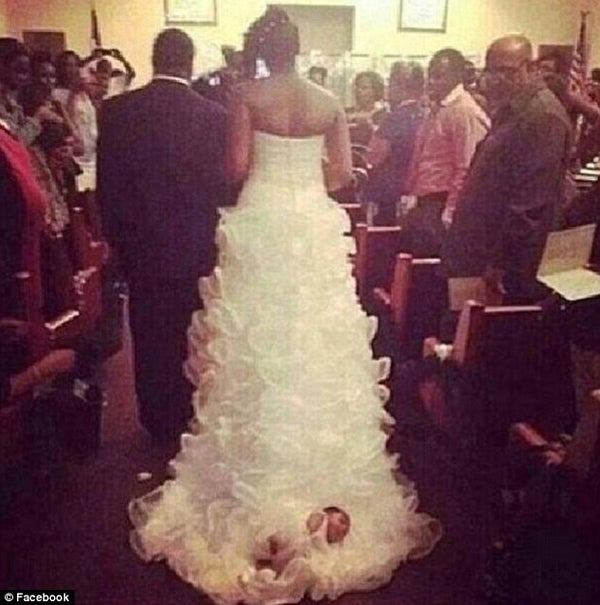 After pictures of the bride and her baby-adorned gown were posted on Facebook, the couple took some flak online for their unique incorporation of their daughter into the ceremony. Some even insisted that the couple should be reported to child services. But Carter-Brooks seemed unfazed, posting on her Facebook page: 
Our 1 month old was awake and well secured on my train. Most important while yall got ya feelings in us we had our hearts in Christ which covers all!! So keep ya mouths running for it was just that Exclusive and Epic enough we made top blog way from small town Ripley, TN and the social media doing what they do, TALK!!!!
H/T: The Frisky | Photo via: Sop220/Flickr (CC BY-SA 2.0)