In the midst of an event whose biggest threat is normally rain, two explosions rocked the Boston Marathon near the finish line on Boylston Street Monday afternoon. CBS reported "grave … horrific injuries" and "missing limbs." The Boston Globe announced two were killed and at least 90 injured. On Tuesday morning, the updated numbers were three dead, 152 hospitalized.
As of 3:39pm ET, EMTs were still loading victims into ambulances. Some injured were treated at the Marathon's medical tent. Thousands of volunteers, including doctors and nurses from area hospitals, already prepared to treat runners' aching muscles, were on hand immediately to help stabilize victims. Soon area hospitals were on lockdown, full to capacity, treating "traumatic amputations, … injuries related to shrapnel. … Most were spectators; did not look like they were runners," reports Boston news organization WBUR.
WBUR also spoke to a witness, journalist David Abel: "I was standing on the finish line taking videos of runners coming in when I saw a massive explosion. … I opened my eyes and realized what was going on. I saw a large crowd of people in what was clearly the worst thing I've ever seen in my life. People lying on the ground, mangled, blood, glass shattered. It was really chaos. … I've covered a lot of things and this is probably the worst I've ever seen."
Boston.com has a graphic video of the first explosion:
Here is the second:
"It's something that will be set in our minds for years to come," said a correspondent. "You're not used to seeing people cross the finish line" with gruesome injuries. It's unclear what kind of explosion this was, but it's clear it came from a "low level" because of the type of injuries sustained. Boston Marathon officials are now calling it a bomb, but there is no solid proof the explosions were planted. One thing is for sure: "Whoever did this was going for the greatest impact."
UPDATES
4pm ET: Shortly after the initial two explosions, a third sound startled the crowd. It was a water cannon, a controlled demolition by authorities.
4:10pm ET: If you know someone running the Boston Marathon, you can (amazingly) still check his or her status here.
4:20pm ET: Boston news station @WBUR paints a chaotic scene. A witness describes, "There are still people running all over trying to find people. No one's phone is working."
4:24pm ET: @BostonGlobe reports two more explosive devices found, being dismantled. 
4:42pm ET: Boston Marathon runners from Newtown, Conn., are reportedly safe, reports Newtown Patch.
4:44pm ET: CBS's Bob Orr reports surveillance photos show a man carrying backpacks into the scene. Federal investigators believe it was a small bomb that could have been easily hidden in a backpack or trashcan. 
4:53pm ET: A third explosion was reported at JFK Library. The events are not known to be related, but BPD "is treating them as if they are."
4:55pm ET: Was this a terrorist attack? "You can reach your own conclusion," says Boston police commissioner Ed Davis.
4:57pm ET: If you have tips, contact the BPD at 1-(800)-494-TIPS. For families of victims: 617-635-4500
5:02pm ET: AP reports Boston has shut down cellphone service to prevent a remote detonation. Update: Not true; network just overwhelmed.
5:05pm ET: The Red Cross has "enough blood on hand." For information about specific people who may have been the scene in Boston, visit redcross.org/safeandwell. Google also has a person finder tool. 
5:24pm ET: The third explosion, at JFK Library, is reportedly an electrical fire.
5:41pm ET: The U.S. Senate had a moment of silence for Boston.
5:44pm ET: Sen. Harry Reid says President Obama will speak at around 6:10pm ET.
6:21pm ET: "The American people will say a prayer for Boston tonight," President Obama said in his brief address to the nation following what he called a "senseless loss." He praised the efforts of the Boston Police Department, the Boston Fire Department, and others on the scene who "responded heroically." Obama was careful to not label the events a terror attack, stressing on multiple occasions that authorities do not "yet have all the answers." However, he promised that bipartisan politics would not prevent the government from getting "to the bottom of this" and pledged that those responsible would be held accountable and "feel the full weight of justice." 
6:49pm ET: Law enforcement official confirms an 8-year-old boy was one of the two individuals killed in the explosions, NBC News reports.
7:32pm ET: CNN reports at least 110 injured, according to Boston-area hospitals. 
Boston Police react, via @BGlobeSports:
The New York Times mapped out where the explosions occurred (via @digg):
A Vine of the aftermath, via @Durkin:
Another angle:
via @GlobeDavidLRyan
The NYPD released a statement at 3:40 ET, writing, "We're stepping up security at hotels and other prominent locations in the city through deployment of the NYPD's critical response vehicles (CRVs) until more about the explosion is learned."
Mayor Bloomberg released a statement:
As law enforcement authorities investigate today's explosions in Boston, I ask all New Yorkers to keep the victims and their families in your thoughts and prayers. I have spoken with Police Commissioner Ray Kelly, and the NYPD has stepped up security at strategic locations and critical infrastructure, including our subways. Some of the security steps we are taking may be noticeable, including deployment of Critical Response Vehicles and additional police personnel, and others will not be. We have 1,000 members of the NYPD assigned to counter-terrorism duties, and they—along with the entire NYPD and the investments we have made in counter-terrorism infrastructure—are being fully mobilized to protect our city.
The Boston Globe's video coverage of first responders arriving (warning: graphic sounds and images):
New video of the event: 
Warning: Some photos are extremely graphic.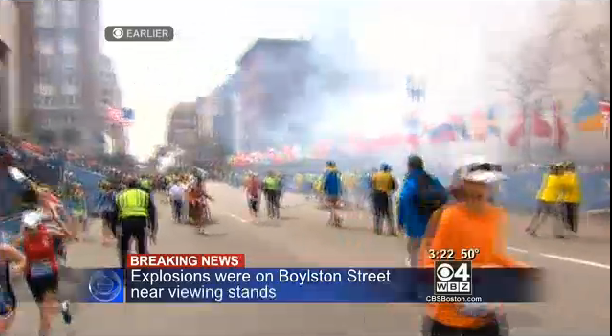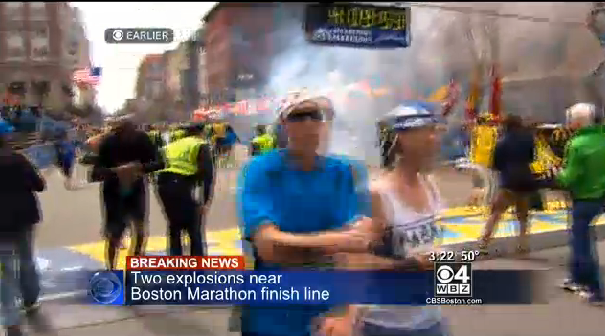 via @raywert
The Daily Beast has a Storify:
This story is developing.
Photo by @ASE/Twitter