Broadcast legend Bob Costas threw out the first pitch at the Cardinals-Reds game Tuesday night in St. Louis. It was an off-target disaster.
Costas relieved himself with a softball-level strike after insisting on a mulligan.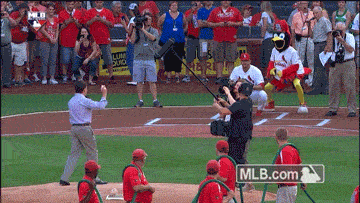 Relief abound. Costas exited Busch Stadium with grace and got some dap from Cards mascot Fredbird on the way out.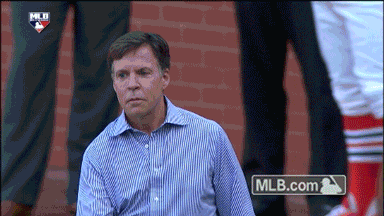 First pitches in Major League Baseball are ceremonial pressure cookers. There's nothing to gain from the action, but for heteronormative men it's an opportunity to qualify masculinity. This is, of course, ridiculous. One shouldn't care when President Obama throws a wobbly first pitch because it's obvious that the guy isn't a baseball fan. Why would a non–baseball fan ever be expected to throw an accurate strike?
Costas is a notorious sports purist, however, and that means he's one of those crotchety journos that loves to write about baseball in cultural, romantic, nostalgic terms. Fine and good, but back up a career's worth of passion with at least a rec-league-grade toss.
More importantly, has there ever been a good first pitch? Actually, yes:
H/T MLB.com | Photo via andrein/Flickr (CC BY 2.0)