Irrational Games' third installment in the BioShock franchise, BioShock Infinite, came to a close in March with the release of final DLC Burial at Sea—Episode 2. The release marked not only the end of the loved video game series, but also the end of the studio that produced it. There's no question BioShock Infinite will be remembered fondly for its critically acclaimed storyline and art design, but there was something exceptional about the game's soundtrack that really set it apart.
Set in 1912, as soon as the game begins its music draws you in. Not only did the score become a hit with gamers, but the old-time covers of contemporary songs instantly caught their attention. These covers were so loved by fans that it's no surprise many were disappointed when they weren't released on the official soundtrack. Instead gamers turned to YouTube to post, share, and create endless playlists of their favorite BioShock Infinite tunes.
This kind of dedication and response to the game's music has not gone unnoticed by the studio. Anticipation was high for what gamers would hear in the DLC. Irrational Games shared three original downloadable songs from it on their blog with commentary from BioShock Infinite music director Jim Bonney.
Bonney told the Daily Dot the response to the game's music has exceeded his expectations.
"It's so easy to just blast through a video game level at breakneck speed, I just wanted people to slow down and notice what they were hearing," he said.
The music won numerous awards, including a D.I.C.E. Award from the Academy of Interactive Arts & Sciences for Outstanding Achievement in Original Music Composition and a BAFTA Games Award for Original Music. The musical score was composed by Garry Schyman, who also worked on BioShock and BioShock 2. He's glad the music has received such a fantastic response, from the awards to the emails he gets from fans.
Schyman said that unlike in previous Bioshock installments, Infinite's music underscored more specific, cinematic moments in the game. The new location and time period also changed the vibe and feel of the music. He was inspired by music of the period, but made his own changes. Schyman said a lot of thought and experimentation went into finding the right tone.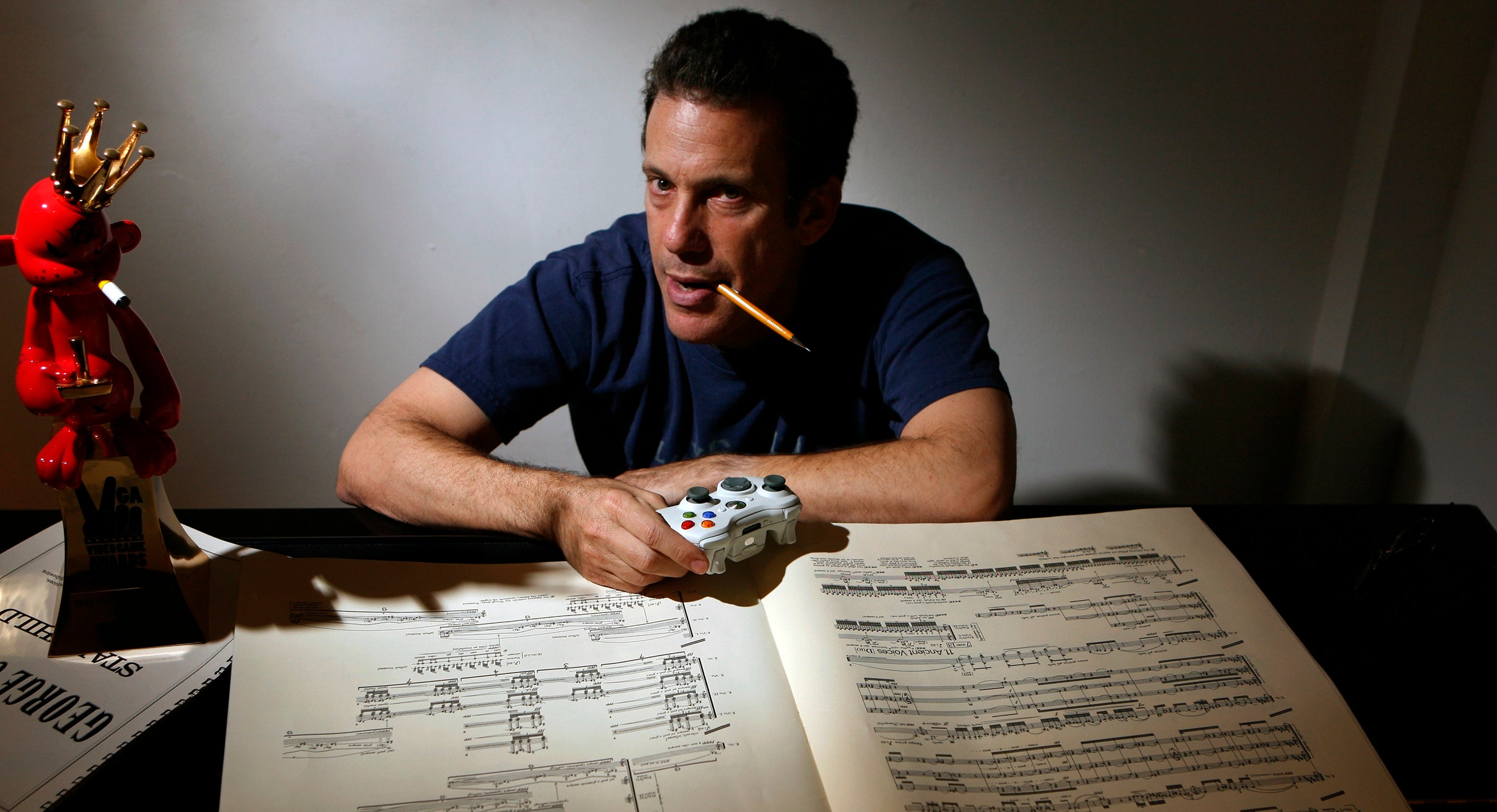 BioShock composer Garry Schyman. Photo by Jay L. Clendenin
"Music changes over the decades or in this case a century, so what was emotional in 1912 is not so much now, so what I tried to do was infuse the music with the spirit of that time as best I could…" he told the Daily Dot. "I would add some contemporary elements to it to make it unique. I wanted to make sure the music was emotionally appropriate to impact today's audience."
For the song covers, Bonney's biggest concern was honoring what made the original songs great.
"If I couldn't imagine a new 'faux-period' version of the song as valid interpretation of the original, I didn't want to consider it. So [creative director] Ken [Levine] and I chose songs thoughtfully, and then I would search for the best talent to realize that arrangement. That was difficult too, because the artists we worked with needed to really be grounded in the style of the period, yet have the creativity and spark to come up with really compelling performances," he said.
Some songs were created before it was decided where they would go in game such as the popular barbershop quartet arrangement of Beach Boys song "God Only Knows" while other songs were specifically chosen for the moment like the steam calliope version of Cyndi Lauper's "Girls Just Want To Have Fun" heard during the beach scene.
When it comes to the DLC, Bonney is really proud of the work and said the music for Burial at Sea is some of the best they've ever done. Since the DLC returns to the original BioShock setting of Rapture, there was a conscious decision to model the music more on the first games. Schyman said the score became a mix of styles from the original BioShock infused with what he'd done for Infinite. If Bonney reused a tune from Infinite, he reinterpreted it for the new setting.
"For example, I placed an elegant version of a Chopin nocturne in the white bathrooms of the arcade, and a more severe version with an out-of-sync metronome on the docks of Fink's factory, to pacify and synchronize the workers. I used the same nocturne in Burial at Sea 1 and 2 in the toy store, but now it sounds like it's on some distant, disembodied music box. It fit the setting of a children's store, but it is playing too slowly, as if it has almost run out and could stop playing at any moment, which makes it a little bit discomforting because it doesn't quite flow," Bonney explained.
Looking back, Bonney and Schyman have a hard time choosing their favorite pieces of music though it's clear certain arrangements have a special place in their hearts. For Schyman the "Lighter than Air" cue and "Elizabeth's Theme" are two of his favorites while Bonney told the Daily Dot "Everybody Wants to Rule The World" has a special meaning to him and he loved the moment when Booker and Elizabeth perform "Will The Circle Be Unbroken."
While there's no definitive word yet on when a full soundtrack for the DLC might be released beyond the three songs on Irrational's blog, there's no doubt fans will continue to share their love of the game's music however they can. There are already numerous videos on YouTube for the music of the final DLC and one glance at the reaction on Twitter shows how the music has uniquely connected with gamers and will be missed.
Bioshock Infinite is making me a fan of music from the 1910's & 1920's.

— pessimistic (@hashtaggeo) March 31, 2014
Listening to some of @scottbradlee's #BioShockInfinite music to wrap up my evening. Magical stuff.

— William Bard (@WilliamBard) March 30, 2014
@IrrationalGames Will the songs from Bioshock Infinite be available for purchase? CD, iTunes, anything, please. The music is amazing. -B

— Face Time Police (@FaceTimePolice) March 30, 2014
Bioshock Infinite music while doing homework because I refuse to believe that Irrational Games really is finished

— Matt Day (@dattmay) March 31, 2014
Like the fans, Schyman will miss playing in the world of BioShock.
"What's interesting is when we first started working on BioShock Ken Levine didn't really think music would play an important role in BioShock and then later became convinced it was a critical part of the game. I think my music helped convince him we could do something really, really special and have it play an important role," he said.
While Schyman thinks it might be cool if one day there was another game in the series released, he said there are some things that come and go that you just don't want to mess with. Gamers may just have to come to terms with this final DLC possibly being their last time to hear the eerily beautiful music of BioShock.

Screenshot via TriplePoint PR