The United States Embassy in Cairo found itself at odds with the Egyptian president's office after it tweeted out the video of The Daily Show host Jon Stewart defending TV host and satirist Bassem Youssef.
The U.S. Embassy in Cairo's Twitter account, which has a history of confronting its critics online, originally posted a link to the video on Tuesday. 
Youssef turned himself in Sunday after a warrant was issued for his arrest on counts of insulting Islam and Egyptian President Mohamed Morsi, and he was interrogated for hours before he was released on bail.
Stewart spent the first 11 minutes of Monday's show condemning Youssef's arrest and calling out Morsi for being anti-Semitic and for putting people in jail whose views differed from his own.
Youssef revealed that since his arrest, others have been prosecuted because of appearances on his show and that he is being investigated for "spreading rumors" and "disturbing the peace."
An official account with the Egyptian Presidency commented a few hours later and called the embassy out for engaging in "negative political propaganda."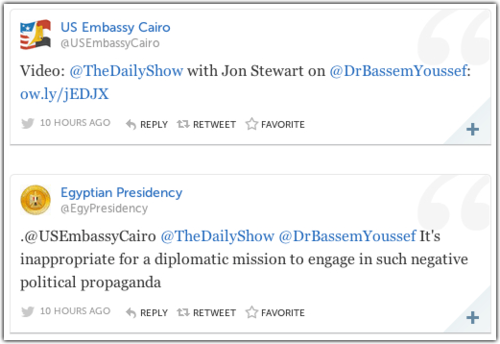 Screengrab via Storify
The Twitter account went offline shortly after the exchange. Foreign Policy reported that the decision was made by U.S. Ambassador to Egypt Anne Patterson without consulting the State Department. Following pressure from the State Department, the account was reinstated without the tweet featuring Stewart's video.
The Egyptian president's office released a statement on Facebook Tuesday saying that private citizens, not Morsi, filed the complaints which led to Youssef's arrest.
"The Presidency reiterates the importance of freedom of expression and fully respects press freedom," it stated. "All citizens are free to express themselves without the restrictions that prevailed in the era of the previous regime."
H/T New York Times | Photo via Albernameg/YouTube