Not to spark about a thousand awkward conversations, but it turns out you can easily see which of your friends use the "discreet" hookup app Bang With Friends (BWF).
Logged into Facebook? OK, now click this simple link.
Voila: Here are your friends who have the app installed.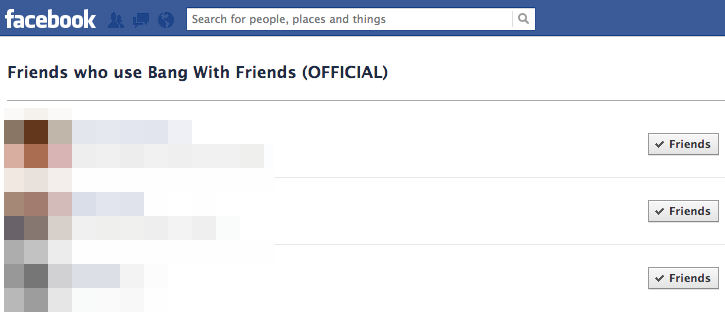 BWF has marketed itself specifically to be untraceable. The gist: You sign up for the app, and that's the only way you can see who else is down to eff. Once both friends choose the other as a sexy match, they're sent an email that a connection is afoot. You'll never see the people for whom their bang is unrequited, and your crushes won't see your choices. 
Bang With Friends, which has more than 12,000 Facebook likes, bills itself as "completely private" on its website. Except I'm not signed up, and I can see 15 of my nasty-ass, awesome friends looking for poon right now. You go, guys (and girls)!
How many of your friends are getting down on the not-so-down-low?
I am also so, so sorry in advance, because what you see can not be unseen. One of the Bangers I found is in a relationship! Fun times. 
Like most problems in life, you can probably blame Facebook for this one. The default status for app visibility is public, just like your name, profile picture, cover photo, gender, networks, username, and user ID. "Apps also have access to your friends list and any information you choose to make public." Go adjust your privacy settings here.
Update: Katie Notopoulos has some fun using Facebook graph search to find BWF users of all walks of life—Republicans, Democrats, married folks, you name it.
Update 2: Bang With Friends released a statement: 
We take privacy very seriously at Bang With Friends and the vast majority of users will not show up in such a search. If you installed the app after January, you won't show up (unless you manually changed your privacy setting).

We launched right before Facebook's Graph Search functionality opened up to a wider audience. For the first few days after we launched, the default setting in Facebook when a user installed our app was set to the user's default setting for all apps. For many users, that was "Public" or "Friends."

We quickly adjusted this (back in January) once we realized that Graph Search did this. After we discovered this issue, we made the default for our app "Only Me."

Any user who installed our app after January should have seen that default setting and will not show up in Graph Search (nor the link you provided in the article). For any users who do show up, you have full control over this in your Facebook settings as you mentioned.
H/T @monstro | Photo via BangWithFriends.com