It's an oven-hot Friday at noon in Austin, Texas. I'm in a booth at the Arby's at 8648 Research Blvd on the shady side of a busy overpass that sends you to Dallas one way and Houston the other. There's an IHOP just next door whose patrons are surely blissfully unaware that a top-class fast food restaurant resides next door. This location I'm sitting in now is what five Yelp reviewers may have determined is the greatest Arby's in the country. I wanted to see if they were crazy, or if the Horsey Sauce® and piles of hot beef really set it apart.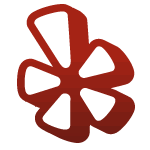 Since a pair of brothers launched the first Arby's in Boardman, Ohio, in 1964, the chain has morphed into an MC Escher painting of fast food. Things work in ways that they shouldn't. They violate the laws of gastronomic physics. Fries that should be proper, straight, upright, are instead bent and twisted into strange curly-Q contortions, speckled with clumps of oil-hardened fryer gunk—and they are delicious. The beef slices taste mass-produced and processed and also unfairly seductive, like some Walter White of meat-processing cooked them up in an illegal mobile Winnebago lab. This shit is 99.1 percent pure, baby.
And that's kind of what Forrest and Leroy Raffel, the brothers who launched the chain, wanted all along. McDonald's burgers had invaded America's restaurant scene like a band of pickle-bearing conquistadors in the 1940s, and the Raffels wanted a piece of the action. But rather than challenge the big boys head on, they went the asymmetrical warfare route. Everyone from Burger King to White Castle was fielding burgers. But the Raffel brothers figured they could slap a handful of roast beef onto a bun and drown it with sauce just as fast as a kid could whip up a burger.
They were right. While Arby's never dominated the market like McDonalds, it grew fast, powered by legions of fans enamored with its unique brand of fast food (and those curly fries). Nowadays, it's sandwiched between Panera and Jack in the Box on fast food popularity lists. A respectable showing, but the numbers don't tell the whole story.
Around the country, Arby's have improbably high reviews on Yelp, the social review site. Some locations occasionally inch up into the realm of actual restaurants—you know where people eat things that come on plates and drink from things not made of paper.
Yelpers, a group famous for being tastemakers, surely must lose a bit of street cred when they dish out five-star review to a place like Arby's. So those five gushing reviews for the 8648 Research Blvd. location had to mean something, right?
I decided to find out. It would be the beginning of a Yelp journey to find the best goddamn Arby's in the United States of America.
Since Yelp doesn't allow nationwide searches, I emailed their press office to see if they could help me on this project. Unfortunately, a spokesperson explained they didn't "have the bandwidth on our engineering team" to handle such a project. So it was up to me and my own personal bandwith to figure this out. I loaded up a list of the most populous cities in the U.S. and went through them one by one.
I've collated the best below, with a quote from each and an "action shot" of the interior. The quotes provide an educational cross section of the nation's Arby's idolaters. I finish with a quick review of the Austin location, and a verdict: Which Arby's—based on Yelp reviews and my one meal—is king?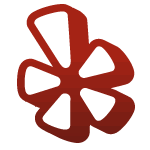 Reviews: 18
Action shot:
Best quote:
i love you arby's. i don't care what they say. you and i are destined to be together in eternal roast beef bliss. your arby's sauce is like my version of crack… so tasty, delicious, addicting, and makes me hyper as hell for some reason." — Aly D.
Reviews: 18
Action Shot: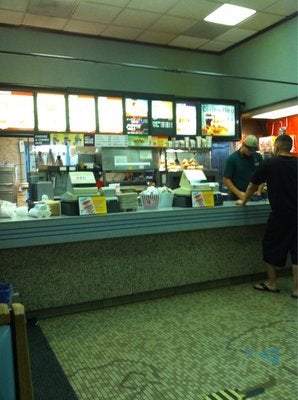 Best quote:
"So, the employees we dealt with here were great — particularly ADAM…  I swear, Adam has got to be one of the nicest and most courteous kids I've encountered.

Would go back just to observe him in action. He is definitely destined for greener pastures in the future." — Yuki K.
Reviews: 16
Action shot:
Best quote:
I find myself hating America more and more and more.  Who are these children?  Why are they so psychotically self-involved?  And why couldn't I have tigers, shirtless man servants, Mexican dancers, and a new BMW at MY Sweet 16th birthday party?  My tiara didn't even fit my excessively large and sweaty 16 year old head correctly.  My childhood sucked.

So I of course find comfort in my local Arby's.  3 Beef and Cheddar sandwiches for $5 or 4 Roast Beef sandwiches for $5 later (don't think I didn't order BOTH, bitches), a short swing through the DRIVE-THRU (god I love Southern California) and there I am, in the Von's parking lot, stuffing my fat cheeks with overly-salted Grade D imitation beef and onion-rolls stuffed with fake yellow cheese pump sauce, while my heart over-palpates with fear of attack." — Herra Chink y.
Reviews: 6
Action shot: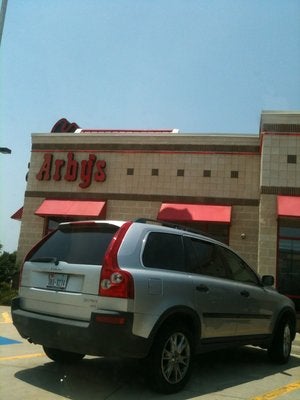 Best quote:
The sun rises over the crimson derby.  On this morning Tom Randle begins his Summer vacation with his first real job; food preparer for the nation's number 9th largest fast food establishment.  With a crack of his first egg it begins — young Tommy's professional career is off to a blazing start. In a few moments he'd toss his first hash, inspect sausage patties, and set various dials and instruments as instructed by the exuberant man in the 30 minute orientation video he watched earlier that day.

As morning expired into lunch, orders started picking up. But Tom was at the ready; Together, as a member in a team of twelve, he helped served up the area's patrons craving real roast beef and good mood food. Fifteen customers in 17 minutes was the record serve rate for that shift, not a bad haul for day one. Little Tommy Randle proved himself up for the challenge.  And by the end of the shift, his youthful exuberance for the future shined bright.  He walked out the front door with a sense of affirmation and relevance where earlier there was only fear and trepidation. Though he didn't realize it, little Tommy Randle had just taken his first step into manhood.

Besides that, the sandwiches here are "meh," but not a bad alternative to typical fast food joints." — Eddie S.
Reviews: 5
Action shot: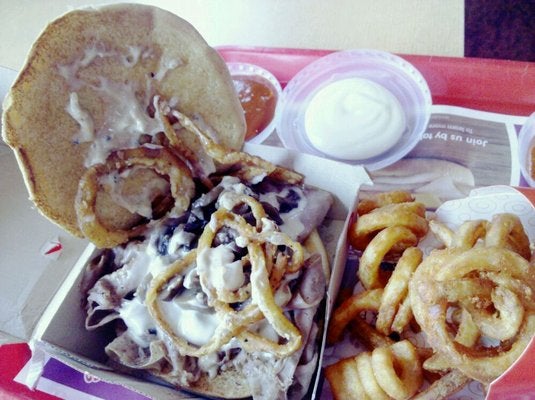 Best quote:
First of all, that mayonaitic horse radish sauce that is available is just right, it doesn't hit you too hard when consumed but it's not weak, if you've had it, you know what I am talking about.  This and the Arby's signature orangish red colored sauce are epic party in your mouth companions when spread on their paper thing shaved beef with the melted cheese. " — Dave F.
Reviews: 2
Action shot: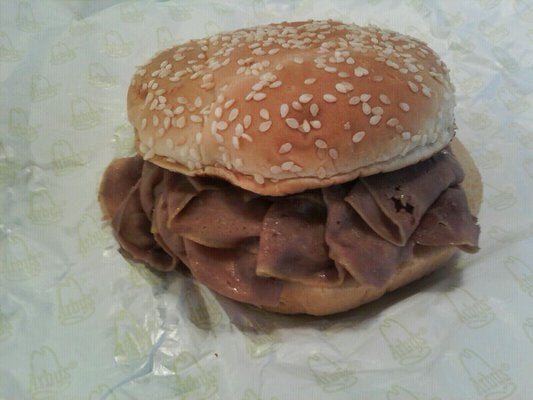 Best quote:
As far as the food is concerned, it is just like the commercial say, "it's good mood food."  Job, kids or any kind of drama got you down?  Don't reach for Xanax.  Have a roast beef sammich and some curly fries instead!" — Eugene L.
Reviews: 5
Action shot: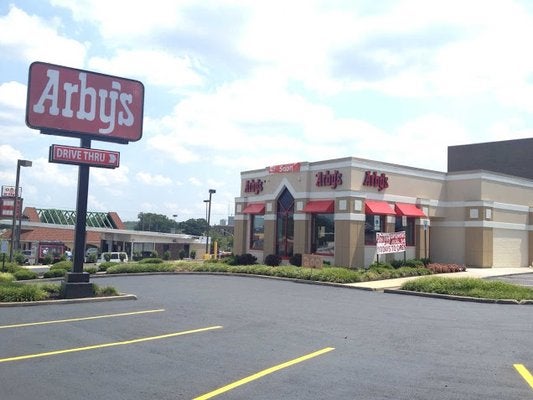 Best quote:
I've gotten a lot of fast food orders that looked so obviously thoughtlessly prepared I was almost afraid to eat the product I'd just purchased. This Arby's not only made my food FAST, but they make it look very appealing—fresh, neat, etc.
…
Tip: this location is key if you are leaving any of the night clubs that are in the same center.  I can't remember what time this Arby's closes but if you catch it in time it goes down well after some drinking and dancing." — Andrew H.
Reviews: 8
Action shot: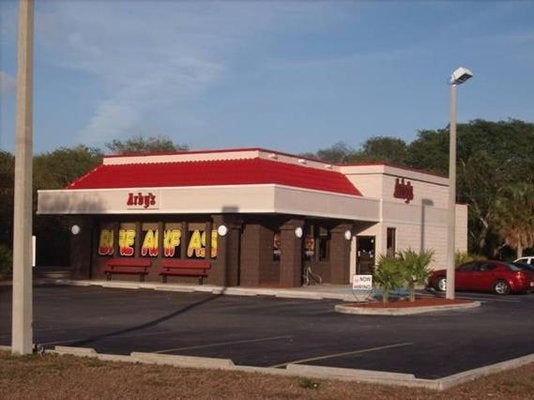 Best quote:
It was my first time at this location and I drove 20 minutes to get here. 

The young gentleman that was helping me really wowed me. His name was David and he deserves to be promoted at how well he represents this food chain. He went into detail with items on the menu I had questions about and was very patient. The food came out within seconds of me ordering and it was FRESH and delicious." — Sunshine S.
Reviews: 5
Action shot: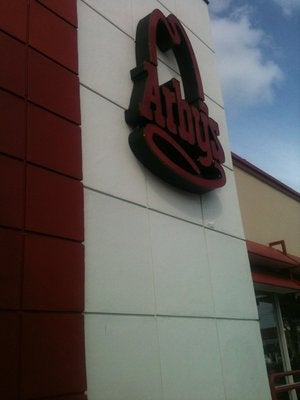 Best quote:
Arby's has always had a special place in my heart. I have never had a bad experience here and one time in Buffalo, NY when I dropped my phone by accident in the garbage can (it was on my "tray") and I called hours later (don't ask why I didn't realize this for hours) they spent a great deal of time getting it out of the garbage for me. Ok this is a really weird story but ever since then, it has been my favorite 'fast-food' restaurant." — Melanie A.
Reviews: 5
Action shot:
So this was my meal, a combo no. 1: The Roast Beef Classic and curly fries, with a soda. It cost me $5.40. I doused half the sandwich in the Arby's Horsey Sauce® (a thick, creamy horseradish sauce) and the other half in Arby's Sauce®, which tastes like the result of some chemistry experiment merging ketchup and worstershire sauce. The place was clean, the staff friendly.
The sandwich tasted like piles of cheap beef piled between two buns. It was about what you'd expect. I mean, let's be honest: This might be one of the best Arby's in America, but it's still Arby's, and despite the mountains of ebullient reviews across the country, you can't really expect fast food to somehow trascend fast food.
Then again, as I made my way through the meat stuff, I had to admit there was something compelling me to finish, some base instinctual urge that the roast beef had tickled. Oh, and then there were the curly fries. Frankly, you could relaunch every Arby's across the country as a curly fries stand, charge triple, and take over the country with the ferocity of Starbucks. Those things are amazing and also stuck to my stomach lining like glue. I wasn't hungry until the next day. I think you could actually lose weight on an Arby's diet.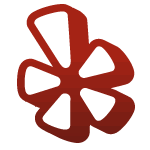 As much as I'd love to anoint my local favorite as the champion, I can't ignore numbers. And after looking at literally hundreds of Arby's across the country, one stands above the rest: The Redondo Beach location near Los Angeles, Calif. simply smashes its competition, maintaining an average of four stars with a whopping 18 reviews.
Arby's worshippers, this is your mecca. Prepare your annual pilgrimage now. And don't forget the Horsey Sauce®.
Illustration by Max Fleishman