The Pittsburgh Police Department takes horsing around very seriously. 
An unidentified officer could face disciplinary action after a picture of him wearing a uniform mask and posing with porn star Andy San Dimas was posted to Instagram. The photograph in question—seen below—was uploaded to the  photo-sharing platform on July 13 by porn director and producer Stevie Hughes. It was taken inside the security offices of PNC Park, where San Dimas and Hughes were taken after the two had been asked to leave a baseball game between the Pittsburgh Pirates and the New York Mets because San Dimas was dancing in the aisles while wearing a unicorn mask.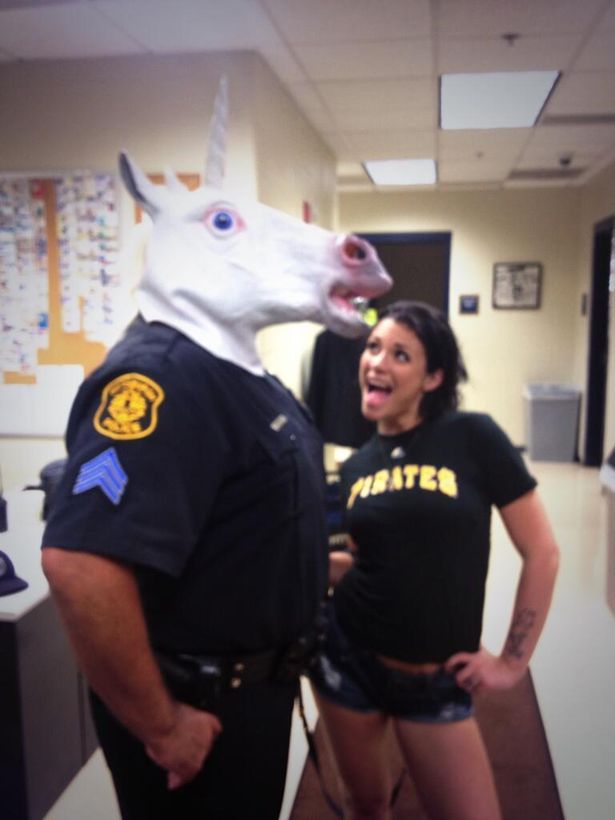 Photo via @lashoegal/Instagram
According to Hughes, the officers in the security offices were highly amused by the prop.
"They thought the the unicorn mask was funny," she told WTAE, a Pittsburgh ABC affiliate. 
"They asked if they could put it on and take pictures with it. Everybody was just having fun with it, thought it was funny."
But the fun was short-lived. The image found its way back to the officer's superiors.
"We are aware of the photos on the Internet (Facebook) and are currently investigating the incident," Pittsburgh Police Chief Regina McDonald  said in a statement. "At this time we have not identified the individual or the circumstances surrounding this photo."
The photograph was subsequently taken down.
"We don't want him getting in any trouble because he didn't do anything wrong," Hughes added. "We took (the picture) down because we don't want him to get in any trouble because there's no reason he should be in trouble."
For her part, San Dimas took to Twitter to refute claims made by a Deadspin tipster that she was on drugs that night.
FOR RECORD; I WAS DRUNK AT THE PIRATES GAME, NOT ON DRUGS IDIOTS!!! AND I DID.NOT SEE/OR HEAR THE SECURITY GUARD WHO ASKED ME TO LEAVE.

— Andy San Dimas! (@andysandimas) July 18, 2013
Photo via @lashoegal/Instagram