"Hi, I'm Marc and I'm an alcoholic," says an older gentleman in a black cowboy hat. Next to him, there's a queue of people waiting to speak: a woman with long white hair and unruly bangs, a man with a thick gray mustache, a smiling young woman with bright eyes. Marc continues: "For years I'd taken away my family's peace of mind. Every social function they'd wonder if I'd get out of line or when I went out with the guys if I wouldn't come home and misbehave."
Marc, the group's leader, always starts the meeting by gently putting his Stetson to his chest and reciting the serenity prayer. "God, grant me the serenity to accept the things I can not change, the courage to change the things I can, and the wisdom to know the difference." The theme of today's meeting is step nine in the Alcoholics Anonymous Big Book: making amends.
"Marc" is Marc Dunn—my dad. He joined AA more than six years ago after totaling his car during a Crown Royal blackout, a relapse after two years of independent sobriety. He walked away without a DUI or a scratch. The next day, with my mom threatening to leave, he attended his first AA meeting with the intention of getting sober for real this time. He's attended meetings almost every day since, and he leads this one on Sundays at 5 pm called "Sober Serenity."
This meeting isn't being held in a church basement or at a clubhouse. It happens online.
"Sober Serenity" is one of 34 weekly video chat meetings on a controversial recovery website called In The Rooms. The site was launched in 2008 by longtime friends and recovering addicts Ron "RT" Tannebaum and Ken Pomerance. Both men are almost 30 years sober and live outside Fort Lauderdale, Fla.
In The Rooms, or ITR as it's known to users, is essentially a social networking site for alcoholics and addicts. Its interface evokes Facebook, with a simple blue and white theme, complete with the accoutrements: individual profiles, a chat option, a box for birthdays (and sober anniversaries), walls for people to write on, friend requests and private messages, photo sharing, and status updates.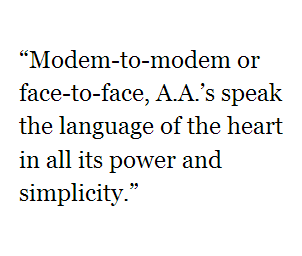 In April 2007, when Pomerance approached Tannebaum about building "a Facebook for addicts and alcoholics," it wasn't a new idea. At that point, the most successful site of its kind was called SoberCircle, the Friendster to ITR's Facebook, but it was on its way out. Tannebaum and Pomerance met with the creators of SoberCircle, but instead of purchasing the dying site, which has now become a site called OneHealth that works with insurance companies, they thought: What if we revamped the concept? And much riskier: What if we added video chat meetings?
The video meetings, like the one my dad runs, are helmed by one group leader who can flip the main camera's focus between members' webcams, allowing them to "get up and speak" throughout the meeting. When you log in, you can hit a "request to share" button, activating your webcam and putting you in the queue. My dad's meeting usually has about 50 attendees, with fewer than ten choosing to speak.
ITR membership is free. The site survives on ad sales, sponsorships, and the work Tannebaum and Pomerance do building platforms for other sites. As of now, 136 countries are represented on the site. There are more than 218,000 members—83,000 in the Narcotics Anonymous group and 99,000 in the AA group, technically making ITR the largest of both groups in the world. Their list of available meetings gets 300,000 hits a month. The site also caters to other fellowships like Overeaters Anonymous, Al Anon (for relatives of AA members), and Sex and Love Addicts Anonymous.
Anyone seeking sobriety can join, but In The Rooms is most useful for homebound or isolated addicts and alcoholics—people who are sick or who live in remote areas far from face-to-face meetings. Some live in countries like Saudi Arabia, where a woman imbibing is punishable by law. Some are in the hospital or at other in-patient treatment centers. Some have disabilities that keep them from traveling.
For these people, ITR is  less a preference than a necessity. Santosh R., a 62-year-old Mangalore native, would otherwise have to travel almost three hours by bus every Sunday to attend the only "nearby" AA meeting—at a church in Bijapur with five or six other people.
Instead, Santosh, who has been sober for 13 years, was at one point logging on to ITR every night, messaging with friends in recovery for an hour or two. The town he lives in does not have broadband Internet, so he can't participate in video meetings, but he relies on chats and daily email meditations.
Other experiences with In The Rooms are just consequences of the noncommittal nature of the Internet age. Alison, a 50-something woman in New England who was addicted to prescription pills, came to her recovery the same way someone else might privately Google "weird skin rash" before going to the doctor.
Though curious about addiction, Alison didn't want to admit she had a problem. She listened to addicts and alcoholics speaking about their journeys in clips from ITR's speaker tapes archive. The first tape, by Vito L., made her cry; she couldn't believe someone who'd been so down and out, like she was then, could have such a successful journey of recovery. It gave her hope for her own future for the first time.
"He's been through insurmountable odds and he's had personal life-changing experiences and he still stayed clean," she said. "After listening to that speaker tape, I realized I had a problem and that I needed help."
Still, even after she cleared that hurdle, Alison was reluctant to go to in-person meetings. She lives an isolated small town (she declined to say where, exactly) and describes herself as a "recluse." She was so afraid of running into people she knew at local in-person NA meetings that she drove to another state for her first one.
In the summer of 2009, she entered detox, and after getting out, she was required to attend 90 meetings in 90 days. But during that period, she got sick with a fever. Bedridden and on antibiotics, Alison logged in to ITR and found pre-video meetings, specifically a conference call meeting called "The Bridge," which she could attend from home. Every day of her first year clean, Alison listened to a different speaker tape on ITR. In the beginning, she looked at other people's photos to see the life she could have in recovery. She attends two video meetings a week, works the steps, and uses a sponsor.
"I am clean today because of In The Rooms," she tells me over the phone. "There's just no doubt, question, anything. I found recovery. I found out about Narcotics Anonymous. I found the speaker tapes." She begins to tear up. "It's just a wonderful format to learn from all these people. If there had not been ITR, one, we would not be having this conversation and two, I seriously doubt I'd be alive."
For every satisfied addict gushing about In The Rooms, there's a harsh critic defending the old-school road to recovery. Online rehab and video meetings may seem like the natural next step with the ubiquity of webcams and Skype, but in an organization compulsively dedicated to a tradition of anonymity, taking AA and NA to the Internet—or anywhere outside the meeting room—is a controversial move.
In 2010, my dad was mentioned—by his full name—in a South Florida Sun Sentinel article about Jews and recovery. After the article ran, old-school AA-ers warned him that personal recognition can inflate the ego and lead to a relapse.
It's the same problem critics have with Tannebaum and Pomerance, who thumb their noses at the notion of a low profile. To promote In The Rooms, the two founders put a face on a traditionally faceless organization.
And in Tannebaum's case, at least, it's not a squeaky-clean face. I know Tannebaum better than I do Pomerance because "RT" and my dad have been friends since he was in college. Tannebaum was a student at University of Florida in the late 1960s when my dad, then a recent grad, owned a leather shop in Gainesville. My dad says they partied together—a disturbing thought, given that Tannebaum was in so deep he had a headboard built over his bed that could harbor 100 kilos of cocaine. It was his main addiction, along with heroin.
An unsupervised childhood (his mother died when he was 11) led Tannebaum to start drinking young. By the time he got to the University of Florida, he was smuggling in marijuana from Colombia and dealing it on campus. Into the early 1970s, Tannebaum's drug business grew. "It was big money," he explained to me in an interview for my own blog in November of 2010. "We had our own planes, boats, ranches. I'm talking millions of dollars. And there was always a scene at my house with drugs laid out but I was really unhappy." Tannebaum was doing coke, then doing heroin to come down from his cocaine high.
"It was always two in the morning and people were like, 'Well, it's time to go,' " he said in the same 2010 interview. "And I was always that person that was like, 'No, no, we'll go to bed tomorrow! Let's keep partying.' "
But privately, Tannebaum was coming undone. He swallowed 80 Dilaudid pills on a flight to Samoa, where he planned to go cold turkey. But he drank the whole time he was there. Later, in Thailand in the late 1970s, he started using heroin again. Back in Miami, he sold everything he had; paintings came right off the wall and into a needle. He started robbing houses, got arrested, and served one year in prison. When he got out, in September of 1983, Pomerance took Tannebaum to his first NA meeting. He finally got clean.
"Your bones feel so brittle, like they'll break if you walk on them. I probably didn't sleep for a month," he told me in 2010. "It's an itch on the inside that makes you want to stick your hand down your throat just to scratch it."
Since then, he's never relapsed, and he's proud that his kids, now 19 and 21, have never seen him drinking or drugging.
To him, founding In The Rooms was his way of giving back to the community that saved his life.
"It doesn't take the place of meetings, but it's a place to come for the other 23 hours of the day," he told me in a recent joint interview with Pomerance.
"We have people that have found the site simply because they were looking for a way to die," Pomerance added. Their search led them to the site, and shortly after, they started going to meetings.
That stopgap measure can be lifesaving. One of the most unique aspects of the site is the "Burning Desire" button on every profile page. If a member presses it, their profile goes red and is featured on the In The Rooms homepage. Other users can then flock to the person's profile and send support messages. A few ITR members I interviewed, including Tannebaum, recalled a night when an anonymous Irish man was talking about killing himself. They located someone else from the site in his city and sent the person to sit with him.
"We're allowing them to reap the benefits of 21st-century recovery," says Tannebaum of ITR's members. "It's not watered down. It's not different. It's the same literature and the same books, it's just delivered in a different medium. That's it."
But not everybody's buying the Good Samaritan storyline. One AA member I talked to, "Bernard," a man seven years sober who wished to go by a pseudonym, told me he opposes In The Rooms because it breaks one of AA's key principles: attraction, rather than promotion. 
"[Recovery is] not about selling T-shirts. It's not about promoting who your advertisers are," he says. (In The Rooms actually does sell T-shirts. My dad owns one that says, "Higher Powered" with the ITR logo on it. Sales go to support the site.) "The impetus is a business," Bernard continues. "The primary purpose of that vehicle is not recovery. The two gentlemen who started that website have a business plan."
So what about homebound addicts like Alison or alcoholics in remote locations like Santosh? Bernard counters that people managed to stay sober before the Internet. They sought out likeminded recovering addicts nearby. They asked for rides to AA meetings. Meetings were held in disabled people's homes.
"It breaks down to if you have willingness, then there's a way," he says.
Tannebaum knows this attitude all too well. "Some people still don't get it," he says. "[They think] if you're doing something successful that makes money, then it's a scam against people in recovery. Well, it's not a scam. We're bringing recovery to people's fingertips in a way it's never been done before."
"We're keeping our members' anonymity," Pomerance added. "It's sacred to us."
Still, the establishment isn't convinced. Tannebaum and Pomerance want ITR to appear on Alcoholics Anonymous' official AA.org website where people search for nearby and upcoming meetings, but it's nowhere to be found.
AA does acknowledge online meetings in a fourth edition of its 12-step bible, The Big Book: "Taking advantage of technological advances, for example, A.A. members with computers can participate in meetings online, sharing with fellow alcoholics across the country or around the world … Modem-to-modem or face-to-face, A.A.'s speak the language of the heart in all its power and simplicity."
On AA.org, there is a link to "find information about online meetings," but In The Rooms is not listed. Tannebaum says AA worries that technically unaffiliated virtual AA meetings appearing on a webpage with the In The Rooms logo is a traditions violation because it implies endorsement. He says he and Pomerance are willing to remove the logo from video meetings if AA will list them, a compromise that may happen in the future.
"We want them to be real meetings. We don't give a shit about whether it says 'In The Rooms,' " Tannebaum says. "We want to help people."
NA, which is run separately from AA and, according to my dad, is more "liberal," has added In The Rooms to its site's meetings list. When someone looking for a meeting visits NA.org under "location," they are given the option of "Web." If it is selected, In The Rooms' meetings are listed with a link.
Colin Sevareid, an NA public relations representative, said that NA views "meetings" and "groups" as different entities. While the organization recognizes online meetings as relevant and valuable events, they don't necessarily endorse In The Rooms. Not that that's a judgment on the validity of the site, he says, but NA, like AA, explicitly prohibits recognition of outside, independent organizations.
NA lists online meetings because it views ITR as a landlord, where the website is the venue, the same way an NA meeting leader could use a room from in a church or treatment center without being affiliated with either. "These are not NA groups, but they are NA meetings," Sevaried says.
NA is the Eve to AA's Adam. It formed almost two decades later, in the 1950s, and used the AA traditions as a basis, but they are now completely separate organizations and have diverged on several issues (AA, for instance, is more God- and Higher Power-focused). Sevaried says that "we list [ITR] at the request of our members because we list online meetings." But ultimately, he says, it is up to each member to decide how anonymous they want to be online. And he says addicts aren't safer at an in-person meeting; a member of the press could just as easily show up at a church basement as log on to a website.
AA's trepidation to follow NA's example makes sense. To those who fear it, In The Rooms may as well be an open registry of the names and information of addicts and alcoholics, a lurker's playground that flies in the face of anonymity. Anyone can sign in as a guest and observe a meeting without participating or identifying himself. But Pomerance and Tannebaum have installed technology to guarantee that ITR profiles not turn up in search engines. In the video meetings I attended, some attendees have blacked out their cameras or spoke using voice modulating filters.
Tannebaum and Pomerance dance on a double-edged sword. Without official AA or NA referrals, In the Rooms relies on outward promotion. But getting the word out without showing their own faces or using their names is impossible. How can people know it exists without Tannebaum and Pomerance promoting it? Both detractors and supporters associate the site with its founders. They make themselves known, individually messaging every person celebrating a sober anniversary (sometimes that means 300 messages a day) and posting welcome wishes on new members' walls. On ITR, Tannebaum goes by the same name he uses in real life, RT. Pomerance goes by the cheeky moniker "Mr. Clean."
Tannebaum thinks this is perfectly kosher. "That day and age in 1935, you could get in trouble for being an alcoholic," he says. "You were considered a taboo, a sick person. Nowadays, everyone has a recovering alcoholic, drug addict, eating disorder, gambling in their family."
The conflict is almost biblical; AA's founder Bill Wilson didn't give specific guidelines for how AA should be handled online, because he could never have predicted the Internet. How could he have said it was not allowed when there was no concept back then of how life and technology would change?
For my dad, a salesman in real life, In The Rooms has given him a greater sense of purpose. On the phone, he enthusiastically tells me about a woman who was saved from relapsing by an inundation of support from fellow ITR members.
"[I]t brings more people together from a wider variety of geographic locations," he says, and that preserves AA's primary purpose: "to stay sober and help others achieve sobriety."
For my dad, the "social element" isn't an inconvenience—it's key to his sobriety process. In The Rooms is my dad's Facebook: a place where he can share photos, chat with friends all over the world, update his status with inspirational quotes or thoughts on sobriety. The people of ITR help him to stick with the program—even though they've never met in person. The meetings may be virtual, but the recovery is real.
This article was originally published by Tomorrow magazine.
Illustration by Fernando Alfonso III