Every day, the Daily Dot finds something that people on Facebook are sharing and, in turn, shares it with you—with a little explanation. Here's today's share.
Can a basketball shoe be a symbol for slavery? Around 48,000 people who noticed the kicks on Facebook think so.
Worldwide clothing manufacturer Adidas unveiled designs last week for a new sneaker set to debut in August. Called the JS Roundhouse Mids, the high-tops featured a colorful look and a velcro band across the top of the laces.
The shoes also sported an unusual add-on that attached to the back: a set of bright orange ankle shackles with velcro closure. 
Adidas posted a photo of the shoes onto the company's adidas Originals fan page along with a message that read "Got a sneaker game so hot you lock your kicks to your ankles?"
But a number of the people who saw the shot weren't thinking about the ways in which the JS Roundhouse Mids were redefining style to the point of theft. Instead, they drew similarities between the shackles on the shoes and the shackles around the ankles of American slaves.
Fans of the page quickly shot into action, sharing the photo and leaving comments on the page that denounced Adidas for clearing such a thoughtless shoe.
"Adidas must not care how or who they disrespected," Marcus Ford wrote. "This company must be runner up in the contest of how to pretend that the past don't matter. We as a people won't forget and we as a people should add Adidias name right beside the names that made slavery profitable."
"Here's an idea Adidas," Warren Harry added. "The new nazi gas chamber shoe! You could put a star of David on it and a swastika and have a cooling jet of steam shoot out the bottom to emulate the gas used in the concentration camp gas chambers."
Since posting to Facebook June 14, the photo has received more than 37,000 likes, 8,500 shares, and 4,000 comments, and incited some very serious conversation concerning the racial undertones that can carry through an article of clothing.
News broke this morning that Adidas pulled the shoe off the manufacturing line. Despite the company's firm stance that the shoe did not have any racial significance—the company provided a statement that the JS Roundhouse Mid "is nothing more than the designer Jeremy Scott's outrageous and unique take on fashion"—the shoes will never make it to market.
"We apologize if people are offended by the design and we are withdrawing our plans to make them available," Adidas said.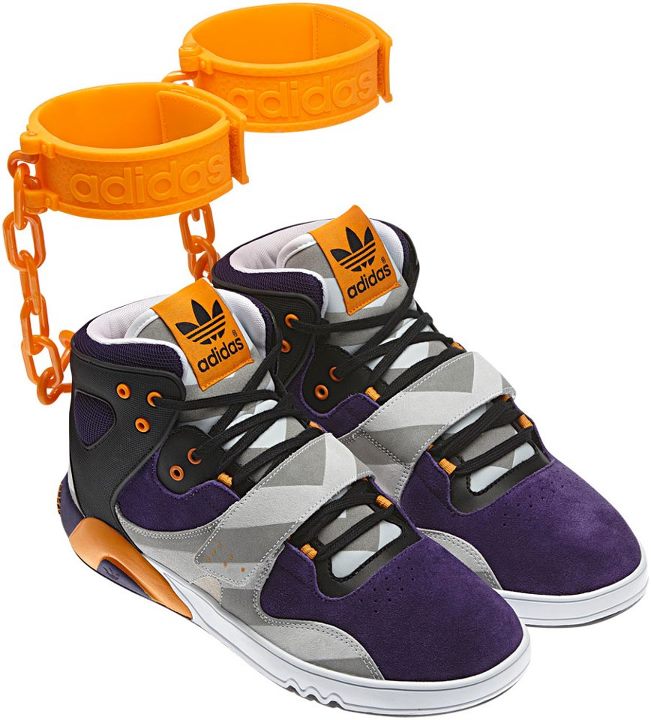 Photo via Facebook