If you're visiting eBay with the intention of purchasing something weird, perhaps even something really weird, then chances are that you're going to end up bidding $666. For some reason, sellers of "spooky" items like to set the starting bid as the Biblical number of the beast.
So what kind of items sell for this demonic amount? Here's everything you can buy for $666 (or $66.60, if you're cheap).
1930s novelty voice tester

This novelty toy is priced at a ghoulish $66.60. Why the strange price? Infamous founder of the Church of Satan Anton LaVey named this particular toy as one of his childhood obsessions in the 1995 documentary Speak of the Devil. 
A custom electric guitar

This seller has gone all out and set the price for this 1980s-style Jackson guitar as $666.66. Apparently the artwork features a flying devil somewhere, although it looks suspiciously like a collection of random paint swirls. 
A Lenin coin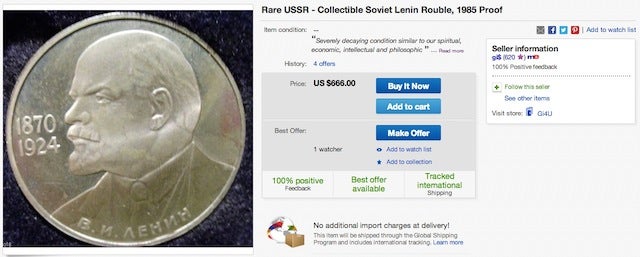 This collectible Soviet Rouble can be yours for the small price of $666. However, you may wish to opt for a different Satanic coin, as the seller of this item lists its condition as "Severely decaying condition similar to our spiritual, economic, intellectual and philosophic condition here in America."
A scary book about Satan

Straight from the collection of a wealthy Canadian doctor seemingly obsessed with the occult, this rare book from 1874 can belong to you for $666. The ancient tome is alternatively known as The Devil in History and details the various ways that Lucifer has apparently influenced the course of history, from war to Catholicism, journalism, and banking. 
A book about Aleister Crowley

While America has Anton LaVey as its bald-headed occult hero, in England we have Aleister Crowley. The champion chess player and mountaineer traveled to Egypt and claimed to uncover an ancient occult religion. When he returned to England he set about spreading his teaching, in the process gaining the nickname "The Great Beast 666." It's fitting, then, that this copy of the closest thing we have to his autobiography is priced at a devilish £66.60.
A Japanese black-metal cassette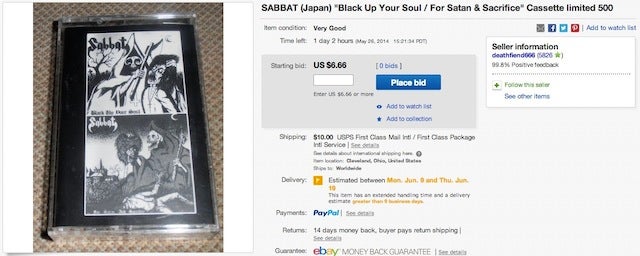 For $6.66 you can buy this limited-edition cassette from Japanese black metal band Sabbat. This compliation features their tracks "Sodoomed," "The Egg of Dapple," and "Acid Angel."
Haunted ghost sculpture "created by Satan"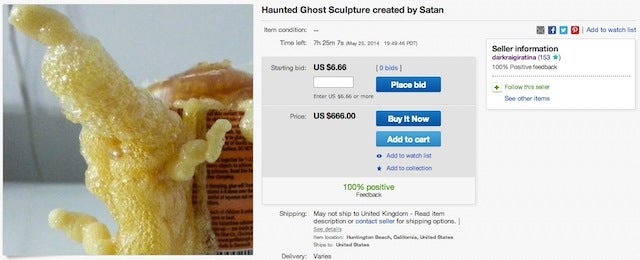 When you open a tube of glue and leave it overnight, it can sometimes form into a terrifying ghost sculpture. The seller of this unique item is keen to make a quick sale, claiming that the dried glue made his girlfriend's dog die of cancer. Then, apparently, his neghbor's dog ate a cat. Thankfully, the listing ends on an upbeat tone: "I think it's time to move on though, and try getting rid of this thing since I'm now developing a case of hemroids [sic]. Happy bidding!"
An album by the band Bongripper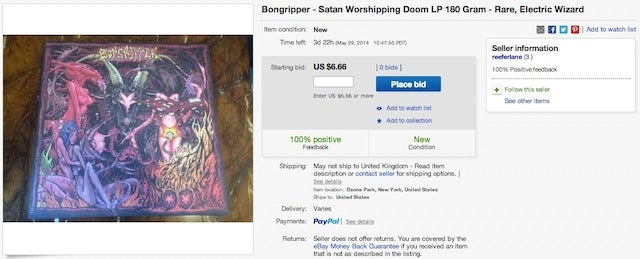 "Miserable Chicago Doom" band Bongripper made a comeback in 2010 with their landmark vinyl release of Satan Worshipping Doom. The follow-up album to 2009's Meat Ditch, this limited-edition albums features four inventively named tracks: "Hail," "Satan," "Worship," and "Doom." 
Photo by woodleywonderworks / Flickr (CC BY 2.0)