In the Pokémon universe, the character Mareep is a sort of woolly blue sheep with black and yellow stripes on its tail and its ears, as well as a glowing orange orb at the end of its tail. And, for the bargain price of $499, you can even own one yourself—as one guy learned the hard way, after gifting his girlfriend a "500 dollar four-foot-tall Mareep," which has evidently become the bane of his existence.
On June 6, Twitch streamer Skooch (@SkoochLoL) tweeted a photo of himself lying in bed next to his girlfriend, who was lying on her side and facing away from him, with her arm locked around the giant plush creature. "Ah yes. Me. My girlfriend. And her 500 dollar four-foot-tall Mareep," he wrote.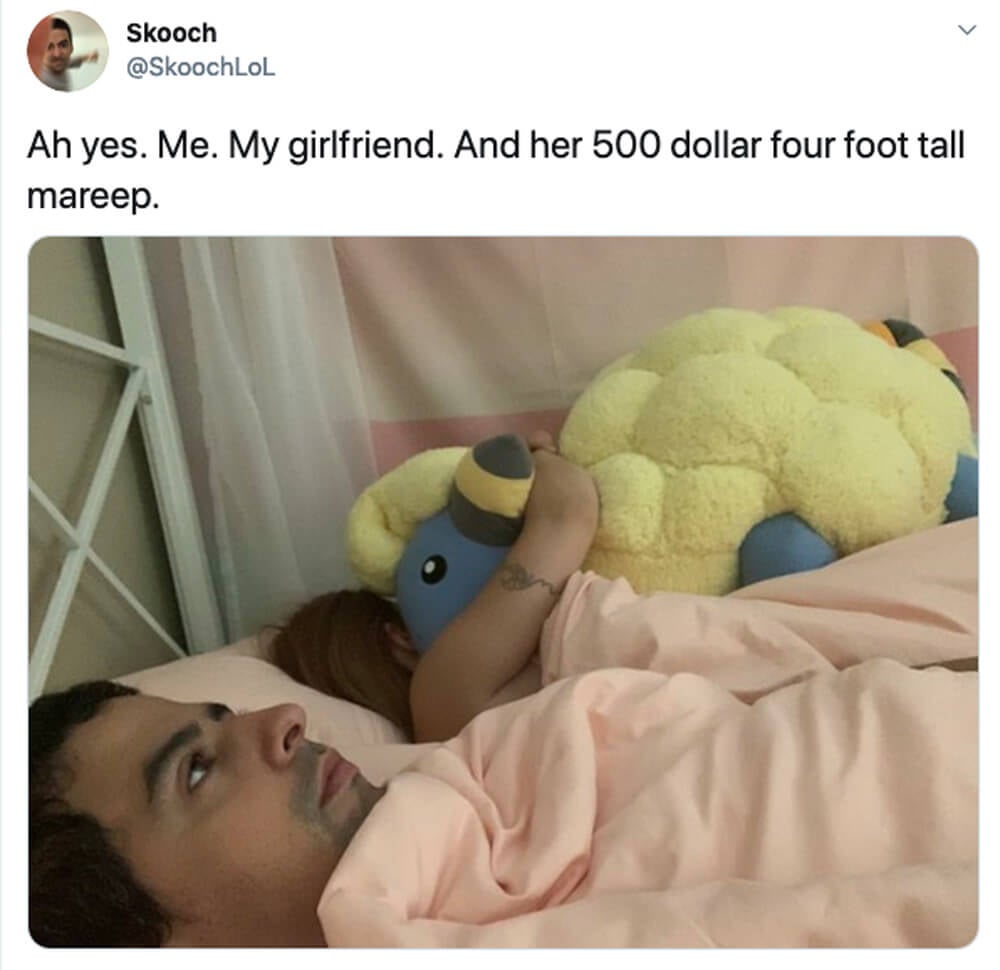 Chalk it up to the ridiculousness of it all—between the comically large creature and Skooch's expression, which very much reads "hello darkness my old friend"—the tweet inevitably went viral, racking up nearly 100,000 retweets and over a half-million likes at the time of this writing.
Skootch later told Polygon that the $500 four-foot-tall Mareep was a birthday gift for his girlfriend (who goes by Serinide on Twitter) and now she sleeps with it "all the time."
"I wake up multiple times in the night and check my phone or just stare at the ceiling," he explained, of how the viral moment came to be. "It was like 6 a.m. and I woke up with almost no room on the bed and saw her holding the giant Mareep and thought, 'Ah yes. That.'"
Ah, yes. That! Though Skooch may be experiencing some buyer's remorse, the rest of the internet is extremely here for him and his girlfriend's $500 four-foot-tall Mareep. The tweet has gone on to inspire memes and no shortage of fan art.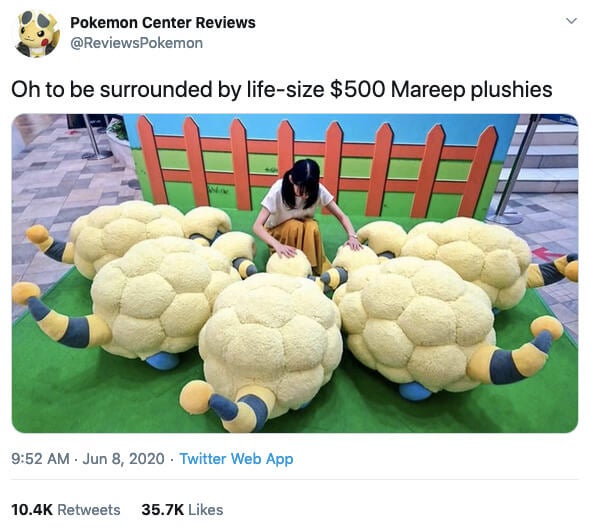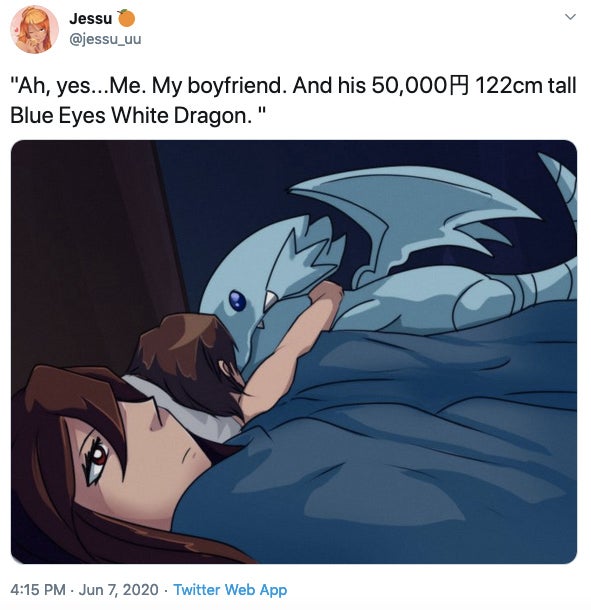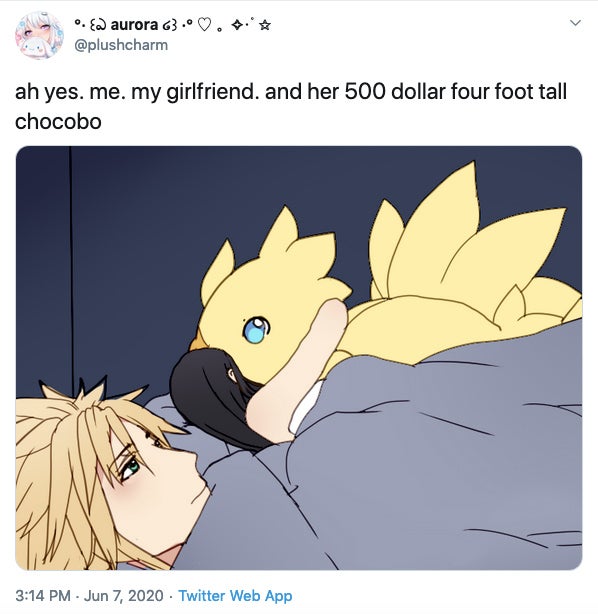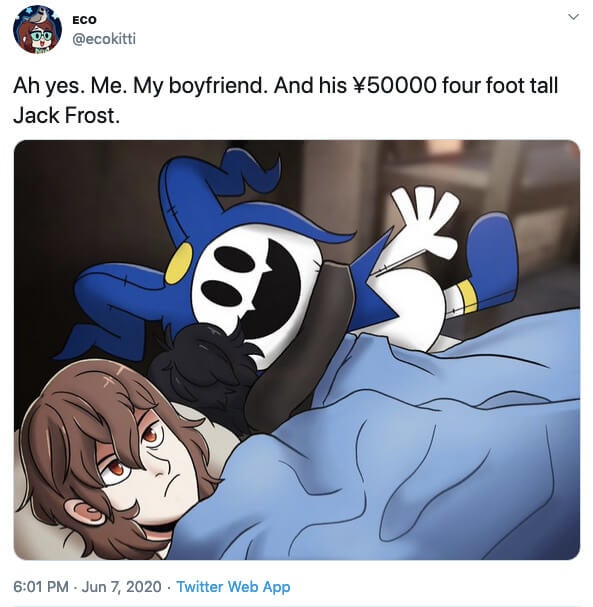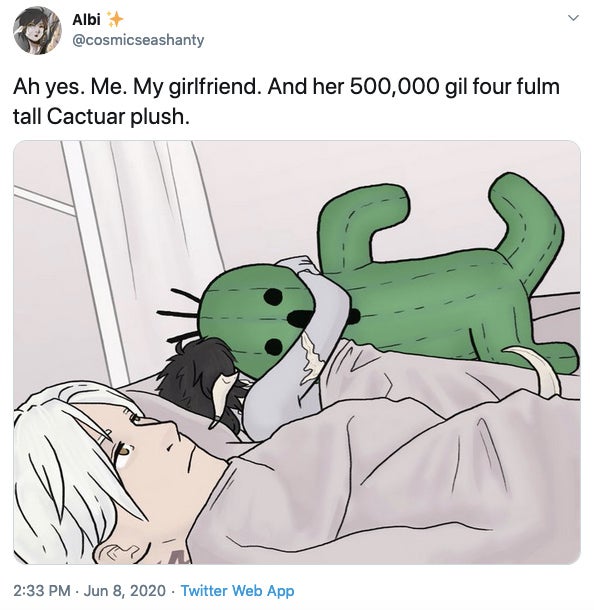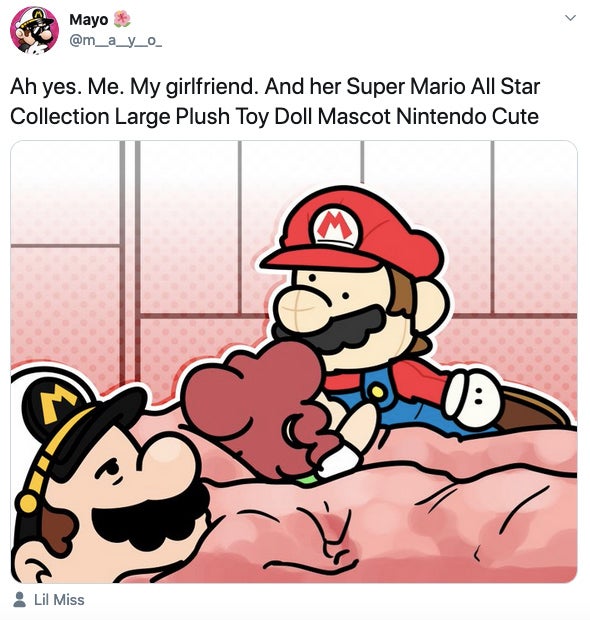 In one followup reply, Skooch's girlfriend added a photo from her own perspective, writing: "Sometimes a family can be just a boy, his gf, and their 500 dollar four-foot-tall Mareep."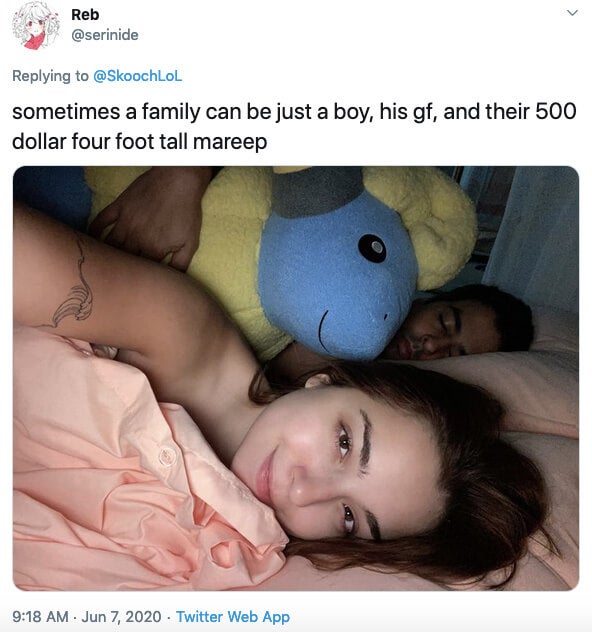 For her part, Serinide—a Twitch streamer who boasts a sizeable following of her own—doesn't seem to mind her boyfriend's viral fame. "Skooch hasn't stopped talking about his Mareep tweet all day and just said: 'Do you feel cool being next to me, viral sensation sheep cuck?'" she joked.
Well, he may have those likes and retweets, but at the end of the day, that stuffed sheep has got his girl. Hate to see it!
READ MORE: