A contest to give one lucky Taylor Swift fan a chance to meet the singer was canceled after users from 4chan's /b/ forum successfully helped a "fat old guy" rise to the top.
Undeterred, /b/ put the same man in the running to meet Selena Gomez as part of a contest hosted by New York's Z100 radio station.
4chan's latest voting vendetta began a week ago after /b/, an infamous corner of the Internet where pornographic images and obscenities are openly exchanged, discovered the website for Boston's Kiss 108FM contest. The public competition encouraged people to "vote for a contestant by visiting their unique link daily (every 24 hours)." One of the contestants was a man named Charles Z., described as 39, male, fat, and lonely.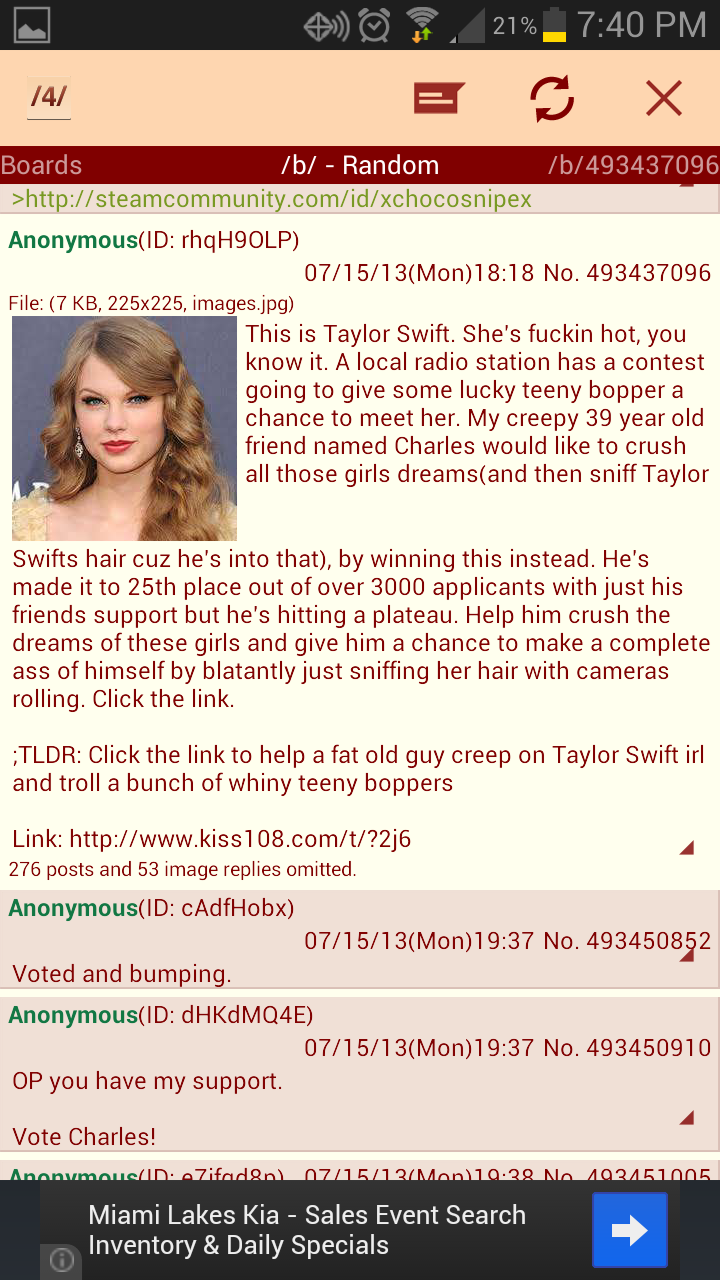 By 9am EST Tuesday, Charles had beat out a bunch of teens for the top spot.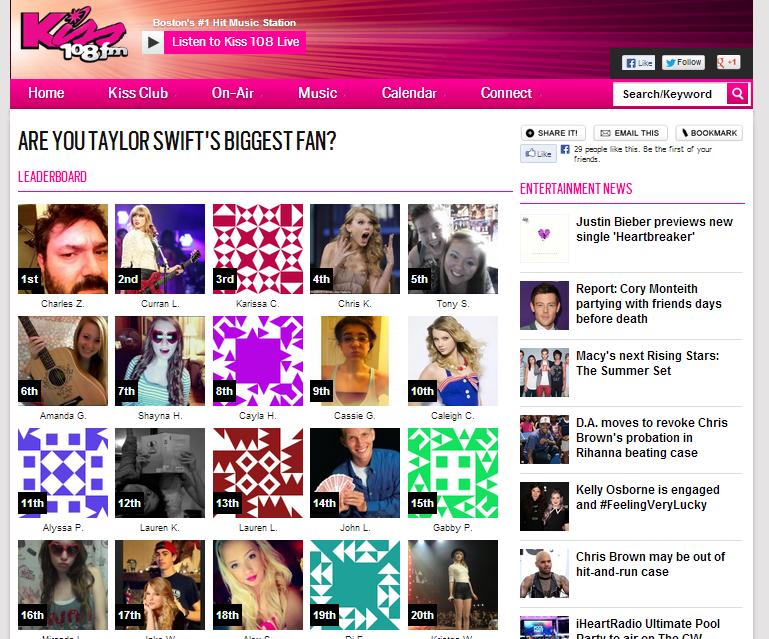 "/b/ you glorious f****ts," one anonymous 4chan user wrote. "You magnificent fucking bastards. I am fucking proud. … That said, the war has not yet been won, there is still work to do. We still have five days and its obvious our top competition is using scripts too."
About three days later, Kiss 108FM cancelled the contest and posted the following message.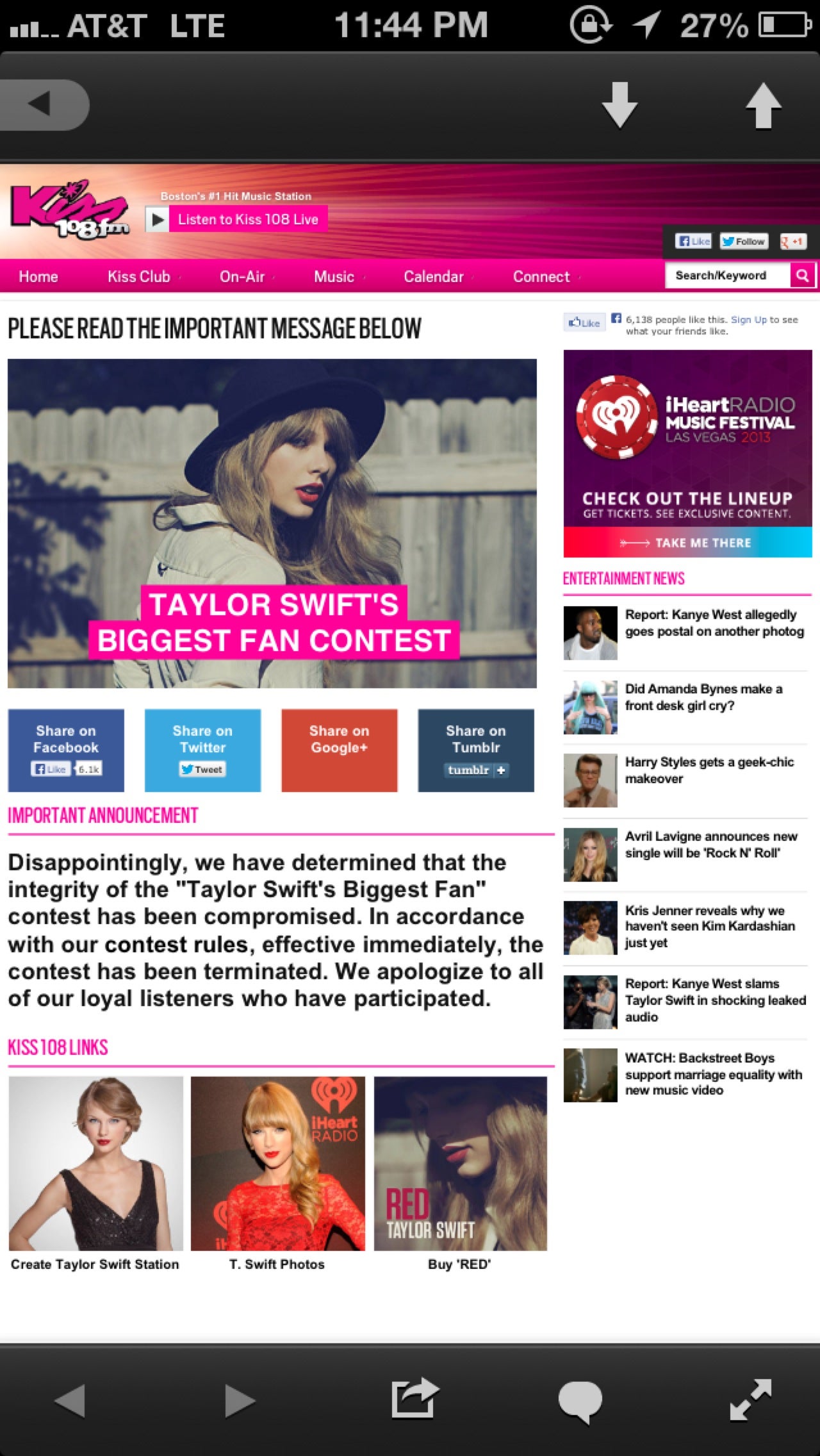 Despite its laundry list of failed attempts to game public contests, /b/ did not take this one lightly.
Over the weekend, /b/ quickly launched the Twitter hashtag #justice4charles on Twitter where it collected more than 650 mentions. A Facebook page under the same name was also launched. It has since collected 1,240 likes, And on Change.org a petition has collected 196 votes from people calling for Kiss 108FM to reverse its decision.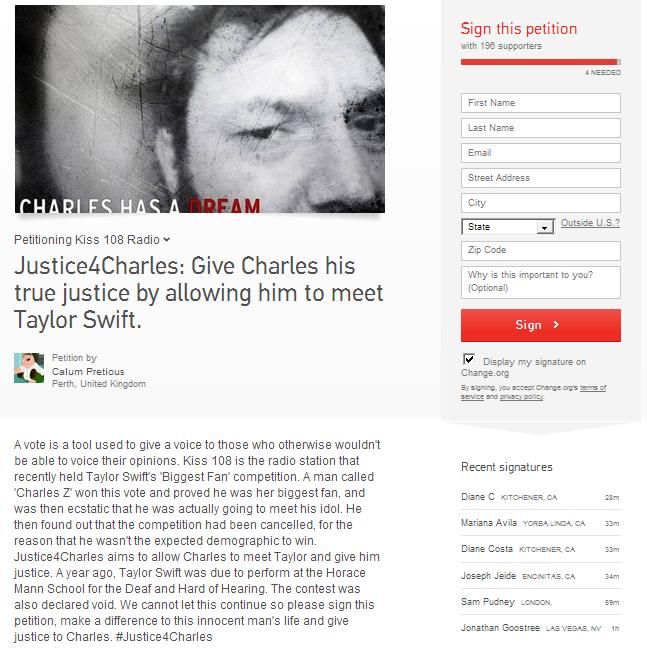 Then, late Sunday night, /b/ got creative. Unsatisfied with Kiss 108FM, /b/ descended on Z100 to help Charles win a chance to see Gomez "at the Good Morning America Summer Concert Series in Central Park on July 26—and MEET her, along with a friend, courtesy of Hollywood Records," the radio's site stated. Charles has already jumped from the 11th to sixth spot.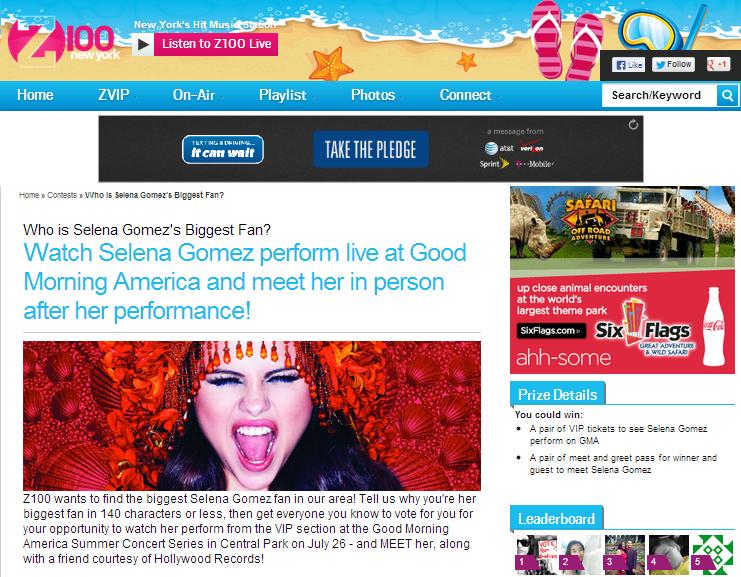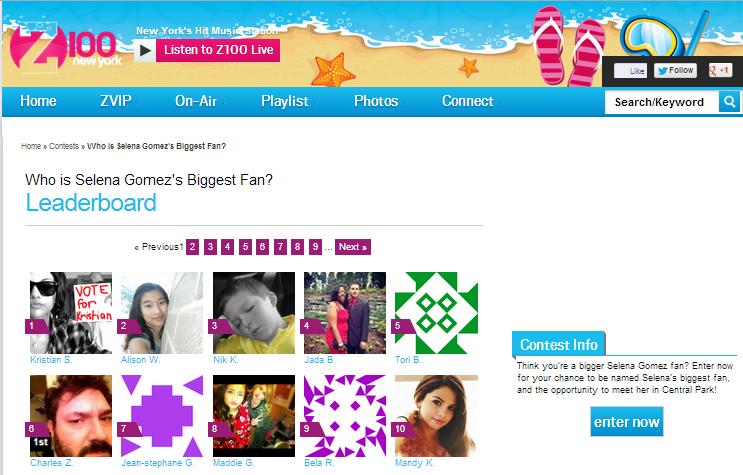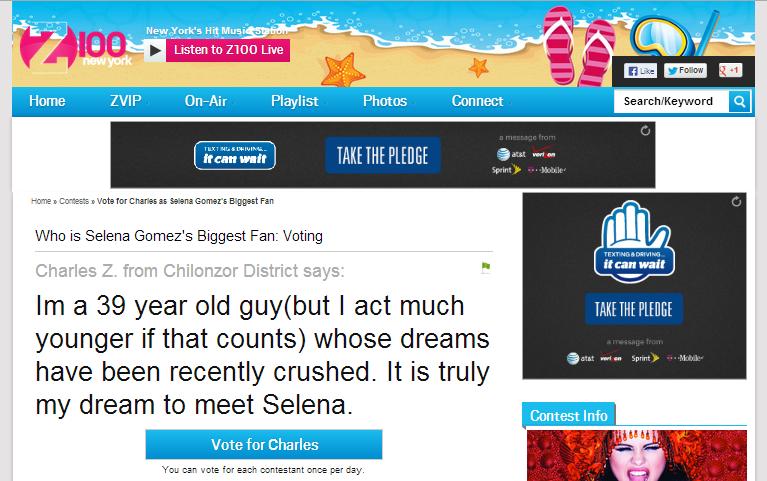 Like Kiss 108FM's contest, Z100 has strict rules prohibiting any sort of fraudulent or irregular votes generated through "a robotic, programmed, script, macro, other automated means or other source." In other words, /b/'s scheme will be added to it's growing list of 2013 failed pranks.
In late December /b/ launched Operation White Man Can Jump, which unsuccessfully attempted to have only light-skinned players start in the 2013 NBA All-Star Game. And in May, 4chan's /b/ raided a Reddit-powered contest to have actor Samuel L. Jackson read an original monologue. Woven in between original suggestions, like redditor teaguechrystie's informational message, called the "new alarm clock," were countless comments containing the infamous Navy Seal copypasta, a three-year-old diatribe filled with ludicrously violent claims.
Voting for Z100's contest will end on July 23 at 11:59am EST. And this time around, Charles really wants to win. Just take a look at this photo he tweeted Saturday.
This whole @taylorswift13 thing has me down, but all you kids have been awesome champions. pic.twitter.com/sFdBwG0PLT

— Charles Z. (@cgz79) July 20, 2013
Update: As of 1:30pm EST Z100 has ended the contest nearly a day early. No other explanation was given except for "THANKS FOR PARTICIPATING. THIS CONTEST HAS ENDED."
Photo by canoblesfamily/Flickr