Tech

Tech

The gadgets, platforms, and software that make your digital life possible. If it bleeps, clicks or blinks, you'll find it here.

Internet Culture

Internet Culture

There's a community for everyone online.

Streaming

Streaming

News, reviews, and guides for the world of online entertainment.
10 must-follow pinboards for every Pinterest user
From how-to tutorials to meta-humor, these collections offer a comprehensive look at the world of Pinterest. 
If you're looking for information about Pinterest, chances are there's a pinboard for it.
After the image-sharing community exploded from obscurity into every tech news outlet, users developed a healthy sense of self-awareness. From memes about Pinterest to weekly #Pinchats, pinners are meta.
But as the network continues to grow exponentially, it's getting harder to find the more meta pinboards in between the wish lists and dream homes. The Daily Dot asked some of our favorite pinners to help us come up with the 10 best boards for pinners to learn about Pinterest:
1) Official News by Pinterest
Want to know exactly what's up on Pinterest? Take Pinterest's word for it. Think of it as a visual RSS feed. Instead of having to visit Pinterest's official blog to check for updates, simply follow this board. It notifies followers every time Pinterest adds a new post.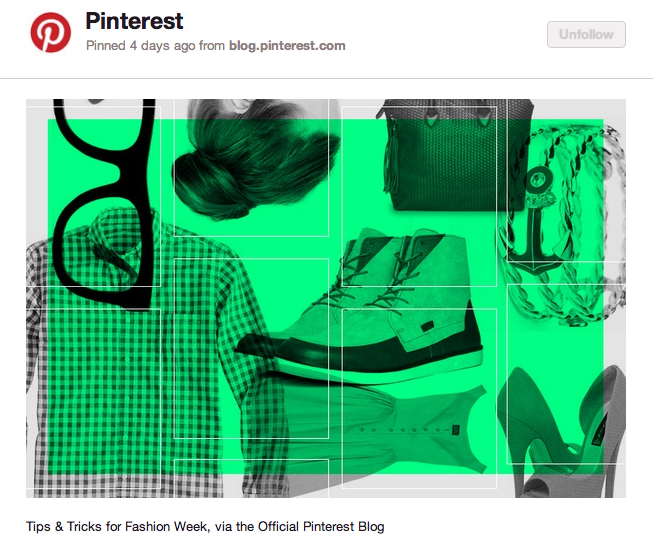 2) Everything Pinterest by WTFPinterest?
Curated by Pinterest comedy blogger Allison Tyler, it features all the news that's fit to pin. Whether it's serious, like about UNICEF's sobering Pinterest campaign, or silly (Google Ventures cofounder deriding "Pinterest for cats"), Tyler archives it here. Thanks to her open-minded pinning, this board updates more often than any other on the list.
3) All About Pinterest by Kelly Lieberman
The #Pinchat founder keeps up to date with Pinterest with an emphasis on both Pinterest as a business and as a marketing tool. You'll find interviews with CEO Ben Silbermann, ideas for brand campaigns, and warnings about the legal implications for businesses using Pinterest.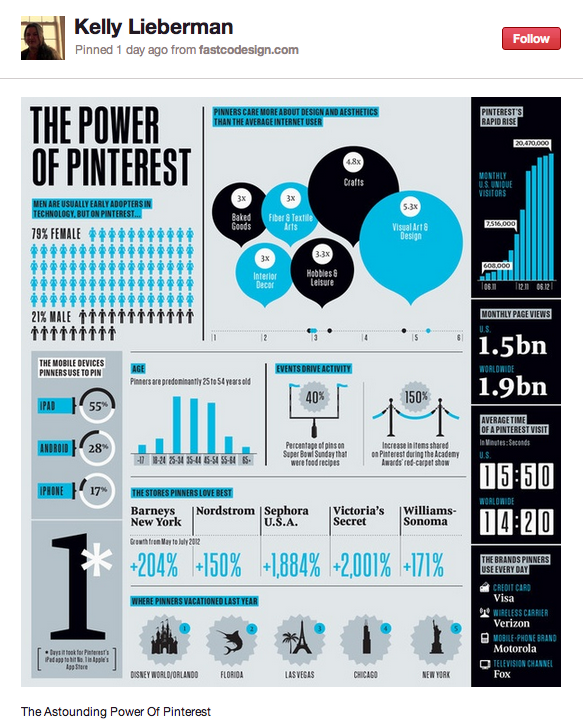 4) Contests on Pinterest by #Pinchat
Like Pinterest? Like entering contests? Follow this board to enter them all—and up your chances of winning something. Lieberman and the #Pinchat community keep their eyes peeled for each new contest a brand puts up. Currently open contests may have lucky entrants walking away with a dream wardrobe or a vacation, simply by pinning.
5) How to use Pinterest by Julie Walton
From the very basics of pinboard creation to running a Pinterest campaign for a brand, this board links tutorials perfect for beginners. From a step-by-step guide for creating a pinboard to the benefits Pinterest offers for bloggers, Walton pins not only the "how" of using Pinterest, but the "Why should I?"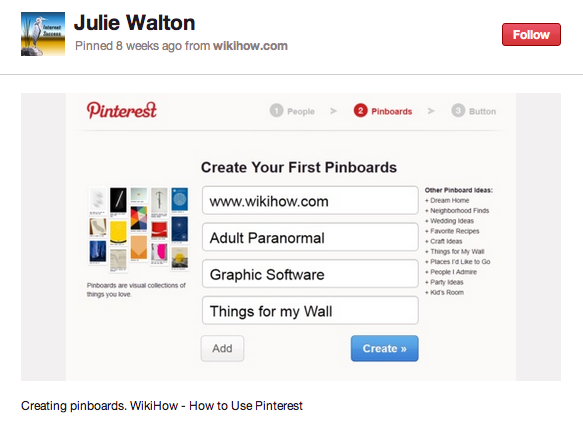 6) Story of the Pinterversum by Astrid Brouwer
Nobody knows Pinterest better than its users. Anyone can join this group board to contribute the pins about Pinterest's story that mean the most to them. What is the most important part of the Pinterest story to its current users? To some, it's the enormous audience, which they illustrate by pinning infographics. To others, it's the network's marketing potential. Join to add your part of the story.
7) Pinterest Humor by Andrea Tanner
When the average Pinterest user clocks 405 minutes a month on the image-sharing network, it's important to have a sense of humor about this new obsession. Tanner pins someecards, image macros, and any other visuals that might make a regular pinner crack up.
8) Pinterest Tutorials by Pinterest for Business
Bored of your Pinterest routine? Here are some how-to tutorials for the intermediate pinner to shake things up. You might be an ace at creating new pinboards, but do you know a surefire technique for sourcing and crediting an image you want to pin? If that's too easy, try hacking your site to find its hidden Pinterest statistics.
9) Brands on Pinterest by Kelly Lieberman
There are nearly 1,000 brands on Pinterest right now, and this board is the closest you'll get to a real-time count of them all. From Bacardi to Hello Kitty, the range is unbelievable. Why is it a good thing to know the brands that live on Pinterest? One reason is to keep up on the rewarding contests they sometimes offer.
10) Celebrities on Pinterest by Daily Dot
Of course, we had to include one of our own. Looking for big name pinners with lots of followers? Celebrities are a good place to start. And it isn't just style icon celebs either. We found the Pinterest profiles by the likes of Keith Urban, Ann Romney, and Snooki.
Lauren Rae Orsini is a web culture reporter who specializes in anime and the business of fandom. Her work has been published by Forbes and Business Insider.
© The Daily Dot, all rights reserved.
Represented by Complex Media, Inc. for advertising sales.