On Feb. 1, Jonathan Mann took to YouTube to sing the virtues of his apartment.
The bespectacled Brooklynite was looking for a roommate for his south Williamsburg apartment, a two-bedroom walkup on a quiet, tree-shaded street that carried all sorts of amenities, like an Xbox and a toaster.
"Come live with me," he sang. "I need a roommate. Come live with me, this place is awesome." The song was silly. It was lively. It sounded like it'd been scripted in a single day.
But the song was also catchy enough that it made Mann sound like the kind of guy you'd actually like to live with.
Jonathan Mann has posted a new song to YouTube every single day for the past 1,498 days. That means conception, creation, production, and actualization, on weekends and holidays, through proverbial hell and high water. He's done it when he's felt great. He's done it when he's felt terrible. He's done it when he hasn't had enough time in the day to do it. Barring Armageddon, Mann will write a song every day, and there's nothing that's out there to stop him.
Mann's Song a Day project began in 2009 as an extension of the Fun a Day art project, an initiative that runs throughout the first month of every year. The goal was to craft 31 different songs in 31 different days and to come out of the month with a final, finished product.
Of course, shutting down hasn't been so easy.
"I didn't really start with any goal in mind," Mann told the Daily Dot. "It was only over the course of doing it that the goals and the upsides of working this way started to make themselves clear.
"One of the biggest benefits is just practice. If you want to get better at something, the more you do it, the better you get. There's that basic rule—the 10,000 hour rule—that exists in this project. Also, there's the 70-20-10 rule, which implies that 70 percent of what you make will be mediocre, 10 percent will be excellent, and 20 percent is going to suck. The more you make, the more good stuff you write by virtue of pure statistics. I've noticed, just based on the collections that I put together, that it usually tends to work out that way."
That practice has helped lead to freelance work and inspire new ideas for new albums. Mann's received invitations to write songs about business conferences and received attention from such publications as CNN, Mother Jones, and New York magazine. Just the other day, he was photographed hobnobbing with CNN's Anderson Cooper—and looking pretty svelte while doing it. Simply put, the man has used his songwriting to enter himself into the national discussion. It's no wonder he calls the gig his business card.
"I just think it's work," he said. "You work so hard at your craft, and it's to get those moments when you're ready to capture whatever it is that makes you good.
"If you read about the genesis of many, many big songs—people's biggest songs, like "Free Fallin'" by Tom Petty—the genesis of those songs is very often that they started off as a joke. You hear that over and over again: hit songs being created that way. One thing that Song a Day has been really good for is allowing me to be in a space where I feel like it's OK for me to make a joke. As opposed to sitting down and trying to write something amazing, I can sit down and write about whatever it is I want to write about."
And so we arrive at a set of songs that carry titles like "Tony Danza Puking Up Unicorns" and "Trying to Take a Nap." We get "Tommy Lee Jones is not Amused" and "I Was Made to Carry Heavy Things," "It's Time to Make a List," and "Grab Your Yoda." And sometimes, when we're all lucky, we get a song like "We Put Ourselves Together," a song about community and teamwork and making the whole far more effective than the sum of its parts.
Then there's the other side of the coin, the side that creeps in to Mann's personal life. The Vermont native has spent the past few months archiving his songs and sorting them by theme and quality—and he swears it doesn't happen often, by intention—but there have been those times within the past 1,498 days that he's consciously decided to write directly about the things that are going on in his own life.
Like that time that Mann was in the news because he'd written a song called "We've Got to Break Up" about breaking up with his girlfriend of five years, Ivory King—a collaborative effort he made in tandem with King. That song covered their futures and their pasts—and the fact that King didn't want to have ever kids. More than 1.2 million people have watched that song since he released it Dec. 6., some of whom have lambasted the singer for bringing attention to a situation that didn't need it.
"Physically, she's been in about 50 songs," Mann said when we spoke shortly after "We've Got to Break Up" broke, "but beyond that, [Song a Day] was our life together. It was us living together, and the vast majority of it is in that context.
"If I'm sad about something or something in my life isn't going very well, I'll write abstractly about it. But I won't ever write about how I didn't get a job or whatever. I keep that stuff to myself. There were two sides to it. I wanted to let all my friends know about it, but I also wanted to let my fans know about it. They know Ivory and know what's going on. …
"Oversharing is not a good thing. We all have those people on our Facebook page who overshare and talk about everything that's going on in their lives. I'm very conscious of not being like that, but I did want to let everybody know that this is happening. Because it is a big thing in my life and it is something that is affecting me. I didn't want people to not know."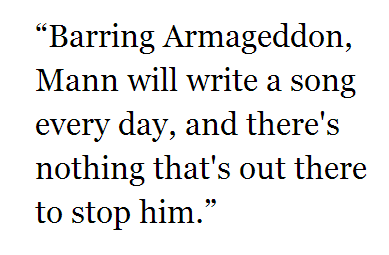 The two broke up in August but lived together for three months, thanks to constrictions brought on by New York's astonishing real estate costs. Mann said that he could see people notice that he'd started writing songs that were "a lot darker" during the time in between the breakup and the announcement.
"They've commented and asked if I'm OK and tried to see what's going on," he said. "It's unusual for me, because I'm not really a dark person. They saw it in that way, and I have a feeling now that I'm single and my life is more in flux that they might get more involved in my personal life somehow, because my personal life is going to be more in the forefront for me."
Which brings us back to Mann's apartment and that cultishly popular quest for a roommate, which more than 30,000 people watched.
Mann's now focused on moving forward—and he's bringing his Song a Day project with him. In a few weeks, he'll launch a website redesign that streamlines the branding he's got going on throughout Facebook, Twitter, and YouTube. Mann's also hired an intern—a senior at his Vermont-based alma mater Bennington College—who has an interest in video production and has helped turn a few songs each week into music videos.
"It's been fun to see how into it he is and how strong he will be," Mann said of his intern. "I don't have anything to teach him, technically, about videos, but what I think I do have to teach him is this process of making something every day, which I sort of take for granted now. When I bring someone into it, I see them start to grapple with the constraints."
Until one day, someday down the road, when they realize once and for all that practice can make perfect.
Photo via Jonathan Mann/Facebook