Every time fantasy author Vox Day insults John Scalzi on his blog, hundreds of dollars are donated to human rights charities such as the NAACP and RAINN. 
Scalzi, who is almost as well-known for his popular blog, Whatever, as he is for award-winning sci-fi novels such as the Old Man's War series, is no stranger to Internet trolls. To deal with them, he has manually changed hate speech into saccharine comments about kittens and puppies. The new campaign, which he calls the Counteract a Bigot Drive, is an evolution of that idea.
In a post titled "Solving my racist sexist homophobic dipshit problem," Scalzi writes:
From now until the end of 2013 (and backdating to January 1st) when the Racist Sexist Homophobic Dipshit in question posts an entry on his site in which he uses my name (or one of his adorable nicknames for me), I'm going to put $5 into a pot. At the end of the year, I'm going to tally it up.
Scalzi goes on to say that the money will be donated to a selection of human rights organizations, but that he will need help from readers to keep a tally of Vox Day's blog. Soon enough, fans were lending their support, offering to donate alongside Scalzi. Only two days later, the Counteract a Bigot Drive is up to over $50,000 in total.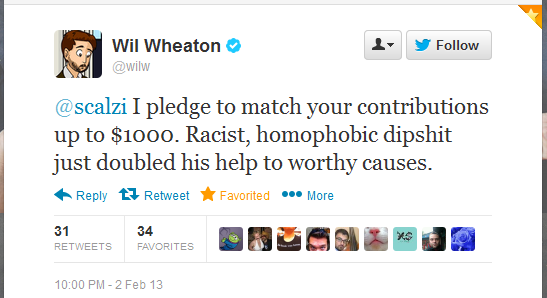 Who is Vox Day? It would be inaccurate to classify the author alongside the trolls Scalzi has encountered in the past. Day (real name Theodore Beale) has long been at loggerheads with Scalzi, clashing regularly over their opposing political beliefs. In fact, the two authors have more in common than you might expect. 
Both run popular, discussion-focussed blogs that cover a wide range of topics outside their immediate professional sphere of sci-fi and fantasy writing. Both are happy to wade into the comments section and get stuck into debates with their readers. And neither are comfortable with taking the high road, preferring to embroil themselves in a kind of flame-war of attrition.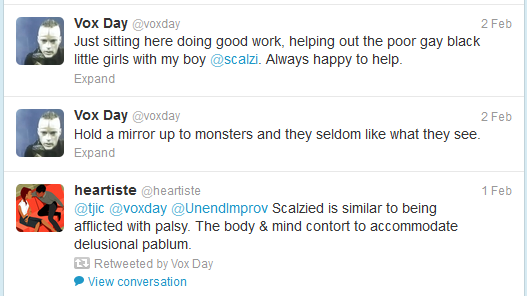 When Scalzi mentions "adorable nicknames" in his Counteract a Bigot post, he's referring to Vox Day's love of calling him names like McRapey, as evidenced by his most recent post. This post challenges Scalzi to a political debate in response to the charity donation drive, although Vox Day concludes that Scalzi will never accept, saying:
He's a rabbit. He's a gamma male. His blog readership is smaller than mine. His intellectual influence is miniscule in comparison with mine. He has no original ideas; he's little more than a parrot.
Whether or not the debate ever takes place, the real winners are RAINN, Emily's List, the Human Rights Campaign, and the NAACP, who will each be receiving well over $10,000 once the Counteract a Bigot Drive has run its course.