Whether or not there is an actual war on women may be a hotly debated subject, but on Twitter this week a hashtag gender war has been plain for all to see. But surprisingly, instead of furthering polarization across the political divide, a tag that began as a longshot trolling attempt seems to have generated some unexpected positive results.
In a 4chan post titled "Let's piss off some feminists," an anonymous user suggested on Thursday that anti-feminists reading the board attempt to create a Twitter trend out of the hashtag #ineedmasculismbecause. "If woman can demand special treatment I say we start making demands too," read the thread.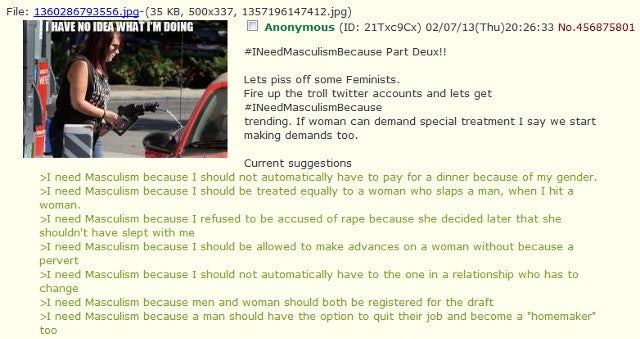 A list of suggestions from the poster ranged from the straightforward ("I should not automatically have to pay for a dinner because of my gender") to the hyperbolic ("I am not a monster for not giving two shits about your 'struggle'"), with other suggestions ranging widely as well. Though the thread seemed originally intended to provoke adversaries at any costs, proponents of "masculism," or "men's rights," took it seriously, and began filling the hashtag on Twitter. 
The Twitter account @INeedMasculism was suspended, but the original 4chan thread was bumped, receiving far more attention the second time.
As the trend spread, feminists and others began to participate in it, too, turning the mantra into a sarcastic commentary on the state of contemporary gender equality. One sampling of the tweets from feminists collected on Tumblr has garnered over 20,000 notes in under 2 days: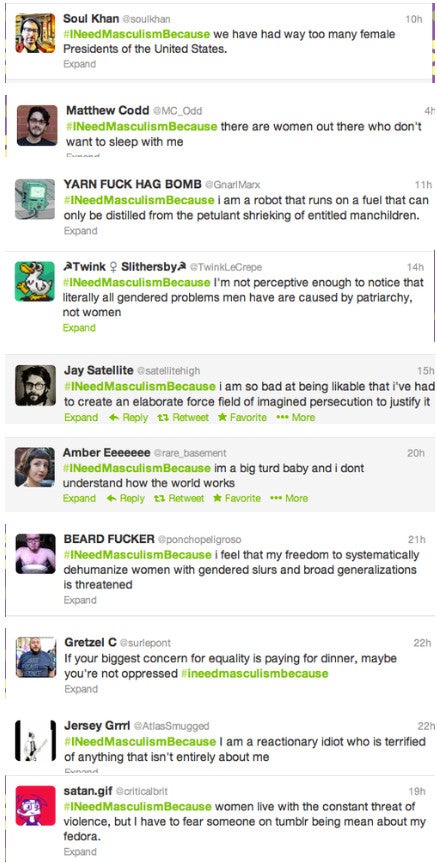 On Tumblr, popular artist Gingerhaze commented, "all of these issues that Men's Rights Activists are bringing up is just the same system that's been shitty to women, the one where masculinity is idolized, backfiring on them." That post racked up 12,000 notes.
Though the reclaiming of the tag was roundly declared a victory by feminists, once the hubbub died down the men's rights activists overtook the thread once again, and currently the tag is earnestly pro-masculism. One anonymous men's rights blogger shared a sampling of taglines from the conservative side of the debate: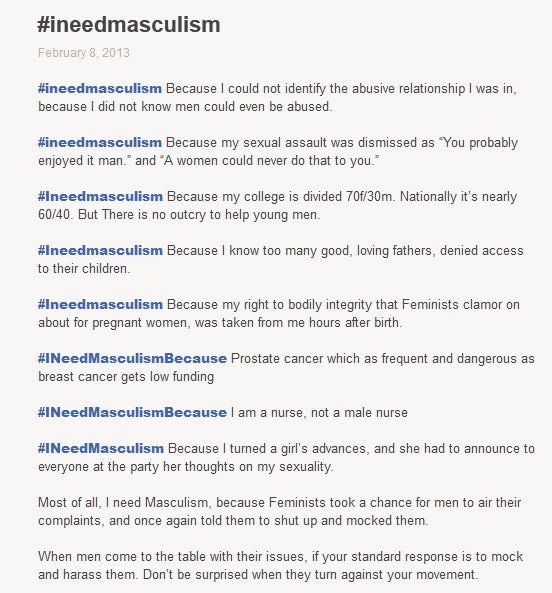 The hashtag has prompted ongoing debate on multiple platforms and social networks. On programming forum Team Liquid, a discussion of the hijacked tag prompted a debate about equal wages. Meanwhile, Reddit's infamous subforum Men's Rights, which has been declared a hate group by the Southern Poverty Law Center, was surprisingly equanimous about the debate: two posts on the subreddit garnered little discussion. DenverLocal wrote on one thread about the tag that she appreciated the discussion: 
"I learned about the masculism movement because of the Twitter controversy and I have to say that I'm pleased to see the quality of discussion on this group. … I'm a woman who runs an online feminist group that is very focused on intersectionality, civility, and mutual support, and we welcome people of all genders. I've been working to learn more about men's perspectives and experiences of gender issues specifically, and including those issues in my group myself when I feel I can discuss them intelligently." 
As the hashtag continues to get traction, it seems participants are moving away from trolling and toward more discussion across the divide.
Photo via 3000–21/Tumblr