Microsoft is tired of watching you play video games in your underwear.
The company announced that it would be releasing a cheaper Xbox One that isn't bundled with a Kinect, a device that contains a motion-tracking camera and a microphone.
The announcement comes about a year after Microsoft angered the gaming world and privacy activists when it stated that the Kinect would always be on in the background whether an Xbox One game required it or not.
"Microsoft's new Xbox meets the definition of a surveillance device under some Australian laws," Vines told NineMSN in May 2013, "so they need to be upfront and tell customers whether anyone else can intercept their information or remotely access their device."
The new Xbox One will be released on June 9 and cost $399, down from the original $499 price tag, and the same price as competitor Sony's Playstation 4. Microsoft also stated that apps like Netflix, Hulu, and ESPN will also be available to Xbox One users without them having to shell out $60 for a Xbox Live Gold subscription.
One of the communities cheering Microsoft for the decision was 4chan's video game board /v/.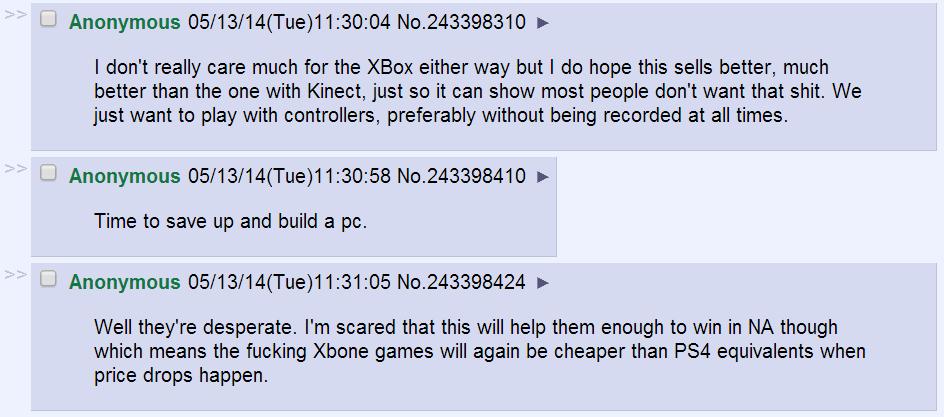 The Xbox One was officially released on Nov. 22 and has sold about 5 million consoles. In February alone that number was 258,000 units, a 61 percent increase over its previous console the Xbox 360 in the same time frame. The Xbox One's competitor, Sony PS4, was released on Nov. 15 and has sold 7 million consoles.
Aside from its cheaper Xbox One, Microsoft will continue selling its $499 unit which comes with the Kinect.
Photo by tandemsystemsltd/Flickr (CC By 2.0) | Remix by fern