When Aisha Tyler, who seems to be the default host now at the annual Ubisoft press conference at the Electronic Entertainment Expo in Los Angeles, introduced the game Watch Dogs in the summer of 2012, she kicked off a wave of hype. I think most everyone in the press knew that could never be fulfilled. And now, on the day of the game's release, its Metacritic score is nowhere near where it would be if it were living up to expectations.
Metacritic takes review scores from a slew of different outlets, passes them through a formula to assign greater or lesser weights to those scores by outlet (a formula which Metacritic refuses to disclose), and spits out a Metascore. Because that formula is undisclosed, and because review scores are such a subjective metric to begin with, Metascores are best used as a rough metric, an idea as to whether one wants to read more about the game, and little else.
Metacritic also covers movies, games, and music, but their video game Metascores are arguably the most important in regards to their relevance for a particular industry. Metascores can determine whether or not game development teams receive performance bonuses, a practice which is hotly contested by video game journalists owing to the belief that such a practice is unfair, owing to the subjectivity of review scores in general, and Metascores specifically.
We ought never to take a Metascore as a final arbiter of a game's value critically, and these are release day scores which are going to change as more reviews roll in. These are also, for the record, the scores as of Tuesday morning specifically.
The Metascore for the Xbox One version of Watch Dogs is telling, however, in that it isn't nearly as high as one would expect were it to live up to the hype. You would expect the Metascore on any platform to be somewhere in the '90s, were that the case.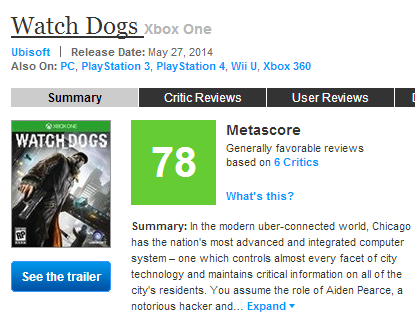 The Metascore for the PlayStation 4 version of Watch Dogs is slightly higher, which we can reasonably chalk up to the PS4's higher graphics quality compared to the XBox One. The expectations for the graphics on Watch Dogs were through the roof, owing largely to the insanely high quality graphics in the game's E3 2012 reveal. Watch Dogs was also being hyped by players as the game which might finally justify the expense of upgrading to a PlayStation 4 or an Xbox One.
Reviewers have noted that at times even the PS4 and Xbox One versions of Watch Dogs don't live up to the standards set by Grand Theft Auto V, which was only released on the previous-generation PS3 and Xbox 360 systems.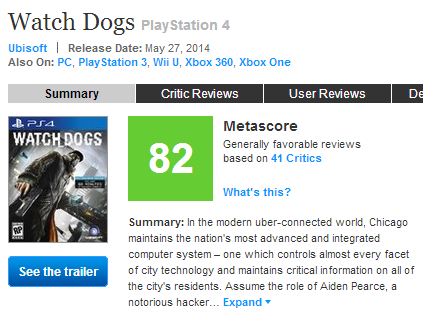 Reviewers are also taking issue with the quality of the story, and the writing in general. Quality narrative, something which used to be considered optional in the video game world, is increasingly becoming a baseline expectation. Reviewers are noting that the characters in Watch Dogs are generally uninteresting.
Metascores of 78 and 82 are generally interpreted by the audience as "Meh" scores because video game reviewers tend not to use the lower half of their review scales very often. It's a long-running sardonic joke that video games are actually reviewed on the 7-to-9 scale versus the 1-to-10 scale. I don't know how fair the charge is, as most games being released in the triple-A or mainstream video game market tend to be pretty damned good, which they ought to be with development budgets to the tune of hundreds of millions of dollars.
The net result of this effectively 7-9 scale is that an 8 becomes a middling score, and so a Metascore of 80 correspondingly becomes a middling score, as well. This, then, feeds back on players' internal assessments of whether a particular game is worth the weighty price of $60 on release day, or whether they ought to wait for the price to come down, which doesn't take very long in some cases, especially if the game didn't receive very high review scores.
Just to be thorough, the PC version of the game isn't performing much better on Metacritic than the PS4 or Xbox One versions of the game.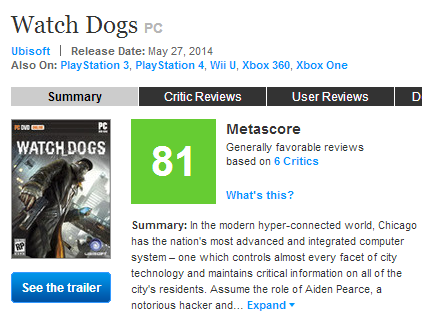 The other, recurring reviewer complaint about Watch Dogs is that it passes up the opportunity to make an effective thematic statement about the role of technology in our lives. Watch Dogs is predicated on the idea of a computer system which controls the civic systems, like sewer pipe pressure and traffic lights and bollards at traffic intersections. The protagonist in the game can hack into that digital infrastructure, as well as the smartphones of people he encounters on the street.
There's a lot of potential for social commentary in that premise, and whether it's fair or not Watch Dogs is being held up against Grand Theft Auto V in this regard. They are both open-world games, meaning the city is a virtual sandbox for the player with cars to steal, people to shoot (or not), and other open-ended, self-guided activities. Grand Theft Auto V created an open world which is loaded with commentary on American culture, on fictional street signs, radio stations, and television channels.
Watch Dogs, according to reviewers, did not take advantage of a similar opportunity. The comparison to Grand Theft Auto V may not be fair, as the GTA series has always been about social commentary and lampooning of America culture, and Watch Dogs is a brand new IP. When Ubisoft couched the game as a cautionary tale about the danger of over-networked societies when they revealed Watch Dogs at E3 2012, and never did anything to reset those expectations, they set themselves up for this criticism.
The danger of taking a Metascore too seriously is that you're allowing such a subjective a measure to determine whether a game ought to be purchased at the price of $60—the primary concern for most readers—but also whether it ought to be played at all. But a middling score on Metacritic doesn't mean the game has nothing of offer to value as an experience. It just means that players might want to wait for the price to come down before they engage with that experience.
Reviews tackle games from a holistic perspective, and therefore customarily do not dig deep into specific aspects of the game like a piece of criticism might. I think the truly interesting conversations about Watch Dogs are yet to be had, in the coming weeks, once the consumer-facing assessments are out of the way.
Screen grab via Ubisoft