Mark this day, DC fans, for it's the day Warner Bros. finally gave you what you've been begging for: a live-action Wonder Woman movie.
Gal Gadot, who is playing the iconic Amazonian in the upcoming Batman and Justice League installments, will be hoisting the golden lasso for her own feature-length film in 2017, according to today's press release.
The announcement came in the weirdest, most underplayed way possible, as part of a talk Warner Bros. CEO Kevin Tsujihara gave to investors at Time Warner Investor Day. In the midst of the studio's franchise lineup for its DC, LEGO, and Harry Potter properties, the mention of Wonder Woman passed without any kind of fanfare or hoopla.
It wasn't until the news reached the Internet that fans quite rightly focused on the overlooked detail that they're getting the first major film in a decade to give the title role to a female superhero.
I woke up to news of a #WonderWoman movie and #Friends coming to Netflix and it's not even Christmas #blessed

— Zinnat Ali (@LadyFabulous) October 15, 2014
An imperfect #WonderWoman film is still better than having NO Wonder Woman film. #2017

— Charlie (@CharlieUsername) October 15, 2014
And now a Wonder Woman movie and two movies led by poc I'm so….I'll be worried later for now I'm too happy

— not mary™ (@homovikings) October 15, 2014
The studio's lineup runs through 2020 and includes a number of other startling finds as well as major franchise announcements related to DC Comics, Harry Potter, and LEGO:
The Harry Potter film franchise reboot now has a timeline: The three films in the highly anticipated Fantastic Beasts and Where to Find Them trilogy, written for the screen by JK Rowling herself, will be rolling out in 2016, 2018, and 2020.  (By that time we'll be on the third generation of Hogwarts students and WB will probably just reboot the whole thing.)
Additionally, the press release confirms what we've unofficially known for a while now: Deathly Hallows director David Yates will be reprising his role as director, with Potter screenwriter Steve Kloves joining the creative team in some capacity, most likely as assistant screenwriter and producer.
Warner Bros. is banking on the popularity of this year's LEGO Movie and rolling out three more LEGO films in 2016, 2017, and 2018.
Clearly the most important of these is the LEGO Batman Movie (2017).
Jason Momoa, best known for his role as Khal Drogo on Game of Thrones, will be playing the lead role in Aquaman, slated for 2018.
Ezra Miller, best known to the world thus far as a terrifying teen sociopath in We Need to Talk About Kevin, will be warming up our hearts as a happy-go-lucky guy who runs really fast in 2018's The Flash.
The studio has such faith in Ray Fisher's Cyborg, a Justice Leaguer we haven't even met yet, that it's planning a 2020 installment around his character. Fisher was hitherto unknown outside of the New York stage community before being cast as Victor Stone (Cyborg) in the upcoming Batman v Superman. 
Warner Bros. is apparently rebooting Green Lantern just nine years after rebooting Green Lantern. The new film will hit theatres in 2020.
Suicide Squad, Shazam, and Justice League 2 are officially scheduled to release in 2016 and 2019 respectively.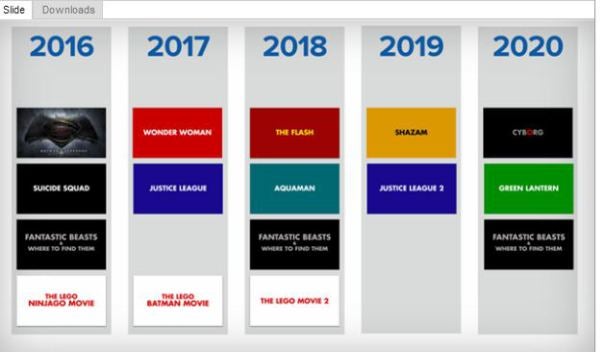 Screengrab via Deadline
Despite what many fans have viewed as DC's failure to move ahead in the ongoing race between DC and its rival Marvel to carve out cinematic universes, Tsujihara waxed extremely optimistic about Warner Bros. film offerings, which include 10 DC films overall and at least two every year. The film lineup was revealed as part of an "aggressive content strategy" according to the studio, which promised to "double down on outstanding content, work with the best talent, and maintain the culture that makes Warner Bros. so great."
But not all fans were happy that the studio seemed to be sweeping the Wonder Woman announcement under the rug. DC Comics just finished a major appearance at New York Comic Con in which nary a peep from the Wonder Woman camp was heard. At San Diego Comic Con earlier this year, despite much speculation about a rumored announcement from DC about the film, nothing materialized.
RT []: @ajaromano wow it's almost like this movie is being sidelined and swept under the rug before it even happens

— Booshop (@ajaromano) October 15, 2014
@Cthonical @ajaromano and then when it flops we can say it's because it starred a girl and people don't like girls! Problem SOLVED.

— Lauren Orsini (@laureninspace) October 15, 2014
Wonder Woman will be only the fifth wide-release superhero film in U.S. history to bear the title of a female superhero. With the arguable exception of 1995's cult hit Tank Girl, all the other female superhero outings have been disastrous, beginning with 1984's Supergirl, and continuing the trend into facepalm-land with Catwoman (2004) and Elektra (2005). It's as if DC and Warner Bros. just shrugged and decided to roll out the news with as little fanfare as possible.
I am so happy we are getting a Wonder Woman movie. I wish it was in virtually any other comics landscape than the one we are currently in.

— Shades of Limelight (@CertainshadesL) October 15, 2014
But there are plenty of other reasons to celebrate, including the addition of two non-white superheroes to the roster. Not only that, but DC's upping the ante on Wonder Woman makes it that much more likely that Marvel, too, will finally penny up the Black Widow movie we've all been craving, and maybe even give Sam Wilson, a.k.a. Falcon, his own overdue Avengers spinoff.
In the meantime, we can just look forward to all the upcoming Batman V Superman debates. And by "look forward," we mean we'll be hiding out with a lampshade over our heads watching Gotham instead.
Photo via Gage Skidmore/Flickr (CC BY SA 2.0)