Writer Kurt Busiek says it took him more than a decade to create the mystical world of his latest comic book, Tooth and Claw. It's a shame he didn't also take the time to make the characters more interesting.
Tooth and Claw's first issue is a double issue, with 44 ad-free pages. This is both good and bad. The upside: Readers are getting their money's worth at $2.99. The downside: Busiek doesn't have to worry about sticking the landing in 22 pages.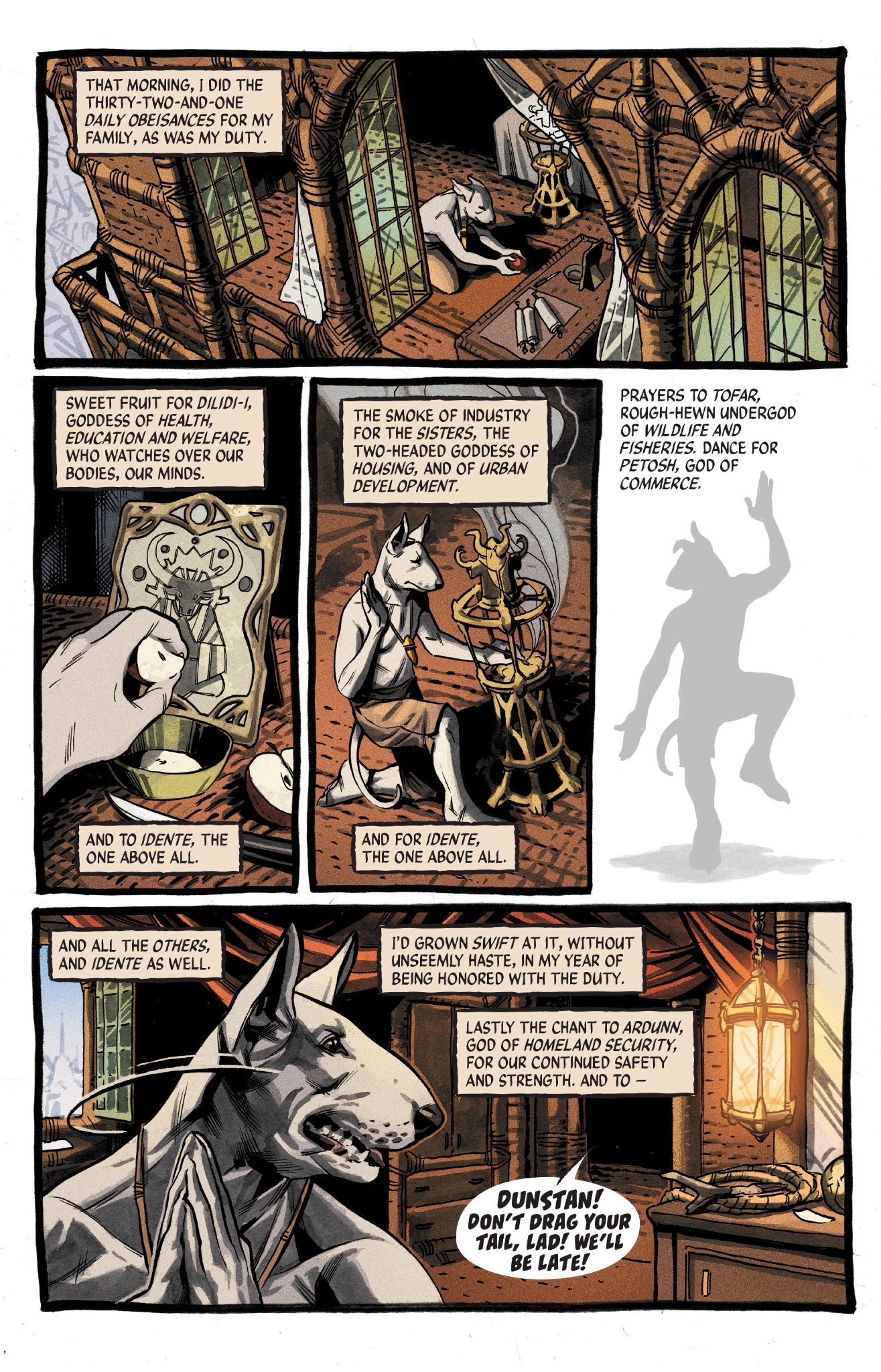 As a result, Tooth and Claw meanders. A lot. The first few pages are dedicated to showing the lead character, an anthropomorphic bull terrier named Dunstan, going about his morning ritual. Next comes a faux magazine feature on the floating city of Keneil before returning to Dunstan for the blow-by-blow of his prayer routine.
This is followed by four pages on a soured inter-tribal trade deal and another eight pages covering a parliamentary gathering of wizards. It's not until page 28 that anything major happens—the attempted conjuring of a Conan-like hero who can somehow restore Keneil's depleted supply of magic.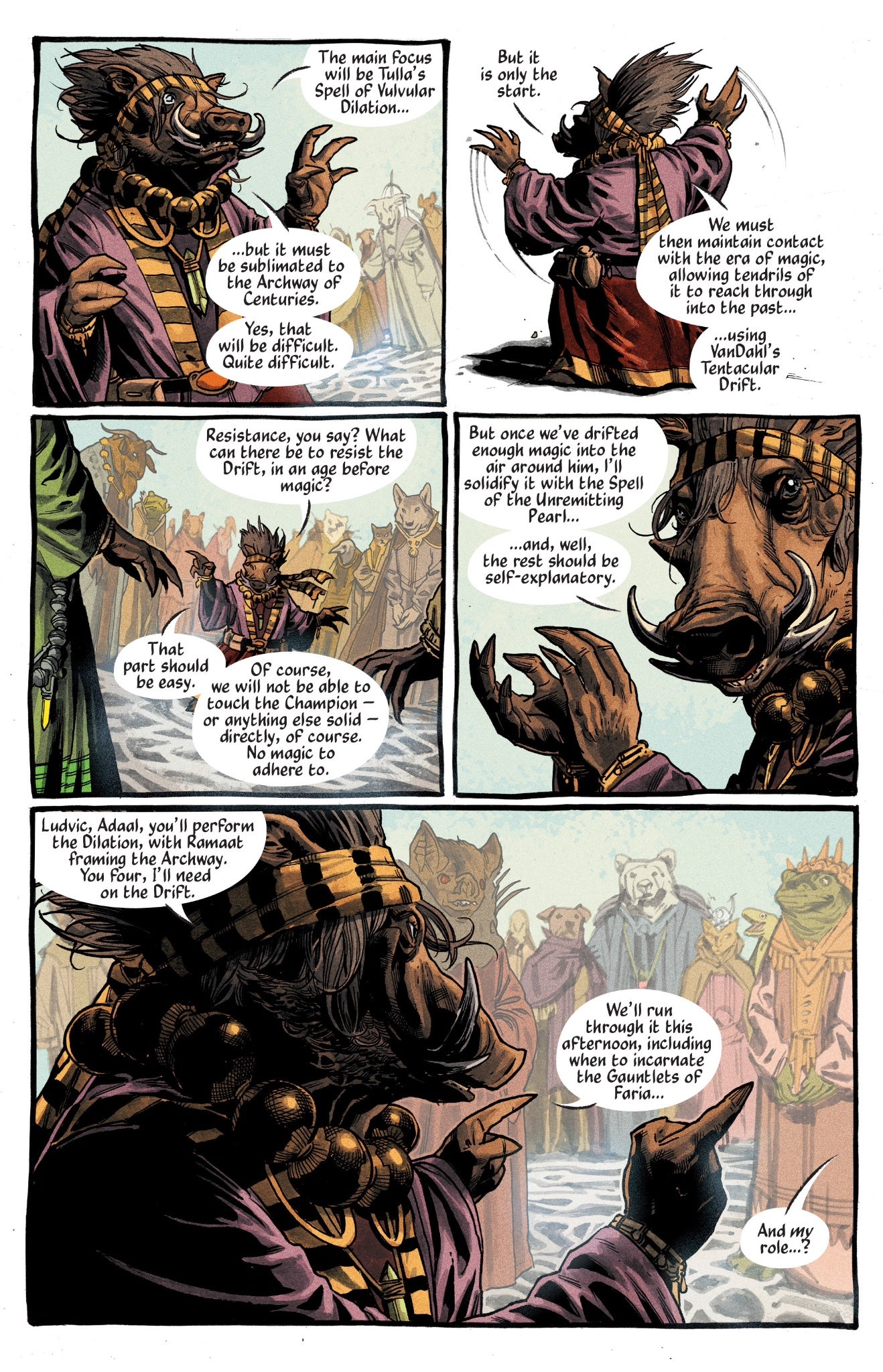 It's around the middle of Tooth and Claw that my interest started to wane, largely due to unnecessary detail at the expense of character development. Whole pages are given over to the magic mumbo jumbo of the sorceress Gharta. Instead of knowing what she's doing, I'd prefer to know why she's doing it.   
While Busiek doesn't provide compelling reasons for readers to invest themselves, the rest of Tooth and Claw's creative team does. Benjamin Dewey's intricately detailed art would be amazing even in a B&W title, yet ace colorist Jordie Bellaire somehow finds a way to further elevate it. A pivotal scene where magic is called forth is especially arresting—it even managed to jumpstart my interest in finishing the book, which was no small feat.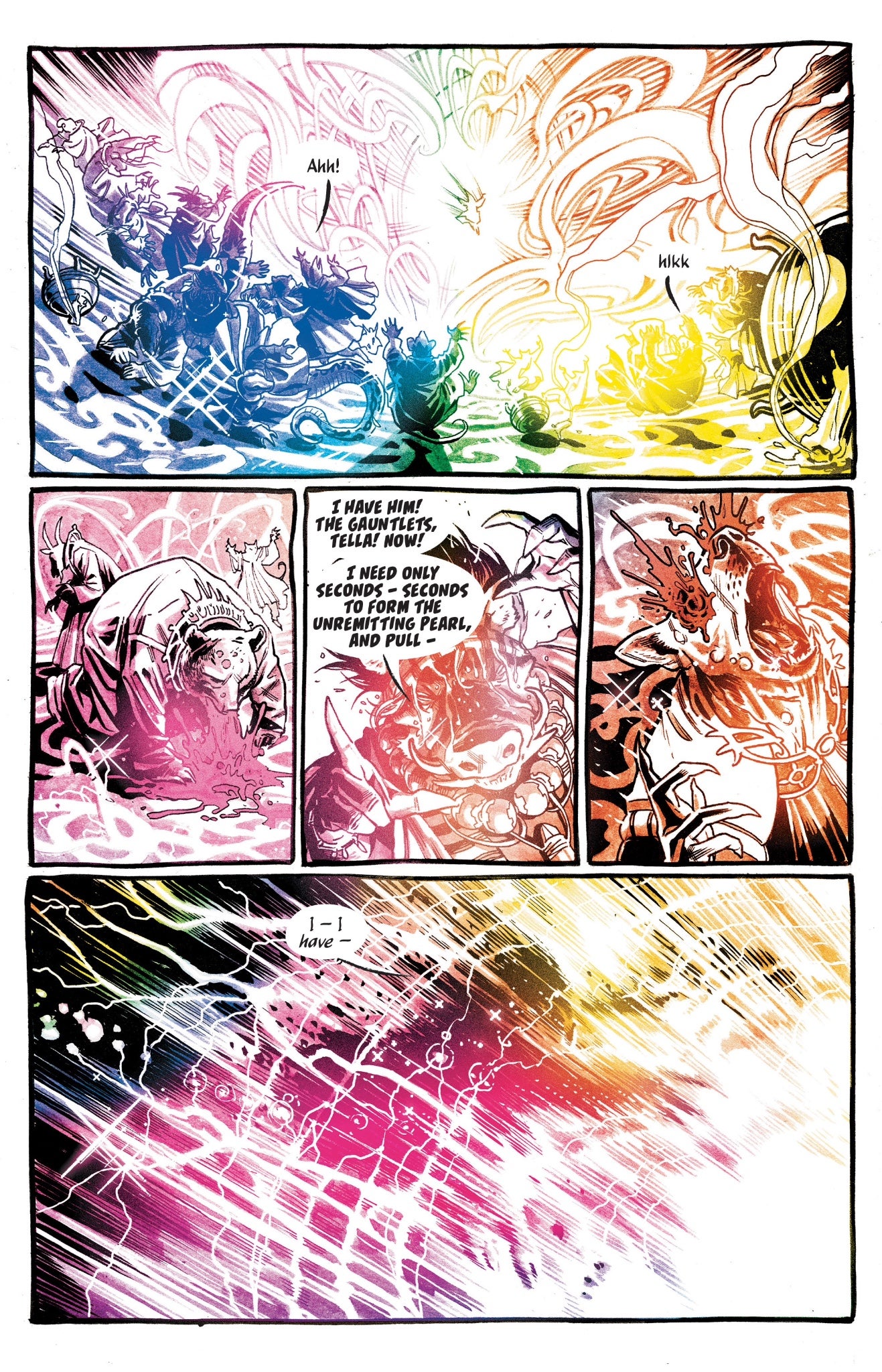 Thankfully things pick up in the third act. There are tragic consequences to Gharta's actions and in the final pages we see the characters react to them. We also get a sense of what's to come, including a literal class war between Keneil and the trading partner it wronged.
As richly illustrated as Tooth and Claw is, it's unfortunate that the characters (as written) are so one dimensional. With 44 pages of world building now behind him, I'm hoping Busiek does some character building next. 
Tooth and Claw No. 1
Writer: Kurt Busiek
Artist: Benjamin Dewey
Colorist: Jordie Bellaire
Publisher: Image Comics
$2.99
Images by Benjamin Dewey via Image Comics