Supernatural and The Walking Dead, two very popular genre TV shows, have a few things in common. They've both delved in zombies, will probably never end, and are linked by the resume of actor Jeffrey Dean Morgan, who's appeared on both shows. It's the last one that allowed the shows to cross the streams with a hit of an Easter egg in the latest Supernatural episode.
At the beginning of "Somewhere Between Heaven and Hell," Dean and Sam Winchester (Jensen Ackles and Jared Padalecki, respectively) have stopped home after a series of missions. They're covered in grime and guts, and it's a lighter moment for the brothers, but fans quickly noticed Dean's weapon of choice in the scene: a barb-wired baseball bat.
https://twitter.com/TONiANN_ROSE/status/840006382409678849
https://twitter.com/RaiMahTeenez/status/840123076922683392
The bat is a nod to Lucille, the name of the baseball bat Negan wields with a vengeance in The Walking Dead, but also to Morgan himself. Long before he ruled over the Saviors and surrounding groups with threats of violence, Morgan played John Winchester on Supernatural. It's clear the Easter egg was a special "tip of the bat"to him as Dean declared, "Dad loved this thing."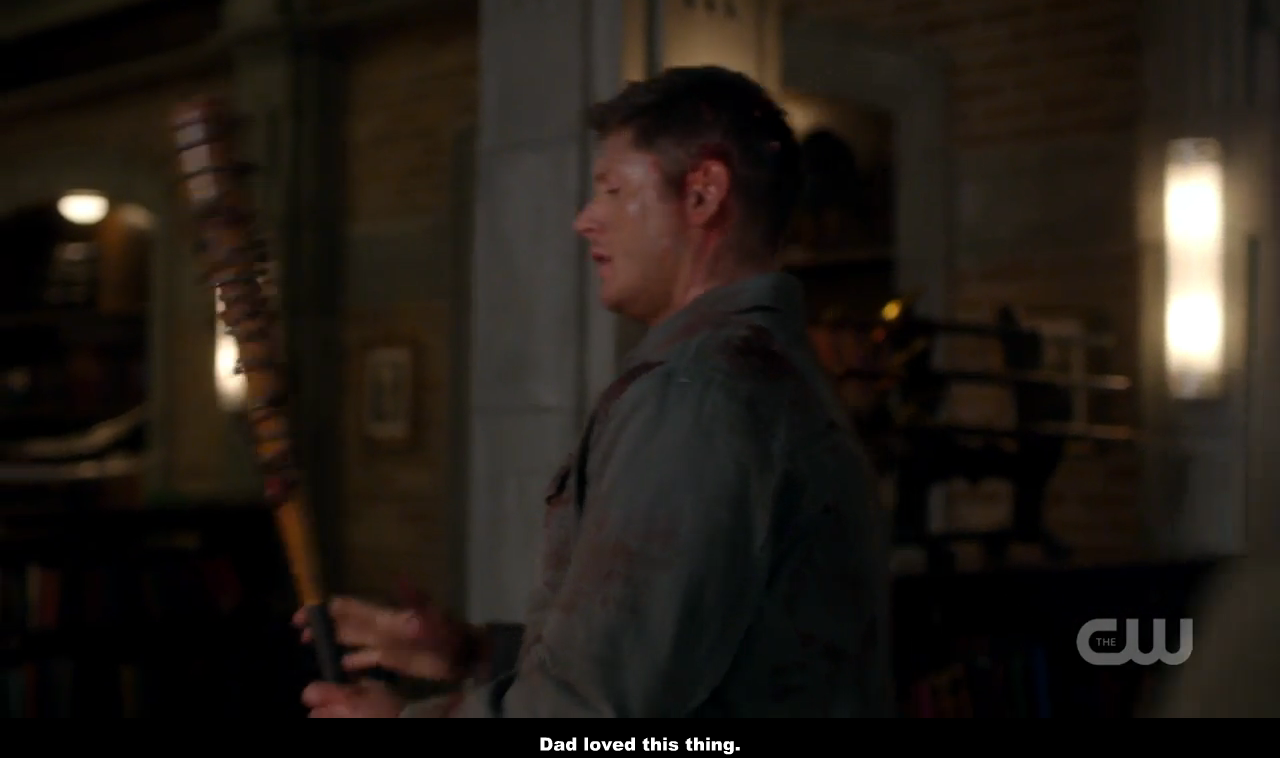 Ackles first showed off the bat back in October, which was simply a fun gag at the time. It coincided close to the start of Negan's reign on The Walking Dead and resulted in a fun interaction with his TV dad—who definitely handled it a lot better than Negan would've.
J. You weren't supposed to find that. Gonna need her back son. I mean… I already gave you my car. And? I don't know? Sorta, died for you.

— Jeffrey Dean Morgan (@JDMorgan) October 27, 2016
If fans didn't notice get the importance of the bat, the camera lingered on it toward the end of the scene for emphasis.
So how long before we see a 1967 Chevy Impala hanging around the Sanctuary?
H/T Uproxx