The music of Steven Universe is almost as an important part of the series as the characters themselves, and soon fans will finally get something they've been requesting for ages.
Cartoon Network announced Wednesday that an official soundtrack, titled Steven Universe Soundtrack: Volume 1, will be released June 2.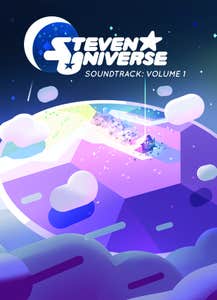 The network Steven Universe calls home teased the announcement Tuesday night with an innocent enough question: Do fans even want a Steven Universe soundtrack? While the soundtrack was likely already in the works when the question was posed, fans responded with an overwhelming yes.
https://twitter.com/cartoonnetwork/status/851970980364918785
Once announced, Cartoon Network posted a short clip of Steven's phone playing the show's theme song, "We Are the Crystal Gems."
#StevenUniverseSoundtrack pic.twitter.com/lBVqpOjThR

— Cartoon Network (@cartoonnetwork) April 12, 2017
While none of the songs included on the soundtrack have been announced apart from "We Are the Crystal Gems," Steven Universe creator Rebecca Sugar said that the songs will be remastered by the show's composers. It will feature the show's vocal cast along with special guests who will perform with Sugar.
"I can not say enough about how much I love each of these tracks!" Sugar said. "But I can say that this is the best they've ever sounded! Please blast them! Please sing along! That's what these are for! If the music of Steven Universe has been a tiny piece of the score of your life, please know that I am so honored. I hope you'll love this album as much as we loved making it."
Like Bob's Burgers, Steven Universe's musical touch is a key piece that makes the show work as well as it does. Songs performed by Steven, the Crystal Gems, and Steven's musician father Greg are often heartfelt and provide the emotional crux of an episode—and they're often catchy as hell.
The soundtrack will be released on every major streaming platform and be available to purchase June 2. Until then, Cartoon Network has a handy playlist of the show's music for you to explore and get lost in.