Your new Star Wars cast is finally here.
After months of speculation, director J.J. Abrams announced the rest of the cast on the Star Wars official website.
 
MORE:
Everything you need to know about the new cast
Where are the women?

"We are so excited to finally share the cast of Star Wars: Episode VII," Abrams said. "It is both thrilling and surreal to watch the beloved original cast and these brilliant new performers come together to bring this world to life, once again. We start shooting in a couple of weeks, and everyone is doing their best to make the fans proud."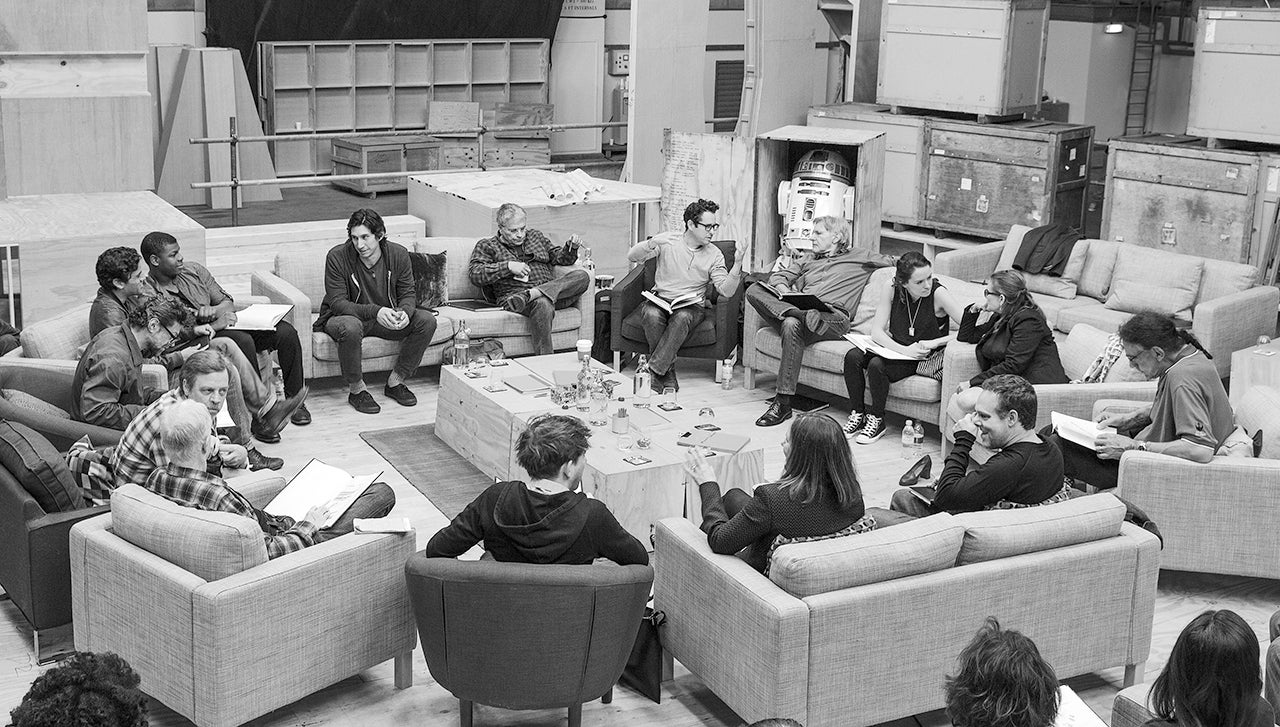 Photo via StarWars.com
We already knew that Girls star Adam Driver would play the main villain in Episode VII and Peter Mayhew would reprise his role as Chewbacca, and it's been widely rumored that original Star Wars stars Mark Hamill, Carrie Fisher, and Harrison Ford would also return after being recently spotted in London.
Now, along with confirming the main trio would return for the new film, Kenny Baker, who played R2-D2 in all six previous Star Wars films, would play the beloved droid again.
As for the new cast, Driver joins actors John Boyega (Attack the Block), Daisy Ridley, Oscar Isaac (Inside Llewyn Davis), Andy Serkis, Domhnall Gleeson, and Max von Sydow (The Exorcist) were announced as being part of the new cast. No other roles have been divulged yet, but based on the open casting call from last November, it's very likely that Boyega and Ridley will be playing Thomas and Rachel, respectively.
In fact, as the only woman on the cast aside from Fisher, it's probably safe to assume that Ridley will play Rachel (unless that role is cut in favor of something yet to be released).
The fact that a fantasy/sci-fi film series where many of its fans consist of women only has two women in the main cast, one who was in the original trilogy, is something that hasn't escaped its passionate fanbase. And after Star Trek Into Darkness, it's something they're not going to let Abrams get away with without any criticism.
WHO WAS SPREADING THAT "LUPITA IS BEING CAST IN STAR WARS" RUMOR i hate you and you've broken my heart

— Noelle Stevenson (@Gingerhazing) April 29, 2014
lol at how few women there are in the star wars cast. oh, sorry, did i say "lol"? i mean "let's raze this fucking culture to the ground"

— charlotte geater (@tambourine) April 29, 2014
would be more excited about the cast of Star Wars if they were different people and if it was a movie that is not Star Wars

— Caroline Moss (@socarolinesays) April 29, 2014
Fans of Lord of the Rings and Harry Potter will be sure to recognize Serkis and Gleeson's names. Serkis is a Peter Jackson favorite, having played Gollum in both the LOTR trilogy and The Hobbit as well as a variety of other CGI characters. Gleeson had a small role in Deathly Hallows as Bill Weasley. Isaac recently got rave reviews in Inside Llewyn Davis.
John Williams is back as the film's composer, and Episode VII will be released worldwide on December 18, 2015. Until then, expect the fans to be watching every part of it closely.
Photo via starwars.com