When fans wanted to discuss with the latest Star Wars news during the original trilogy release in the '70s, there was no Internet to turn to for instant gratification. The fandom had to share their passion for the franchise in-person at conventions and meetups or through those now legendary fanzines. With the advent of the Internet however, a new way for fans to discuss the franchise emerged: podcasts.  
Now there are a slew of Star Wars-themed podcasts online, some that focus on news and commentary and others that explore specific parts of the massive franchise, like the books or television shows. A quick search for Star Wars podcasts in iTunes reveals more than 30 options for listeners. These shows have staked a deep claim as influencers of the entire Star Wars community.  
"I think the role is essentially the same as forums used to serve back in '99-2005. Just be an outlet for people to discuss and dissect the information they've been given," Bobby Roberts, co-host of Full of Sith, told the Daily Dot.
Roberts is joined on the podcast by Bryan Young and Mike Pilot. Launched in 2013, Young said he wanted to create a welcoming place where every fan could feel safe expressing his or her opinion.
The desire to give fans a voice is one shared by many other Star Wars podcasts, including Coffee with Kenobi hosted by Cory Clubb and Dan Zehr.
"We wanted an outlet to make our perspective heard and by that turn, invite all of fandom to have a say. Much like sitting down with friends in a coffee shop or comic book store, we wanted good, constructive discussion that could explore any facet of the Star Wars community," Clubb said.
Clubb and Zehr's podcasts have the relaxed feel of friends gathered over coffee, whether they are discussing casting news or interviewing actors like Star Wars: Rebels' Vanessa Marshall. The casual, honest tone of the podcast makes it an inviting atmosphere for the fandom to join in.
Fans can interact with these podcasts in a number of ways, including via email and social media.
This interaction between fans and podcasters has not gone unnoticed. Some of the podcasts have actually been recognized for their contributions to the Star Wars fandom. Jimmy Mac and Jason Swank, creators and hosts of RebelForce Radio, were inducted into the 501st Legion as Friends of the Legion and into Dave Filoni's 104th Wolf Pack for their positive influence in the community.
"We have always prided ourselves in sharing a deep connection with other Star Wars fans regardless of age or nationality, to speak the same language, and feel the same passion. When we get accolades, that just makes us want to work harder. It has been surprising, yes, but knowing we set our standards so high, it is greatly appreciated," Mac told the Daily Dot.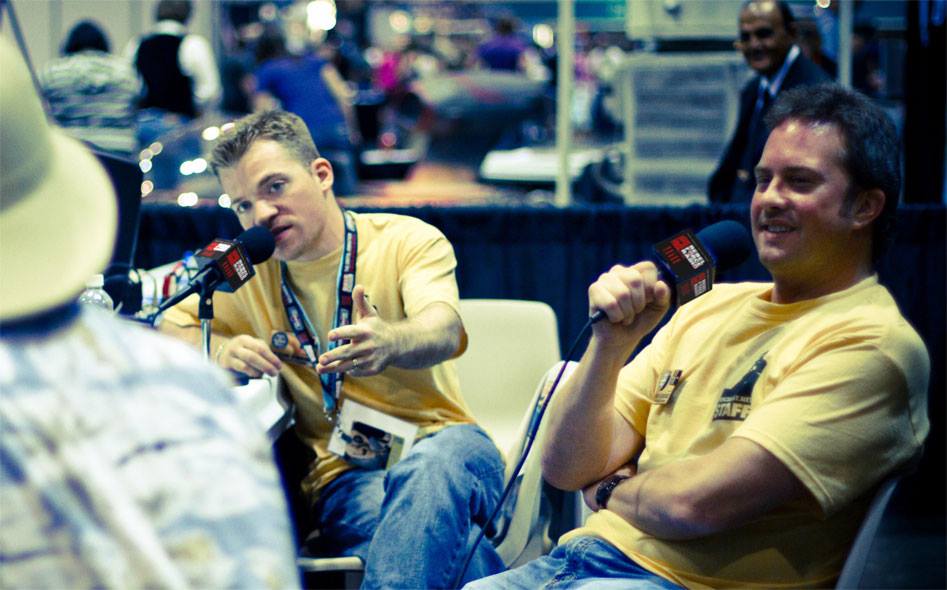 Mac and Swank started out hosting another well-known podcast, TheForce.net's The ForceCast, before creating their current show. RebelForce Radio has actually grown into a network of shows including a variety of programming like Star Wars Oxygen: The Music of John Williams and Star Wars Influences. The duo's influence on fans has even inspired some to get involved in the fandom and in turn, to start podcasts as well. That was the case with The Star Wars Underworld co-host Dominic Jones, who is now inspiring his own listeners to start podcasts.
One of Mac's biggest influences on the fandom was sparking the Save The Clone Wars campaign, which brought fans of the canceled Cartoon Network series together to call for a proper ending to the show. It's here that podcasts truly shine in the fandom: Helping fans deal with franchise news, something there has been no shortage of over the last few months.
"Star Wars fandom has always been active, but things are at a fever pitch now. Between Clone Wars, Rebels, and Episode VII, people are incredibly excited! Fans are either eager for spoilers, or are just taking a wait-and-see approach. Through podcasts, Twitter, and conventions, people are really sharing their fandom and discussing like never before," Coffee With Kenobi's Zehr said.
Along with official news about the movies and new animated series, there are a multitude of rumors and controversies as well. What parts will newly cast actresses Lupita Nyong'o and Gwendoline Christie play in Episode VII? Will Disney let Princess Leia and other female characters take the backseat to male characters in marketing and product releases? Podcasts offer a way for fans to hear about everything happening in the Star Wars universe while providing analysis and help separating truth from fiction.
"In the end, Star Wars podcasting should be a cornucopia of engagement, entertainment, and information," said Chris Seekell, co-host of The Star Wars Underworld.
It's this combination mastered by Star Wars podcasts that allows them to play such an essential role in the fandom. They are not just outlets to express opinions, but places to get news. They are not just sources of information, but sources of community.
Full of Sith co-host Pilot told the Daily Dot "just giving people a voice has more meaning to people than they can express." That seems to be a belief shared by his fellow podcast hosts and connected to the role they feel they play in the fandom.
"Through our interviews, reporting, conversation, and comedy, we supply affirmation for our listeners Star Wars passion, and they provide it right back to us. We feed off each other making the fan experience much more profound," Mac said.
Podcasts act as an extension of the passion found in Star Wars fandom in all its forms and above all else perhaps, offer a way that fans can feel they are not alone in their passion.
Clarification: Bryan Young was also inducted into the 501st Legion as a Friend of the Legion.

Photo via RebelForce Radio/Facebook