Community fans aren't giving up just yet.
The show fell short of the #sixseasonsandamovie fans wanted after NBC announced it canceled the show Friday. Since then, fans have mustered to spearheaded yet another fervor to save Community.
Redditors on r/community have started flooding Netflix Live Chat and Hulu Support to urge the companies to give Community get a second life online, like fellow cult show Arrested Development had on Netflix. Since Sony Pictures Television, and not NBC, owns the rights to Community, it's been widely speculated that the company is still trying to shop the show around.
The fans survived the Season 3 hiatus and Dan Harmon's firing (and rehiring). They're hopeful that they can survive this broadcast cancellation, too.
"I firmly believe that reaching out to Netflix is the best course of action," FlyinNinjaSqurl wrote. "Spreading our voices amongst all the different networks will weaken the impact."
And the more people have been posting their interactions with Netflix customer service, the more hopeful people have been getting, even if the responses aren't as definitive as they'd like.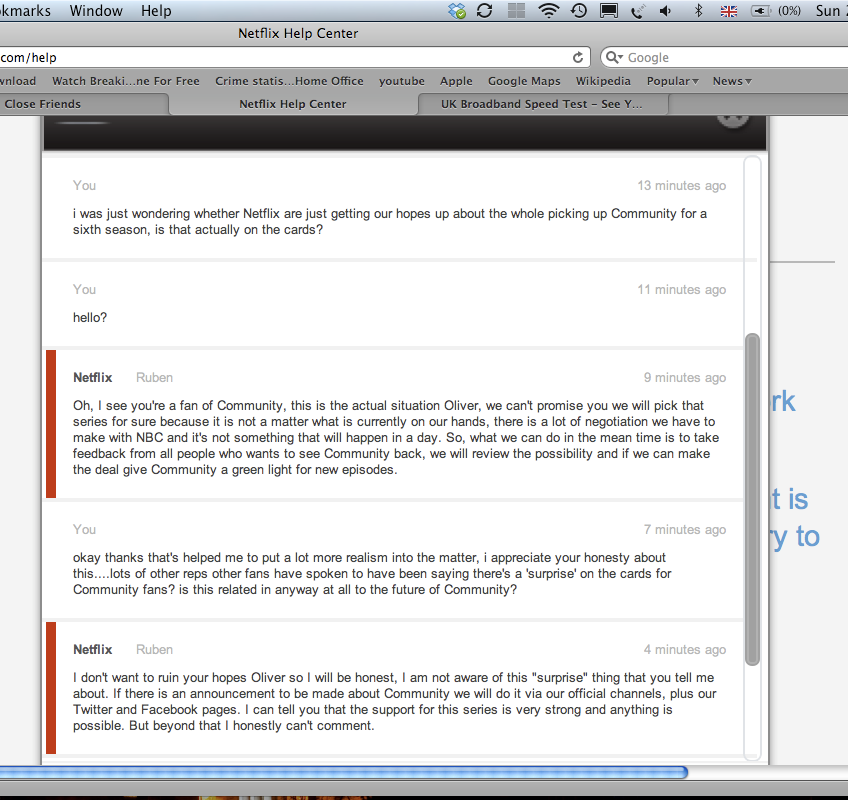 A Netflix representative told Variety that the streaming service isn't in negotiations for Community, but that doesn't mean they'll stop trying to reach out. It falls in line with Sony's previous deal to stream episodes of Community on Hulu, not Netflix.
However, Hulu has yet to dispel fans from contacting the company.
@CommunityOnHulu Tweeting and writing ( https://t.co/pyKuCiT1Uz ) helps! #sixseasonsandamovie

— Hulu Support (@hulu_support) May 12, 2014
Since the show was canceled on Friday, people waited to hear what Harmon had to say about it. He briefly touched on it during his live podcast at the Bridgetown Comedy Festival over the weekend, but had otherwise remained silent.
Yet it was Harmon's silence and reports that everyone but Harmon wanted to shop Community that started to make fans anxious.
He finally opened up about Community's cancellation and the possibility of a sixth season in a Tumblr post late Sunday, explaining that he "won't be lukewarm" about the idea of a Community sixth season elsewhere. He won't be "the guy that recancels cancelled Community."
"I'm scared to tell you how little a difference I think my enthusiasm will make," Harmon wrote. "I know fandom, when it gets this deep for this long, becomes almost religious, including the urge to stone the less than faithful. But there are lots of reasons a Community resurrection could be difficult. So be prepared for that."
He didn't want the fans' passion to be exploited by a system that makes the audience feel that it's their responsibility to keep the show on the air, and he felt they deserved better than that.
And while the fans might still want to do whatever they can to bring the show back, Harmon told them that they could "sit back and relax" this time around.
"And let TV be the needy clown that it's still very overpaid to be, and let the suits deal with the suits and see what possibilities exist," he wrote. "That's the best we can do for now. Ninety seven episodes. Over eighty pretty good ones. Mission accomplished."
Photo via NBC/YouTube