Geeks For CONsent recently launched a Change.org petition asking for San Diego Comic-Con to create a formal, visible anti-harassment policy in the hopes of putting an end to the sexual harassment faced by cosplayers. After receiving over 2,000 signatures, comic-con responded to the call for action in an interview with Comic Book Resources.
David Glanzer, the convention's director of marketing and public relations, claims that they already have a policy, pointing to the short "Code of Conduct" paragraph found on comic-con's website. You can only find it by going to their "Convention Policies" page and it can only be found at the convention inside the Events Guide given to attendees. To find it online you need to be in the "Attending the Show" section and click "Convention Policies" where you will see it as the second paragraph under "Badges." It's not exactly prominent placement emphasizing its importance. This is hardly a visible policy, so perhaps it makes sense that many feel it doesn't even exist.
If someone doesn't find it online, they could potentially read it in the guide as Glanzer pointed out but how many people miss picking up a copy and how many actually flip through all of its pages if they do pick it up?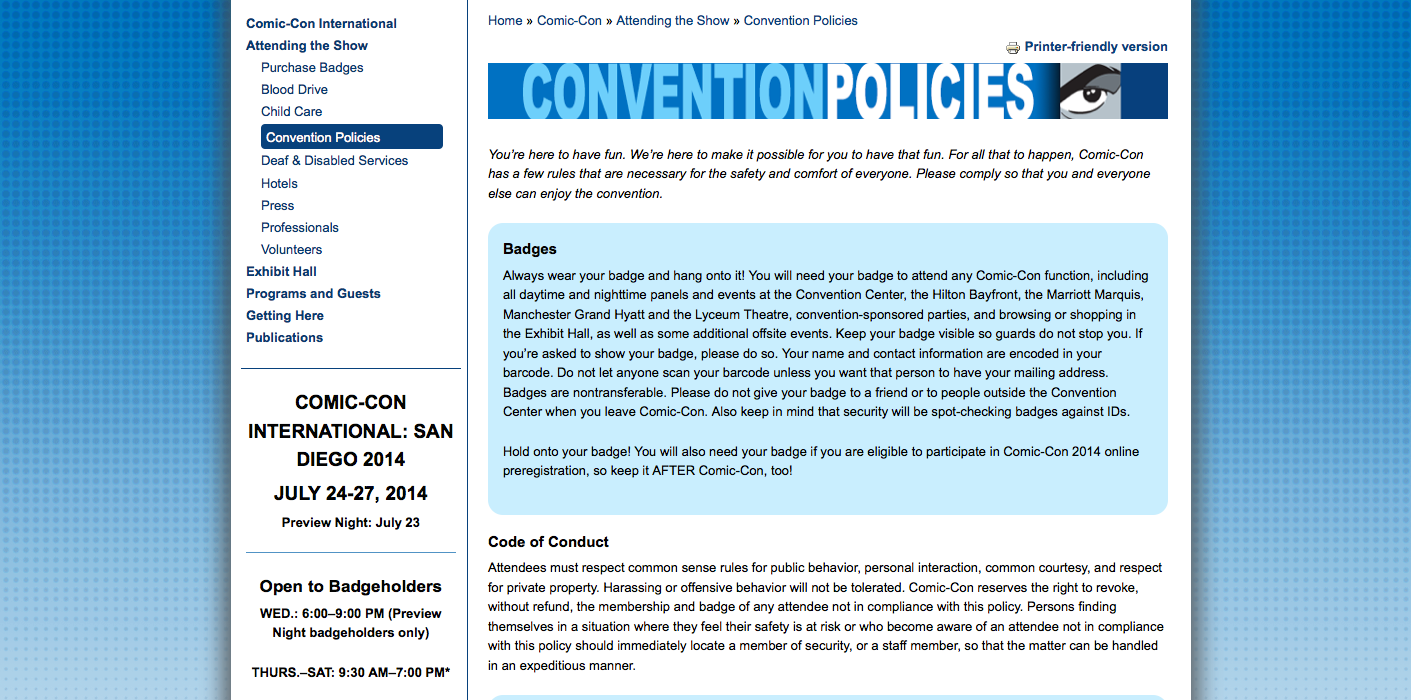 Screenshot via Comic-con.org
It's also hard to call this a "policy" when it's composed of only a few sentences. This is a "Code of Conduct" and not labeled clearly as a "harassment policy." Harassment specifically is only mentioned once and no where does it state what exactly is meant by "harassing or offensive behavior." Glanzer said it's meant to be broad.
"My concern is, the minute you start pointing out the types of harassment you don't allow, does that imply other types of harassment are allowed?" he said.
The problem with this argument is that it's possible to create a policy that mentions specific types of harassment and leave it open ended enough to give convention staff discretion. Phrases like "including but not limited to" or "and any other type of harassment" can be added. Glanzer also seemed proud of the fact that they let people know what to do if they're harassed.
"I think we're trying to get ahead of the curve on some of these issues. It isn't just when harassment occurs, but if someone finds themselves in a fearful situation that something may happen, we'd like to know about it, so we can address it," Glanzer said.
So just how ahead of the curve is San Diego Comic-Con? A glance at other convention harassment policies from a list The Mary Sue compiled from readers shows it's possibly to be more specific, more visible, and offer even more resources to those who feel they are being harassed. For example, Stan Lee's Comikaze has a page called "Harassment Policy" easily found by hovering over the "Tickets and Show Info" section. It's specific about the types of behavior that aren't tolerated, what will happen if you break the rules, and the resources available to those that face it. The policy is six paragraphs.
Salt Lake City Comic-Con also has a page titled "Harassment Policy" easily seen under its "About" heading which specifies types of harassment, what will happen to harassers, and resources for those being harassed. Neither of these seem to exclude any type of harassment because of the way they're worded and all of them offer more guidance on how people who are harassed can get help. These examples make it hard to see how San Diego is ahead of the curve at all.
Comic Book Resources interviewer Albert Ching also asked Glanzer if there's an opportunity here to at least amplify the visibility of the con's policy, highlighting Emerald City Comiccon's very visible anti-harassment posters. While Glanzer says it's a possibility, he brings up a few points in an attempt to support not having such a visible policy. First he states that bringing it up so clearly may make people want to challenge it and test it's limits. Considering how hidden the current policy is, guests might not know there is even something to challenge, so it's hard to see that really being a problem.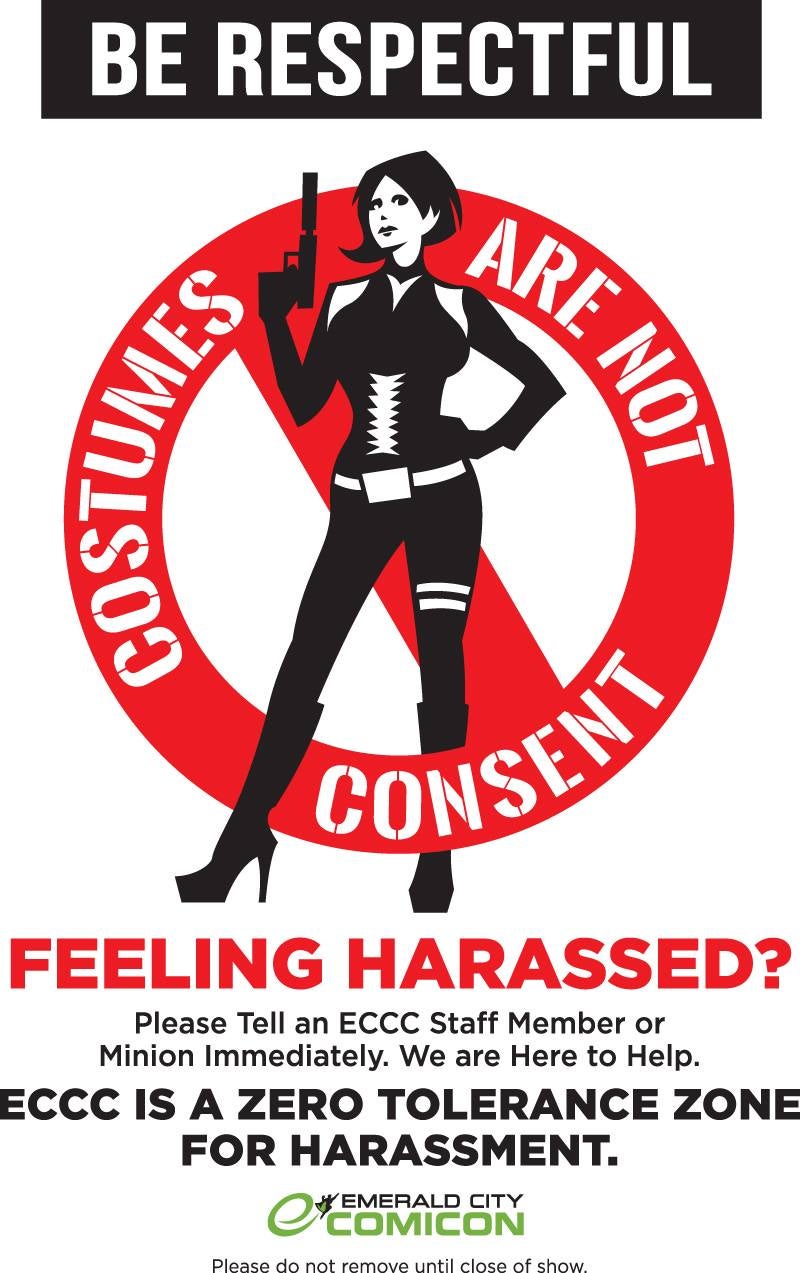 Image via Emerald City Comiccon/Facebook
Then Glanzer states the most important thing is that they have zero-tolerance for harassment.
"If someone doesn't know we have a harassment policy, but they're still protected by it, the important thing is that they're protected by it," he said.
Sure this may mean there are consequences after harassment occurs because people are protected, but how does this help prevent it in the first place? Harassment policies can be effective deterrents for inappropriate behavior—but only if people know about them. Glanzer makes it sounds like comic-con only wants to deal with the issue after it happens. Perhaps most disappointing though is when Glanzer brings up what message visible anti-harassment signs might send to the media.
"I will tell you, though, that because we're really an international show, and have 3,000 members of the media, I think the story would be harassment is such an issue at Comic-Con that they needed to post these signs around there. Now, people within the industry, and fans, know that isn't the case, but the general public out there, and I think the news media, might look at this as, 'Why would you, if this wasn't such a bad issue, why do you feel the need to single out this one issue and put signs up about it?' I think that's a concern," he said.
So the concern is that visible signs will make comic-con look bad in the media? What about the harassment problem at comic-con? This petition was started because people clearly don't feel safe and have had bad experiences at the convention. If these signs make those attendees feel safer, isn't it worth the risk that it might be taken the wrong way by a select few? Do appearances matter more than what attendees think and what cosplayers feel they need to be safe?
Many conventions have come around to understanding that harassment is not something to take lightly or to try to hide instead of dealing with head on. It affects all types of conventions, from anime to video games. Now attendees are asking San Diego Comic-Con to be a leader in this area instead of giving them excuses.

H/T Comic Book Resources | Screenshot via Geeks For CONsent/YouTube